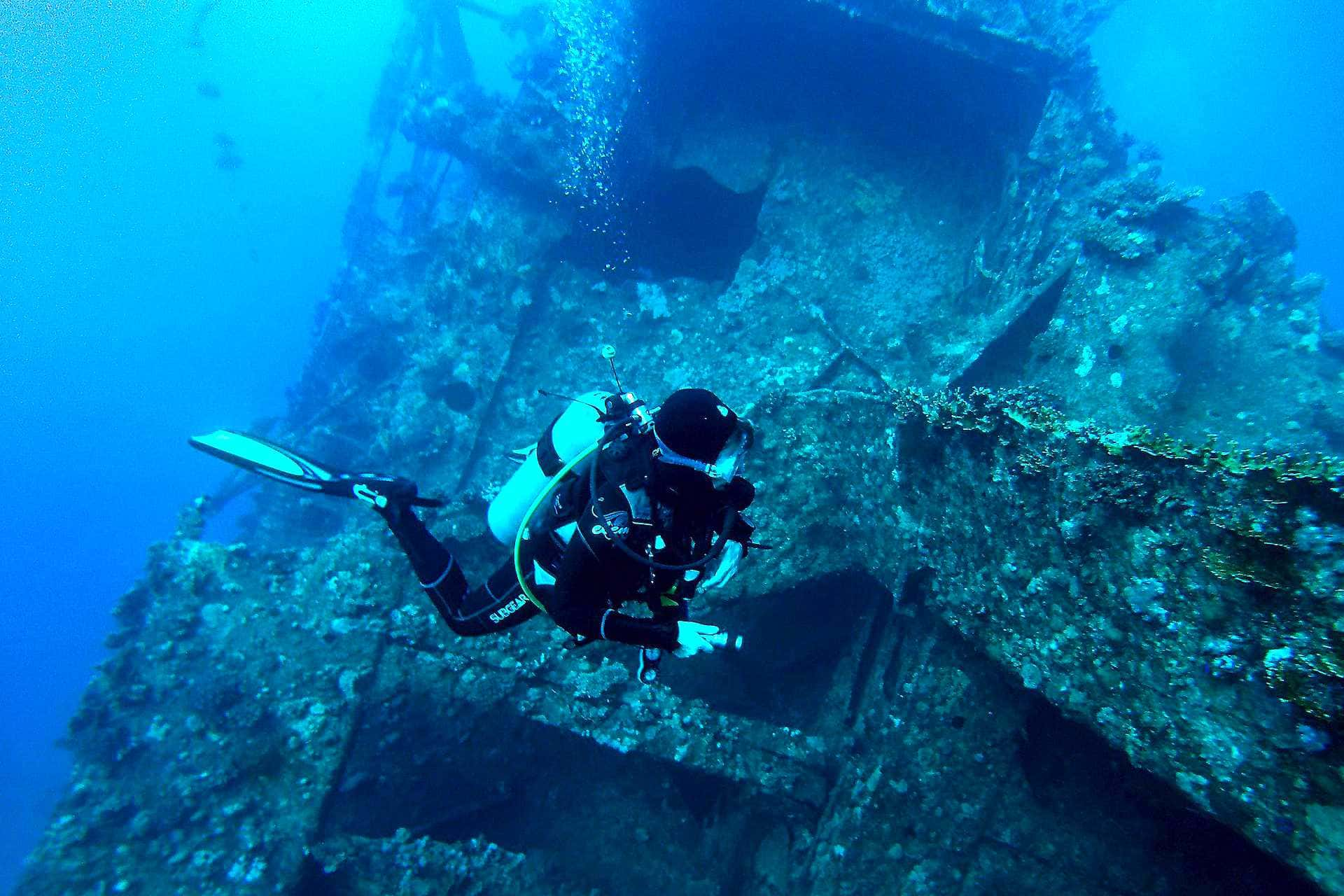 Tauchpreise
Know what you pay for
Pay only for what you need.
Our pricing system is really simple because we don't believe in large pricing tables that require a math degree to understand.
Why dive with us?
About our Pricing
A diving course, trip, or adventure will give you memories for a lifetime. We think these memories should be special and will do anything we can to make them so.
If you start looking around on the internet for scuba diving courses and guiding, you'll find a large variety of prices for "the same" things. Before you deem us (or anyone else) to be exceptionally cheap, expensive, or reasonably priced, check and compare what you get for your money.
It's a fact that we don't fall under the "super cheap" category and we don't want to be there, ever.
Remember: When you pay very little for something, you will get what you pay for…very little.
Cheap prices mean cheap rental gear, crowded courses, inflexible dates, and the bare minimum of training. If the price is all that matters to you, then that's cool but
This is NOT our approach!
We love diving. And we love working together with our clients and guests to make their diving adventures super special. And the only way we can imagine doing this is by offering:
Small groups (1-4 students)
Flexible course dates
Extra dives at no extra cost
24/7 personal support
High-End rental equipment (the same that our instructors use)
Diving community during and after the course
Examples
Guided Diving
When you book guided diving with us, you don't pay for a guide that shows you around, but for an entire diving adventure und den festgelegten time with your guide.
If you decide last-minute that you would rather do a course than just a dive, no problem. The day rate (see below) includes anything you like to do during your time with us. We don't judge and we don't require an additional booking.
We can guide you around but also practice skills, give you tips on equipment, diving, or review theory concepts you might have forgotten.
This also means all our guides and instructors are highly trained and can provide a bunch of different diving services and adventures to you.
Specialty Diving Course
Specialty courses are more than just certification cards in your wallet. They should be educational, fun, and not just a way to work towards an even higher certification.
Specialty courses at Social Diving are priced the same as our guided dives according to our day rates.
It doesn't matter what you would like to learn, in the end, you always get personal dive time with an instructor which we think is worth the same no matter how you decide to use it.
Most specialty courses can be taken as 1,2 or 3-day options, depending on how much you would like to go into detail on the topic.
Why would I book a course for longer than necessary? you might ask. Again, the day rate is the same for guided diving or courses. Isn't that cool? You can book additional course days and not worry whether or not you will pass the course in 1 or 2 days.
You can just book adventures that you ENJOY!
Our Pricing System
For any diving event, the costs for one diving day are split up like this:
Gasgebühren & Materialien
We charge you based on how many days you dive with us, which (if any) kind of rental equipment you use, and how much gas, materials, and other charges apply.
A "diving day" includes up to 45 minutes of travel to and from the dive spot and up to 3 hours of training at the dive site.
Willst du etwas Besonderes? Frag einfach!
Tagespreise
| Kategorie | Beispiel | Preis pro Tag / Person |
| --- | --- | --- |
| Standard Rec | Kurse, Guiding, Training | €249 |
| Advanced Rec | Wrack, Höhe, Deep | €349 |
| Standard Tec | Tec Tauchen | €449 |
| PRO-Diver Addon | Underwater photos, extra materials | vom €50 |
| VIP Course | 1 on 1 Training, Guiding, Support | Day rate *2 |
Die Standardpreis pro Tag beträgt 249€ pro Person.
The rate stays the same whatever you want to do. Course or guiding, theory or diving for fun, it's all the same. Your diving coach will always be happy to answer your questions, show you cool tricks or skills and practice with you.
If you want to upgrade to a higher tier, you can do so at any time.
Our diving adventures are personalized, so we can't always say in advance how long a Kurses or event might take. It largely depends on your individual skill and learning speed.
You will find the minimum and suggested duration on each course page.
Wenn du ein geführtes Seetauchen gebucht hast, aber stattdessen Auftrieb übst, ist das cool. Begonnen mit einem Navigationstauchgang und am Ende nur zum Spaß getaucht? Hört sich gut an.
Some courses like Wrack- oder Höhentauchen diving require extra preparation, long transits, or special permits. In these cases, the day rate of 349€ .
Unser Pro Diver Option bekommst du für einen Aufpreis von 50-100€ per day (depending on the day rate) and includes schöne Extras such as underwater photos, extra course materials, and more fun stuff.
Leihequipment
Leihequipment für Kaltwassertauchen gibt es in allen Größen sowohl für Erwachsene als auch für Kinder. Bitte beachte dass wir im Voraus wissen müssen, ob du einen Trockenanzug, da der Hersteller etwa eine Woche benötigt, um ihn an uns zu versenden.
Wenn du keins benötigst, ist das in Ordnung. Wenn du etwas brauchst, setzen wir es auf die Rechnung. Einfach oder?
Klicke hier, um unsere Leihausrüstung zu sehen.
Gasgebühren & Materialien
Gasgebühren
Sowohl du als auch dein Tauchlehrer müssen unter Wasser atmen. Möglicherweise benötigst du auch eine Leine, spezielle Ausrüstung oder zusätzliches Material, z. B. in einer Höhle oder einem Wrack. Und je nachdem, wie viel du tauchen möchtest, verbrauchen wir mehr Material und Gas.
That's why we add these costs for you and your diving coach (divided by the number of participants) to your bill. For air, these normally amount up to 20 – 30€ per diving day.
Zertifizierungsgebühren
Wenn du nach deinem Tauchkurs eine Zertifizierungskarte erhalten möchtest, senden wir dir gerne eine zu. Lass es uns wissen und wähle ein schönes Foto aus. Lächeln! 🙂
Wenn du jedoch keine möchtest, musst du natürlich nicht dafür bezahlen.
Environmentally friendly, biodegradable plastic cards for iac and CMAS courses cost 50€.
Best part? Social Diving donates 5€ per card to an environmental NGO out of our own pockets!
Transportation (at your own discretion)
Due to legal reasons, Social Diving and its staff may nicht provide transportation as part of any diving event. For that, we would need a special license like that of bus or taxi drivers.
Daher gehen alle unsere Preise davon aus, dass unsere Gäste in der Lage sind, sich selbst und den festgelegten Tauchlehrer oder Guide zum Tauchplatz zu transportieren..
Da es uns gesetzlich untersagt ist, solche Transportmittel selbst bereitzustellen, müssen wir alle Kosten für jeden Transport occurring to the Social Diving staff (such as taxi or rental car charges) if it is not provided.
Wir teilen die Gebühr gleichmäßig unter allen Teilnehmern auf und greifen auf die billigste verfügbare Option zurück.