Have your kids always wanted to be in the water with dolphins, fish, and turtles?
Would you like to discover an exciting world underwater as a family and breath like a fish in the sea? If that is the case, scuba diving is perfect for you!
Starting with snorkeling for kids, to trying our scuba diving in a shallow pool, and eventually a full diving certification, there are lots of possibilities to explore.
Here you can find important information on scuba diving for kids, children diving courses, and anything else parents should know.
If you have any questions or want to explore more options for your kids to dive, send us a message!
Scuba diving for kids
Children can start scuba diving as young as 8 years old with a discover scuba diving event or a bubblemaker program. Here, they learn the basics of diving theory, how the scuba gear works, and how to dive. Starting at age 10-12, they can get the Junior Open Water Diver certification to dive under supervision before upgrading to a full Open Water Diver at age 15.
Children's bodies are not yet fully developed and as such, we have to be careful with exposure to high pressures underwater and nitrogen load up.
As such, 8 years is the minimum age for scuba diving with kids and should be accepted as such.
At that age, they are also much more capable of understanding and enjoying scuba diving than before. Give them time to grow and you will be diving together soon enough.
Why go scuba diving with kids?
Scuba diving is a great sport for children for several reasons.
First off, they get to explore the underwater world from a young age and see places many others never do.
Secondly, scuba diving teaches children to cherish and protect their environment. As all divers know, plastic pollution is endangering many ecosystems and harms our oceans.
By seeing how it affects the animals and corrals underwater, kids will get a better understanding of why littering and careless behavior in nature can have severe consequences.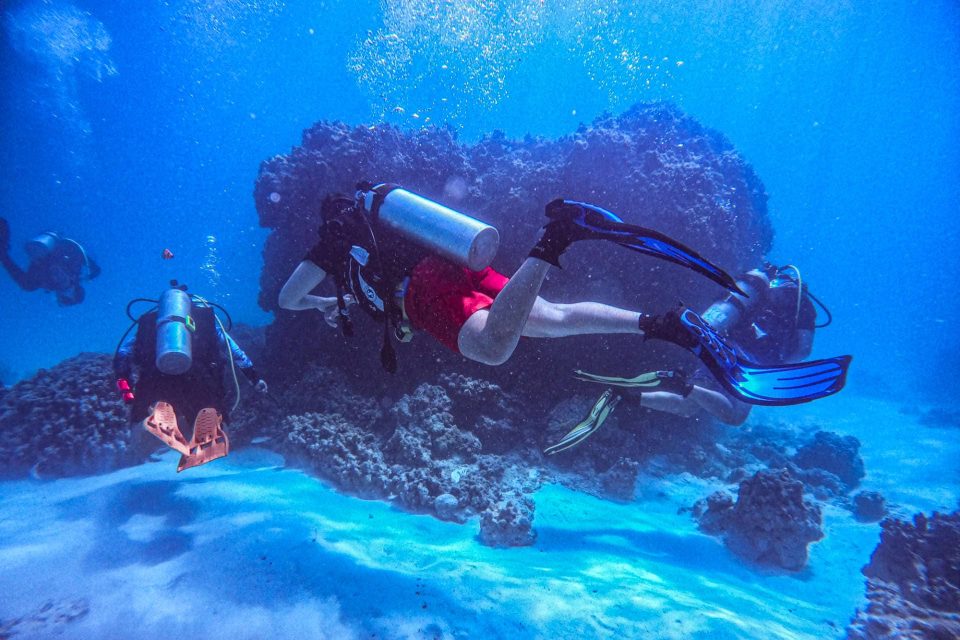 Last but not least, scuba diving is the perfect hobby to share as a family!
Especially when the parents are already divers, this makes holiday planning so much easier.
Instead of having to find someone to take care of your kids while diving, you can all just dive together. How cool is that?!
If you take your kids out for a hiking trip, you sure can go diving together.
Minimum age for scuba diving
The universally agreed-upon and accepted minimum age for scuba diving is 8 years.
Before this age, the lung structure is not yet developed enough to be exposed to the high pressures underwater during scuba diving.
The main reason is that the number of alveoli in the lungs increases by a factor of 12 between birth and age 8. Fewer alveoli mean lower lung capacities and hence lower efficiency.
Between age 8 and adulthood, the number of alveoli increases further by a factor of 3 which is significantly smaller.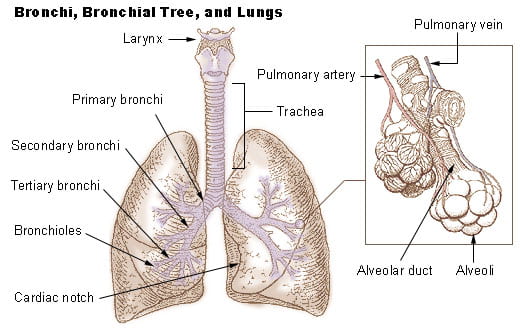 Therefore, starting at age 8, children are usually physically fit enough to begin scuba diving in very shallow waters and pools.
However, this also depends on the individual, and some might need to wait a few years longer.
In case of severe allergies or asthma, diving is prohibited for children
Scuba diving depth limits for kids
The lungs and body of a child are not yet fully developed and still growing. Exposing them to high pressures underwater or large nitrogen load-ups can lead to permanent injuries, and negatively impact their development. As such, common depth limits for kids are 2m/6ft for kids under the age of 10, 12m/40ft under the age of 12, and 18m/60ft under 15.
Here is a table to remember the depth limits for children diving. They may vary slightly depending on the scuba training agency, however, these are the most common ones:
| Minimum Age | Depth Limit |
| --- | --- |
| 6 | Only snorkeling |
| 8 | 2m/6ft |
| 10 | 12m/40ft |
| 12 | 18m/60ft |
| 15 | Same as adults (18m/60ft+) |
Common depth limits for kids in scuba diving.
These depth limits for scuba diving with children should never be exceeded!
This is for the safety of your kids and nothing to temper with.
If a diving operator suggests going over these depth limits for whatever reason, please choose a different dive school!
Scuba diving courses for children
You will find different names for children's diving programs at each scuba training agency, such as "Bubble maker", "Seal team" or "Junior diver".
Some even offer snorkeling courses and excursions for children below the minimum age of 8, however, they may not wear scuba gear yet. This also includes monofin, and mermaid courses.
All training agencies have their own course curriculum and restrictions, and you should ask your dive instructor about the ones they follow.
For scuba diving for kids, PADI has the following course order in place:
| Course Name | Minimum Age | Depth Limit | How |
| --- | --- | --- | --- |
| Bubblemaker | 8 | 2m/6ft | Pool only + instructor |
| PADI Seal Team | 8 | 2m/6ft | Pool only + instructor |
| Junior Open Water Diver | 10 | 12m/40ft | With professional guide/guardian |
| Junior Open Water Diver | 12 | 18/60ft | Certified adult |
| Jr. Advanced Open Water, Jr. Rescue & Specialties | 12 | 18/60ft | Certified adult |
| Open Water Diver | 15 | 18m/60ft | Same as adults |
Scuba diving courses and limits for children at PADI.
PADI even offers specialty courses for kids which not all organizations do. They also allow for deeper diving than others at an earlier age (12) which you may or may not agree with.
At iac (International Aquanautic Club), the progression of courses goes as follows:
| Course Name | Minimum Age | Depth Limit | How |
| --- | --- | --- | --- |
| Junior Diver | 8 | 3m/10ft | Pool only + instructor |
| Junior Scuba Diver | 9 | 5m/15ft | Instructor |
| Junior Open Water Diver | 10 | Depth = age | With professional guide/guardian |
| Open Water Diver | 15 | 18-20m/60-65ft | Certified adult |
Scuba diving courses and limits for children at iac.
As you can see, the depth limit increases with age for all certification levels.
As Junior Open Water Divers at iac, kids can dive down to a maximum depth in meters, equal to their age. So at age 12, this would be 12 meters and so on.
Limitations
Certain specialty courses such as Nitrox or deep diving are not available for kids, for obvious reasons.
However, first aid or navigation are great courses for children to practice their skills.
Here are some of the best specialty courses for divers, and kids can participate in many of them.
If you want your kids to start scuba diving, make sure the instructor is a certified children's instructor first!
How to dive together with your kids
If you're a parent looking to dive with your children, you first must be scuba certified yourself.
This should be obvious and the minimum required certification level for adults accompanying kids is Advanced Open Water Diver.
For diving with children under the age of 10-12, you must be in a group with a certified dive professional experienced in diving with kids.
This can be a children's dive instructor or family dive leader.
It is highly recommended you take a Family Diver specialty course, and many dive bases around the world require it.
The course will teach you about legal regulations concerning diving with kids, how scuba diving affects your children and safe diving practices!
You can do your Family Diver course with us as a full online webinar!
Diving Medical Checkup for children
Parents are required to get a medical checkup by a physician for their kids before they can start scuba diving. Just filling out the scuba medical questionnaire like adults is not enough. The checkup should be renewed every year until the age of around 18 when children are fully developed.
A medical statement by a physician is required in order to go scuba diving.
However, while many adults simply fill out the medical questionnaire provided to them by their diving operator, children must be checked by a physician first!
Parents should know this and a reputable dive instructor will require this form before any diving activities with children can start.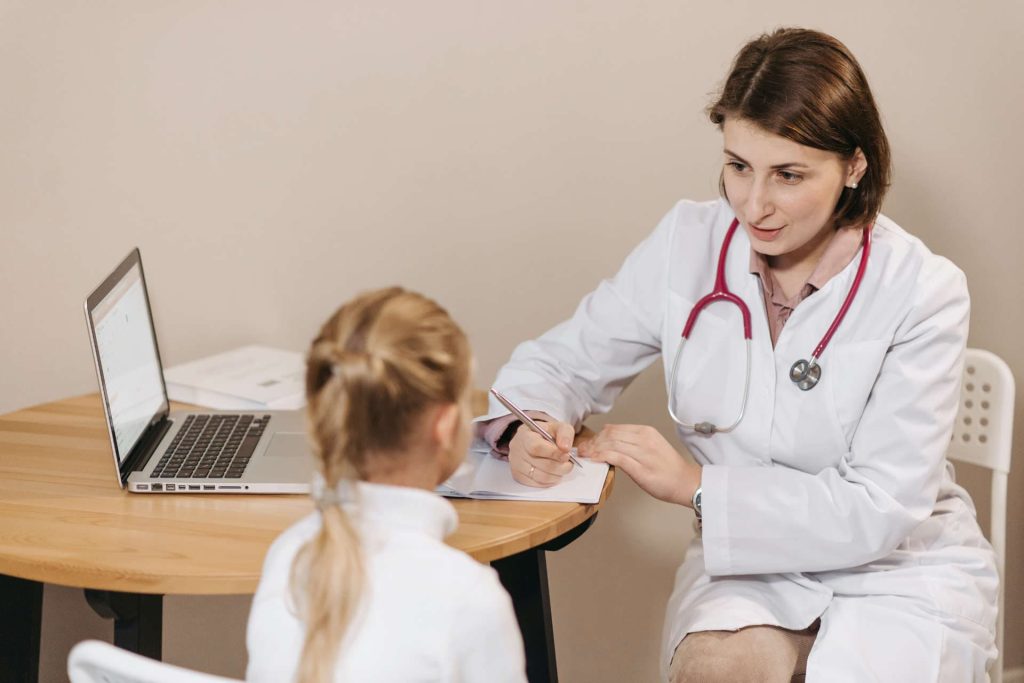 While the so-called Diving Medical is valid for two years for adults aged 18 – 40, children have to renew theirs on an annual basis.
This is required for anyone wanting to go diving with their kids, and discarding it can lead to permanent injuries!
Diving Courses for Kids with Social Diving
If you are at least 8 years old, you can jump right in with our scuba diving courses.
Of course, your parents can come and watch or get their scuba diving license, too. If you are younger, you can join us for snorkeling courses for children and families.
Discover Scuba Diving
8+ years
In this course, children can try out scuba diving for the first time under the supervision of a certified instructor. In a pool, they learn how to breathe underwater using scuba equipment and how to move around using their fins.
A certified children's diving instructor will conduct the course.
Scuba Diving Courses For Children
If you are ready to do a course and learn how to dive, these are the available options.
8 years
This is the first step for children to become certified scuba divers. After the course, they can dive in pools no deeper than 3m/ 10ft.
9 years
The Junior Scuba Diver builds on what was taught in the Junior Diver course. As a Junior Scuba Diver kids can go diving in a pool or confined, shallow water up to 5m / 15ft depth.
10-14 years
This is the first full diving license for children aged 10 or older. With this certification, children can go diving around the world on guided dives. As a Junior Open Water Diver the maximum diving depth is equivalent to the age of the diver.
Why book with us
Children instructors
All our scuba diving instructors teaching kids how to dive are specially certified to do so.
Safety First
We adhere to all safety regulations by our training agencies, as well as recommendations by physicians and the newest scientific findings.
Appropriate Learning pace
Classes for children provide a great learning environment for all ages. We know kids learn differently from adults and we make sure everyone enjoys their course.
multi-lingual instructors

We offer courses in a variety of languages such as English, Spanish, German or French! We can also offer more languages on demand.