So much to see!
Go scuba diving in Munich and around.
We offer some of the finest freshwater diving spots in the world with an incredible Alps panorama in the background!
Three steps to your freshwater diving adventure in Munich!
Dive in Lakes & Hike through the Alps
We go scuba diving in Munich and around all year almost every week! Our exposed location close to a number of lakes grants us access to a number of different dive spots. This way, the time until your next trip to the warm sea will not seem so long after all.
Besides that, our lakes have lots to offer that you will not find anywhere else!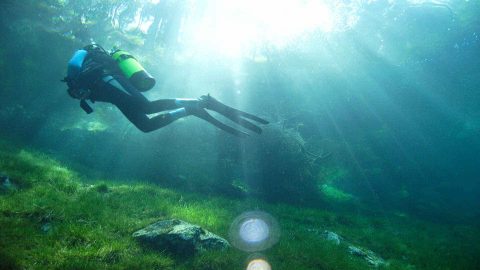 Freshwater Diving​
Scuba diving in Munich is a great way to experience freshwater for the first time. Munich is surrounded by dozens of bigger and smaller lakes to make this possible.
Our lakes offer a great abundance of marine life and scenery. We usually get to see big Northern Pikes, Eels, and swarms of freshwater fish and if you know where to look, you can find hidden wrecks and other gems.
Altitude Diving
All scuba diving in Munich and around classifies as altitude diving. As such, this is the perfect place to do your altitude diving specialty course and dive in mountain lakes for the first time.
When diving here for the first time, you will notice the breathtaking Alps panorama in the background. If you stay here for long enough you can go hiking there on the same trip.
So Much More
Munich and the surrounding area are perfect for combining diving with sightseeing. Visit Oktoberfest, see the famous Neuschwanstein Castle (the Disney one) up close, and go hiking & skiing in the Alps.
We offer day excursions, week packages, and sightseeing tours with or without diving (but who would want that?!). Talk to us and we will make your stay in Munich one to remember for a long time!
SO Much to do!
Dive Packages
Find the perfect diving adventure that suits your schedule. A couple of fun dives at lake Starnberg, a weekend excursion to the famous Blindsee, or something even more exclusive like Fernsteinsee?
Fun Diving
On a fun diving event, we meet at Social Diving in Munich in the morning before driving out to a lake together. We usually return to Munich around 15:00 or 16:00 (3 – 4 pm) and spend about four hours at the lake in total.
It's a get-together to practice, do a course, meet friends or enjoy your free time in and by the water.
If you need rental equipment, we can hand out full cold water diving setups at any time and for any size. Our fun diving takes place on weekends and we decide on the dive spot based on the weather and what the participants would like to experience.
Pricing
Our pricing is really simple. You only pay for what you really need. 😃
In general, our prices are split into three parts:
The day rate always applies and depends on your booking, while rental equipment and gas & material charges only occur if applicable.
Check out our pricing policy if you have any questions about these rates.
Our day rates for fun diving are:
We only go out to dive if we have at least two participants for an event. If you like to go by yourself, with a private guide, please get in touch. 🙂
Prices exclude transportation to and from the dive site, as we are not legally permitted to offer this service. Please check out our diving terms for more info.
Day Excursions​
Day excursions allow you to explore lakes and other dive spots further away from Munich. There is usually some longer driving involved so we meet up early(ish) in the morning so we get there at a decent time. Check out upcoming trips and sign up quickly to reserve a seat. Alternatively, you can always enquire about an upcoming trip we might not have put up on the website.
Please note that the prices below indicate a starting point. Depending on the location and logistics involved, these will be higher as indicated on the excursion schedule.
Again, we only go out to dive if we have at least two participants for an event. If you like to go by yourself, with a private guide, please get in touch. 🙂
So much fun!
Dive Spots In and Around Munich
Wrecks, steep faces, fish, caves…Munich and its surrounding areas offer great places for scuba diving!
We have a number of lakes that are reachable by car or public transportation within half an hour at most. Additionally, being located close to the border offers us the opportunity to go scuba diving in Austria and Italy, as well as mountain lakes in the Alps.
Starnberger See (Lake Starnberg)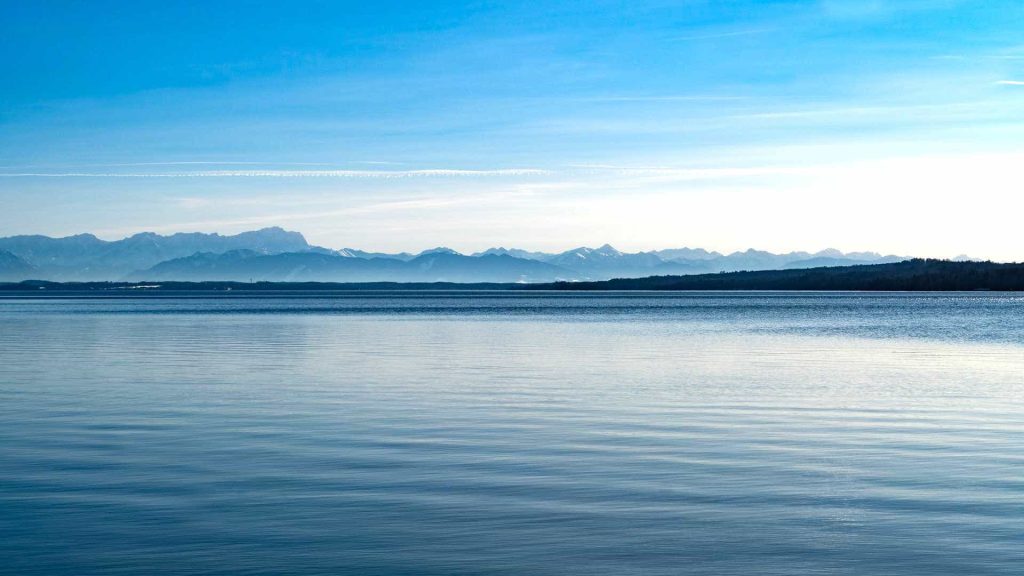 Lake Starnberg is one of the most famous scuba diving spots in Germany. 120 meters deep and with a beautiful Alps panorama, you haven't really done diving in Germany without seeing it at least once.
General info
Lake Starnberg can get water temperatures of up to 27°C! Sure enough, it reaches 3°C in the winter months but if you've never been cold-water diving in your life, this is the perfect spot to do so!
The Western shore is generally more shallow and perfectly suited for courses. Here we also go on our weekly night dives at different dive locations. A lot of Northern Pikes can be found in this area and there is a great abundance of fish.
The Eastern shore offers the more challenging dives with a number of wrecks and the world-famous steep face in Allmannshausen. This is a great dive spot for experienced and technical divers.
Dive Spots
Echinger Weiher (Eching Pond)
Echinger Weiher is a cute little place, hidden from most people and rather unknown among many people. It is a freshwater pond that does not freeze even during extreme winters.
General info
Eching boasts abundant wildlife with many Northern Pikes, different species of fish, beautiful underwater flora, and some interesting sights. The pond is not very deep but offers visibility of up to 15 meters.
We do most of our Scuba Reviews here, as well as our intro to freshwater diving courses.
It's very close to Munich and divers can enjoy a very private and relaxed experience here. Please note that the pond is private property and as such should only be visited with an accredited scuba diving center.
Dive Spots
Blindsee (Blind Lake)
Blindsee is an incredible diving destination in the Austrian Alps and our go-to spot for introductory altitude diving courses. Crystal clear water, easy to get to and breath-taking underwater scenery set this lake apart from many others. Its main feature is an entire sunken forest that you can explore for hours on end.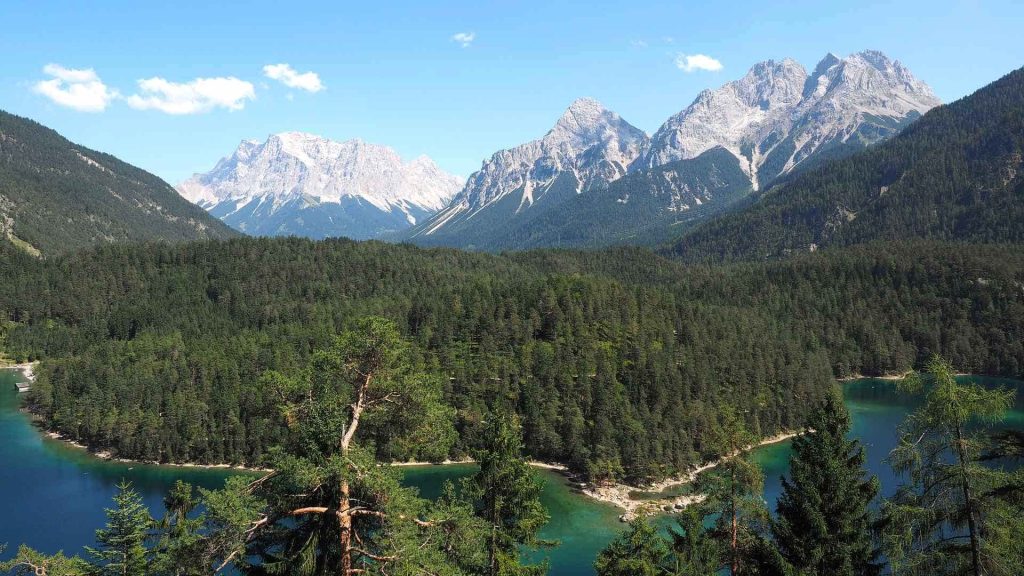 General info
Diving at the Blindsee will be unlike anything you have ever done. Hidden from view by a large forest, this scuba diving gem can only be dived at with an appropriate permit so it's best to visit this with us on our next excursion.
Water temperatures range from 4°C to 24°C at the surface, however, it is colder below the thermocline. 30+ meters visibility is not a rare occurrence throughout the year so get ready to take some great photos!
As the Blindsee is located at an altitude of over 1000m (3300ft), altitude diving procedures apply. Therefore, the best way to explore this lake is by joining us on an altitude diving course and learning how to do it safely.
Dive Spots
Book Your Freshwater Scuba Diving Adventure!
Don't wait any longer. Book now and join us on our next dives!