Children Diving
Explore the sea and say hi to the fish!
Scuba Diving for Kids and Parents
Have you always wanted to be in the water with dolphins, fish, and turtles?! Would you like to discover an exciting world underwater and breath like a fish in the sea? If that is the case, scuba diving is perfect for you!
Diving for Children
If you are at least 8 years old, you can jump right in with our scuba diving courses. Of course, your parents can come and watch or get their scuba diving license, too. If you are younger, you can join us for snorkeling courses for children and families.
Discover Scuba Diving
8+ years
In this course, children can try out scuba diving for the first time under the supervision of a certified instructor. In a pool, they learn how to breathe underwater using scuba equipment and how to move around using their fins.
A certified children diving instructor will conduct the course.
Scuba Diving Courses For Children
If you are ready to do a course and learn how to dive, these are the available options.
8 years
This is the first step for children to become certified scuba divers. After the course they can go diving in pools no deeper than 3m / 10ft.
9 years
The Junior Scuba Diver builds on what was taught in the Junior Diver course. As a Junior Scuba Diver kids can go diving in a pool or confined, shallow water up to 5m / 15ft depth.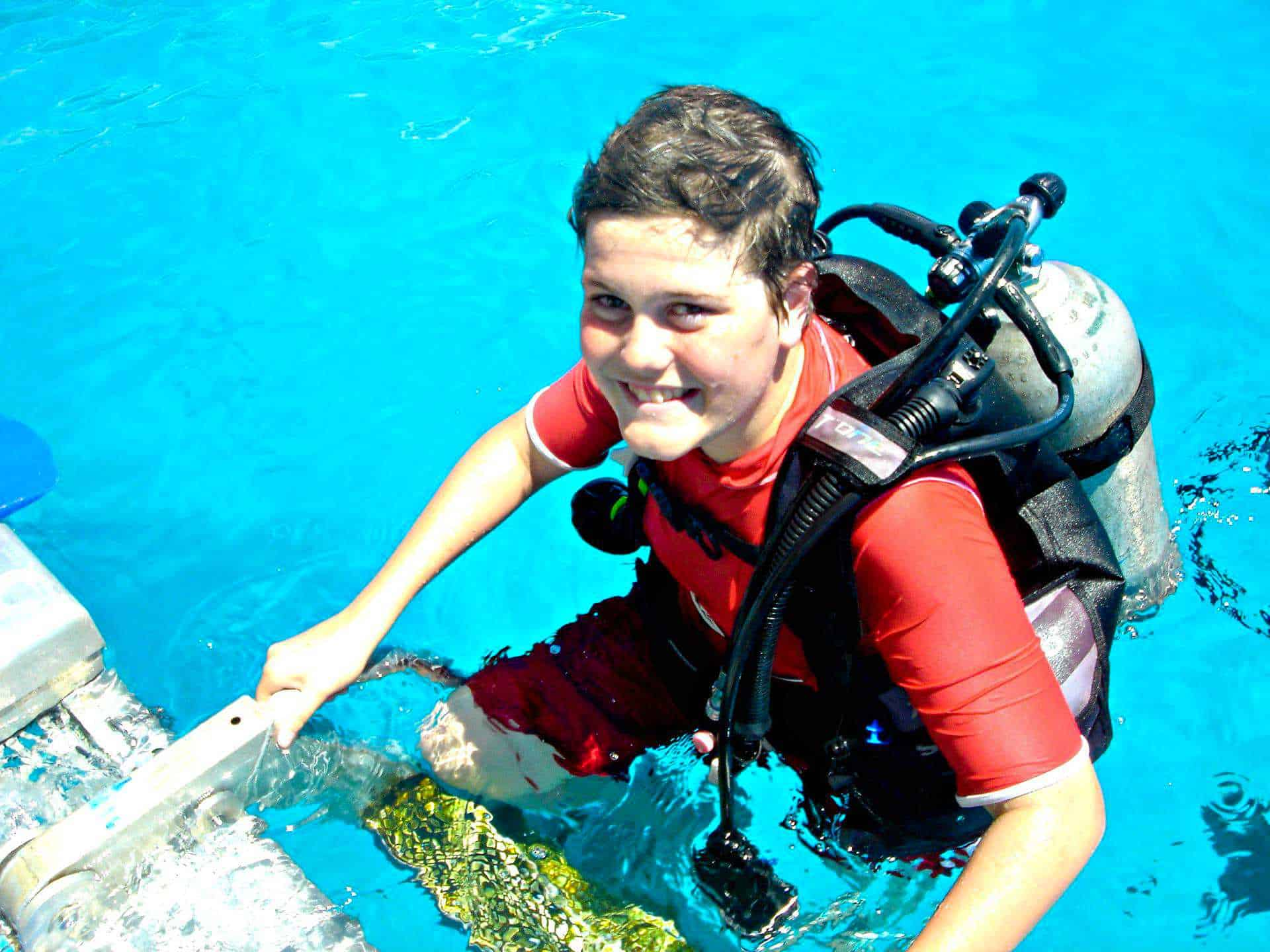 10-14 years
This is the first full diving license for children aged 10 or older. With this certification, children can go diving around the world on guided dives. As a Junior Open Water Diver the maximum diving depth is equivalent to the age of the diver.
INFO FOR PARENTS
It's never too early to become a certified scuba diver!
Getting your kids scuba diving certified is a great idea! Starting at age 8, they can slowly get to know the underwater world step by step and appropriate to their age and development. See why Social Diving is the best place to go scuba diving with children!
Why book with us
Children instructors
All our scuba diving instructors teaching kids how to dive are specially certified to do so.
Safety First
We adhere to all safety regulations by our training agencies, as well as recommendations by physicians and the newest scientific findings.
Appropriate Learning pace
Classes for children provide a great learning environment for all ages. We know kids learn differently from adults and we make sure everyone enjoys their course.
multi-lingual instructors

We offer courses in a variety of languages such as English, Spanish, German or French! We can also offer more languages on demand.