Pay only for what you need.
Our pricing system is really simple because we don't believe in large pricing tables that require a math degree to understand.
Why dive with us?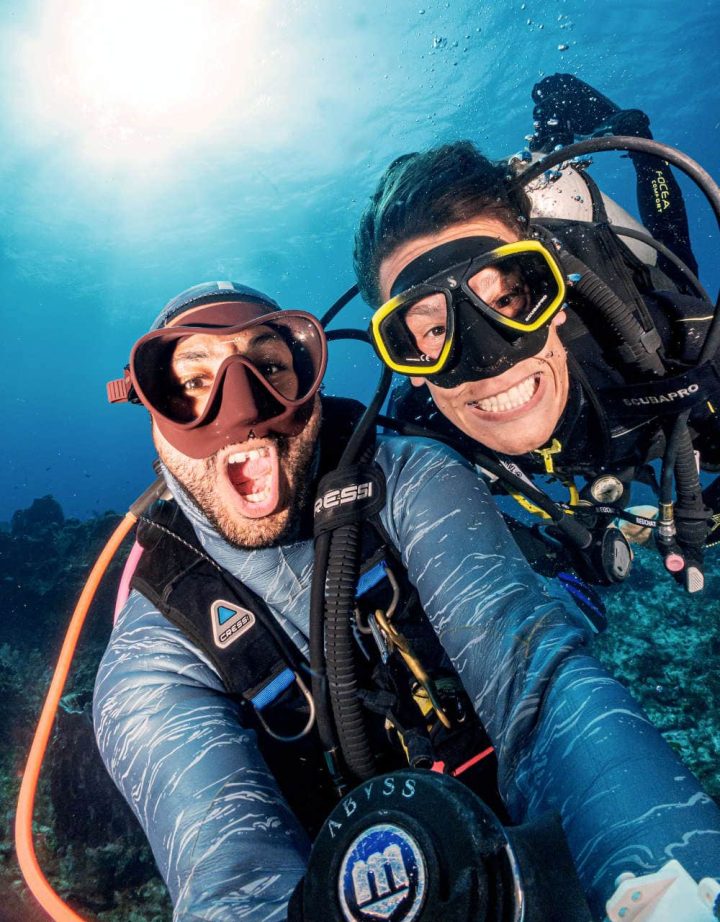 Our Pricing System
For any diving event, the costs for one diving day are split up like this:
We charge you based on how many days you dive with us, which (if any) kind of rental equipment you use, and how much gas, materials, and other charges apply. For courses, you can find what is included on the respective course page.
Want something special? Just ask!
Day Rates
| Category | Example | Price per day/person |
| --- | --- | --- |
| Standard Rec | Courses, Guiding, Training | €299 |
| Advanced Rec | Wreck, Altitude, Deep, Custom Courses | €399 |
| Standard Tec | Tec Diving | €499 |
| PRO-Diver Addon | Pick your date or extra materials | from €50 |
| VIP Course | 1-on-1 Training, Guiding, Support | Individual (~Day rate *2) |
Standard Rec
The standard day rate is €299 per person.
The rate stays the same whatever you want to do. Course or guiding, theory or diving for fun, it's all the same. Your diving coach will always be happy to answer your questions, show you cool tricks or skills and practice with you.
If you want to upgrade to a higher tier, you can do so at any time.
Our diving adventures are personalized, so we can't always say in advance how long a course or event might take. It largely depends on your individual skill and learning speed.
You will find the minimum and suggested duration on each course page.
If you booked guided lake diving but end up practicing buoyancy instead, that's cool. Started with a navigation dive and ended up diving just for fun? Sounds good.
Advanced Rec
Some courses like wreck or altitude diving require extra preparation, long transits, or special permits. Some of them also involve more risk (such as deep diving in freshwater lakes).
In these cases, the day rate of 399€ applies.
Standard Tec
Technical diving, cave diving, and variations thereof are extremely challenging and as such, the day rate of €499 applies.
Pro Diver Addon
Our Pro Diver option comes at a surcharge of 50-100€ per day (depending on the day rate) and allows you to freely pick the diving dates!
Our course dates are not fixed.
So with the Basic Diver option, you book a course and we'll let you know when a course can happen (a minimum of 2 people necessary).
The PRO option allows you to enquire about a date. And when you do, we guarantee that a course will take place then, no matter if we have other divers joining or not.
VIP rate
The VIP rate includes 1-on-1 diving with a private guide or instructor and extra value such as underwater photos, extra course materials, and more fun stuff.
Whether you want to dive at 5 in the morning on a Tuesday or 10 at night on a Saturday, we'll be there.
Rental Equipment
Rental equipment for coldwater diving is available in all sizes for both adults and children. Please note that we need to know in advance if you want a drysuit, as it takes the manufacturer about a week to ship them to us.
If you don't need any, that's fine. If you use something, we put it on the tab. Easy, right?
Click here to check out our rental equipment.
Gas Charges & Materials
Both you and your guide/instructor need to breathe underwater. You might also need a line, special equipment, or extra materials, for example in a cavern or wreck. And depending on how much you want to dive, we use up more material and gas.
That's why we add these costs for you and your diving coach (divided by the number of participants) to your bill. For air, these normally amount up to 20 – 30€ per diving day.
Fees & Add-Ons
Certification Fees
If you want to get a certification card after your diving course, we are happy to send you one. Just let us know and pick a nice photo. Smile! 🙂
On the other hand, if you don't want one at all, there is no need for you to pay for it.
The certification fee for iac is €49.
Environmentally friendly, biodegradable plastic cards for iac and CMAS courses cost €65.
Best part? Social Diving donates 5€ per card to an environmental NGO out of our own pockets!
Entry Fees
Some venues require entry fees to enter for each diver. We have no control over these and they go directly to them. Please bring the entry fees in cash, as not all of them offer card payments.
These are the fees as of December:
Indoor dive center: €29-49 (depending on the day) / p.p.
Echinger Weiher: €15 / p.p.
Starnberg See: €2 Parking ticket
Blindsee: €25 / p.p.
Transportation (at your own discretion)
Due to legal reasons, Social Diving and its staff may not provide transportation as part of any diving event. For that, we would need a special license like that of bus or taxi drivers.
Therefore, all our prices assume that our guests are able to provide transportation for themselves and the dive instructor or guide to the dive location.
Again, as we are legally prohibited from providing such transportation ourselves, we must charge for any transportation cost occurring to the Social Diving staff (such as taxi or rental car charges) if it is not provided.
We split the fee evenly among all participants and take the cheapest option available.
You can find deals for rental cars here:
About our Pricing
A diving course, trip, or adventure will give you memories for a lifetime. We think these memories should be special and will do anything we can to make them so.
If you start looking around on the internet for scuba diving courses and guiding, you'll find a large variety of prices for "the same" things. Before you deem us (or anyone else) to be exceptionally cheap, expensive, or reasonably priced, check and compare what you get for your money.
It's a fact that we don't fall under the "super cheap" category and we don't want to be there, ever.
Remember: When you pay very little for something, you will get what you pay for…very little.
Cheap prices mean cheap rental gear, crowded courses, inflexible dates, and the bare minimum of training. If the price is all that matters to you, then that's cool but
This is NOT our approach!
We love diving. And we love working together with our clients and guests to make their diving adventures super special. And the only way we can imagine doing this is by offering:
Small groups (1-4 students)
Flexible course dates
Extra dives at no extra cost
24/7 personal support
High-End rental equipment
(the same that our instructors use)
Diving community during and after the course
Pricing Examples
Open Water Diver – Basic Example
| Item | Explanation | Cost |
| --- | --- | --- |
| Course fee Basic Diver | online course, examination fee, rental gear, personal support, skill session in the pool, indoor diving, diving in open water, tank fillings, lake fees | €899 |
| Certification Fee | Official RSTC/EUF certified card, shipping, preliminary card included | €49 |
| Entry Fee Pool | | €29 |
Specialty Course Example
Specialty courses are more than just certification cards in your wallet. They should be educational, fun, and not just a way to work towards an even higher certification.
Specialty courses at Social Diving are priced the same as our guided dives according to our day rates.
It doesn't matter what you would like to learn, in the end, you always get personal dive time with an instructor which we think is worth the same no matter how you decide to use it.
Most specialty courses can be taken as 1,2 or 3-day options, depending on how much you would like to go into detail on the topic.
Why would I book a course for longer than necessary? you might ask. Again, the day rate is the same for guided diving or courses. Isn't that cool? You can book additional course days and not worry whether or not you will pass the course in 1 or 2 days.
You can just book adventures that you ENJOY!
Guided Diving Example
When you book guided diving with us, you don't pay for a guide that shows you around, but for an entire diving adventure and the time with your guide.
If you decide last-minute that you would rather do a course than just a dive, no problem. The day rate (see below) includes anything you like to do during your time with us. We don't judge and we don't require an additional booking.
We can guide you around but also practice skills, give you tips on equipment, diving, or review theory concepts you might have forgotten.
This also means all our guides and instructors are highly trained and can provide a bunch of different diving services and adventures to you.