Already know the DiveAssure is for you?
In that case, click on one of the links below for the latest prices. If you are undecided still, read the rest of the review to find out if the DiveAssure is what you're looking for!
Reasons to buy
Great coverage

Extensive upgrade options

Diving liability insurance included

Short-term options available

Family insurance at 10% discount

Tech & cave & solo-diving included

Equipment damages from accidents covered
Reasons to avoid
Does not cover US citizens when diving in the US

Travel insurance only included in higher-tier plans

Not the cheapest option
Important Features
24/7 emergency hotline
Diving accident insurance
Dive Equipment covered
Tech & cave & solo-diving supported
No depth limit
Liveaboard coverage available
Where to buy

MSRP: €69
Our DiveAssure review
Below you find everything you need to know about the DiveAssure, its features, specs and what we like, and don't like about it.
DiveAssure is a pure scuba diving insurance provider which offers great coverage with their DiveSafe and Dive & Travel plans. All types of diving accidents are covered, as well as the full cost of any hyperbaric oxygen chamber treatments.
There is no depth limit and every type of diving is covered. From recreational to technical and cave diving, with air or mixed gases.
The same holds for solo and ice-diving.
Our favorite part about the DiveAssure offering is the option to expand the DiveSafe plan to include travel insurance that covers lost dive equipment, missed diving days due to flight delays, and even liveaboard coverage.
The Dive & Travel plans are even better because they include travel insurance for up to unlimited trips per year, including lost baggage and damaged scuba gear coverage. What's not to like about that?
The DiveSafe plans start at around 69€ per year while the Dive & Travel basic plan is slightly more expensive. If you only dive in your home country, the basic plan is more than enough.
However, if you are a frequent traveler, we recommend at least the Dive & Travel package, as it's just too good to miss out on that equipment coverage.
The family option comes at a 10% discount on all dive plans and is really worth it if you are a family of avid divers. After all, the more people join on a vacation, the higher the chance that something may go unplanned.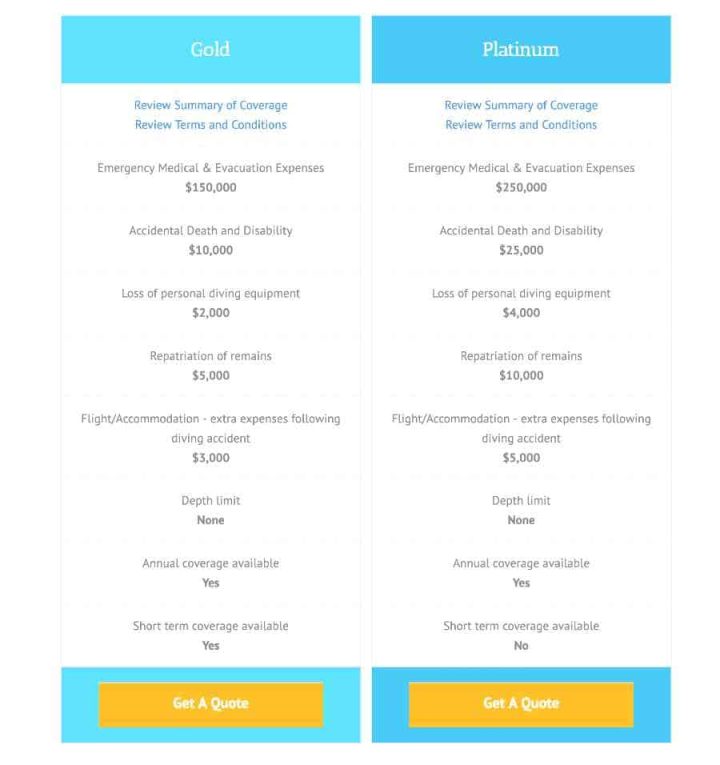 A drawback of the DiveAssure insurance plans is that diving in the US is not covered for US citizens. If you are a US citizen wanting to cave dive in Florida, you will have to look elsewhere in that case.
It must also be said that, in comparison to aquaMed, travel insurance is not included in the basic plan. However, the DiveAssure travel insurance is much more extensive than the former.
DiveAssure does not impose any limits on diving depths and the types of diving you do.
Mixed gases, rebreathers, solo, and cave diving all fall under the policy without any additional cost.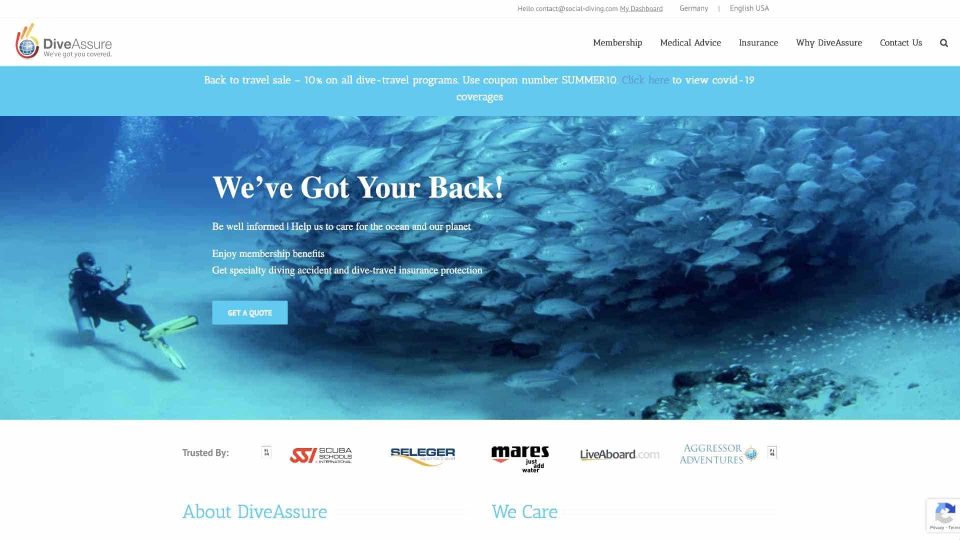 The coolest part about the Dive & Travel options is the liveaboard coverage which will reimburse you for any missed diving days on a boat in the case of delayed flights.
If you travel for a long time to get to your destinations, things can happen. Quite a few people have missed their liveaboard when their flights were delayed, their luggage didn't arrive or something else went wrong.
DiveAssure Pros
DiveAssure Cons
Verdict: A-
If you are willing to spend some extra money on your diving insurance, DiveAssure is the way to go. They might be more expensive, but the added benefits for scuba divers are undoubtedly worth it.
A good part about this insurance is also that it is available to anyone and not restricted to Europe or the USA.
Where to buy

MSRP: €69