The Olympus Tough TG-6 is a best-selling compact camera and regularly makes the top-10 lists of the best underwater cameras for scuba divers.
Like all Olympus cameras, it excels at macro photography but is also a solid choice for getting started with underwater videos.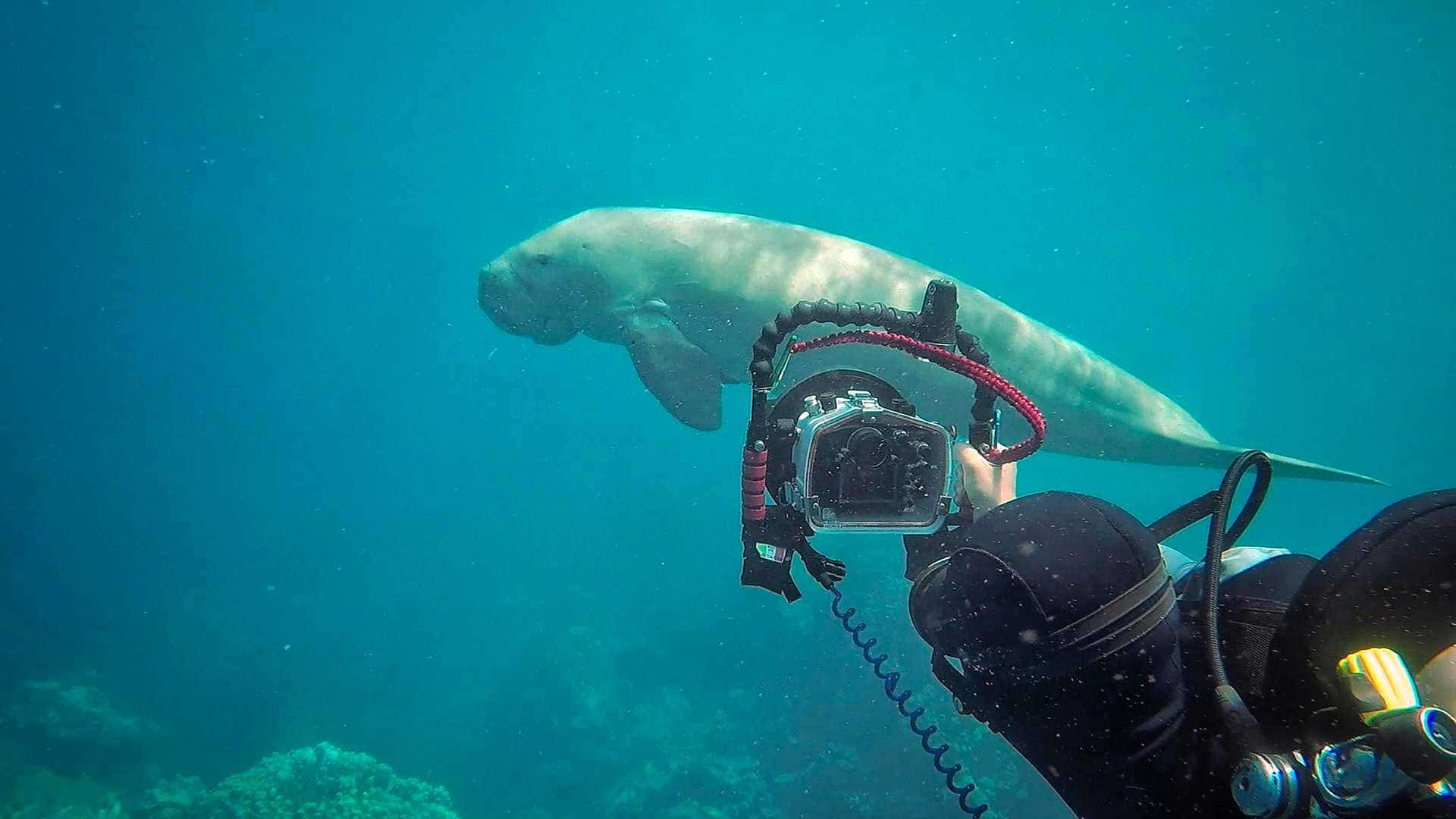 At such a low price, you will have a hard time finding anything comparable that produces the same quality output.
Olympus TG-6 Review Summary
The Olympus Tough TG-6 is a great compact camera for beginners while being super flexible. It provides good quality macro images and is super easy to use. It is also waterproof to 15m/50ft out of the box which means you don't even necessarily need a housing to get started!
Already know the Olympus TG-6 is for you?
In that case, click on one of the links below for the latest prices. If you are undecided still, read the rest of the review to find out if the Olympus TG-6 is what you're looking for!
Reasons to buy
Easy to use

Waterproof to 15m / 50ft (50m / 160ft with housing)

Lots of tutorials and resources available

Nice macro shots

Good battery life

Lightweight and great for travel.
Reasons to avoid
Low megapixel value

Zoom not great

Not as extendable as other compact cameras
Where to buy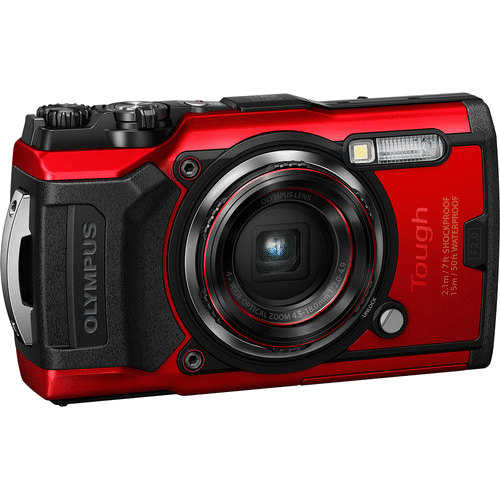 MSRP: €699
Our Olympus TG-6 review
Below you find everything you need to know about the Olympus TG-6, its features, specs and what we like, and don't like about it.
The Olympus Tough-TG6 is one of my personal recommendations for beginners and everyone who is just starting out with underwater photography.
It takes great photos, is super affordable, and it's so popular you will find plenty of resources and tutorials on it.
If you have taken the Open Water Diver course at Social Diving, you have seen videos and photos taken with it throughout our theory lessons.
While the MP are slightly on the lower side, and the zoom is not perfect, the colors are really bright.
Like any Olympus system, it's very lightweight and the entire bundle including camera, housing, and lights can easily fit into a carry-on bag or a dive bag of choice.
Being a compact camera, the quality is not on par with more expensive system cameras, but the build quality on this one is excellent.
In contrast to those, however, you can get by without extra housing, as long as you stay above 15m (50ft) depth. This makes it an even cheaper entry point for novice underwater photographers.
Last but not least, the Olympus TG-6 is kind of a closed system that's meant to be used as is without many extensions.
The Olympus TG-6 for underwater photography
The Olympus TG-6 was designed with underwater photography in mind, whether you go scuba diving, freediving, or snorkeling.
As a fully waterproof camera, you can charge it, put in a memory card, and start shooting photos and videos right away.
For that purpose, you will love the different underwater modes that the camera can be set to which are optimized for beginner scuba divers.
Being an Olympus camera, special focus lies on macro photography at which all their cameras excel.
For example, the Underwater Microscope mode is excellent for taking photos of tiny critters, small reef fish, and super macro images.
There are 3 more macro modes are available – Microscope Control, Focus Stacking and Focus Bracketing.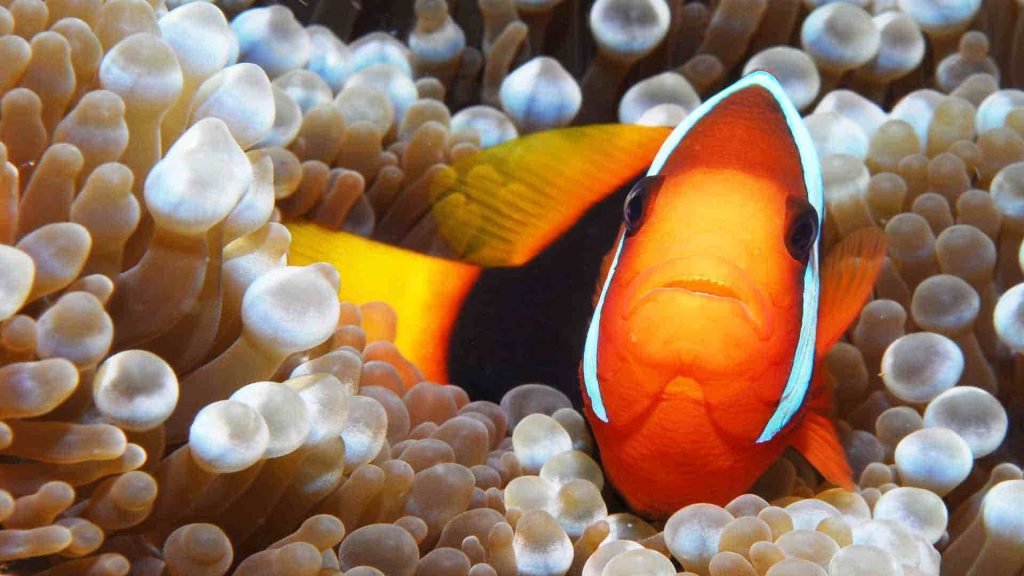 The minimum focus distance is a 1cm (!), allowing you to really get up close with whatever you're trying to capture without focus issues.
Other useful underwater modes include Underwater Wide Angle, Underwater Snapshot, Underwater HDR, and standard Underwater Macro.
Underwater, the Olympus TG-6 automatically corrects the White Balance to produce great colors at depth. The current model supports 3 custom modes – Shallow (down to 3m), Mid-range (3-15m), and Deep (15m and more).
Since the camera is waterproof to 15m / 50ft on its own, you don't even need to buy housing for two of them.
Underwater housing for the Olympus TG-6
The Olympus PT-059 Underwater Housing is specifically made for the Olympus TG-6 and increases the depth rating to 45m / 150ft.
From experience, I can confirm that the camera itself can be used down to 20-25m without the housing with no problems. However, in order to prevent flooding and keep it intact longer, you do want to buy the housing.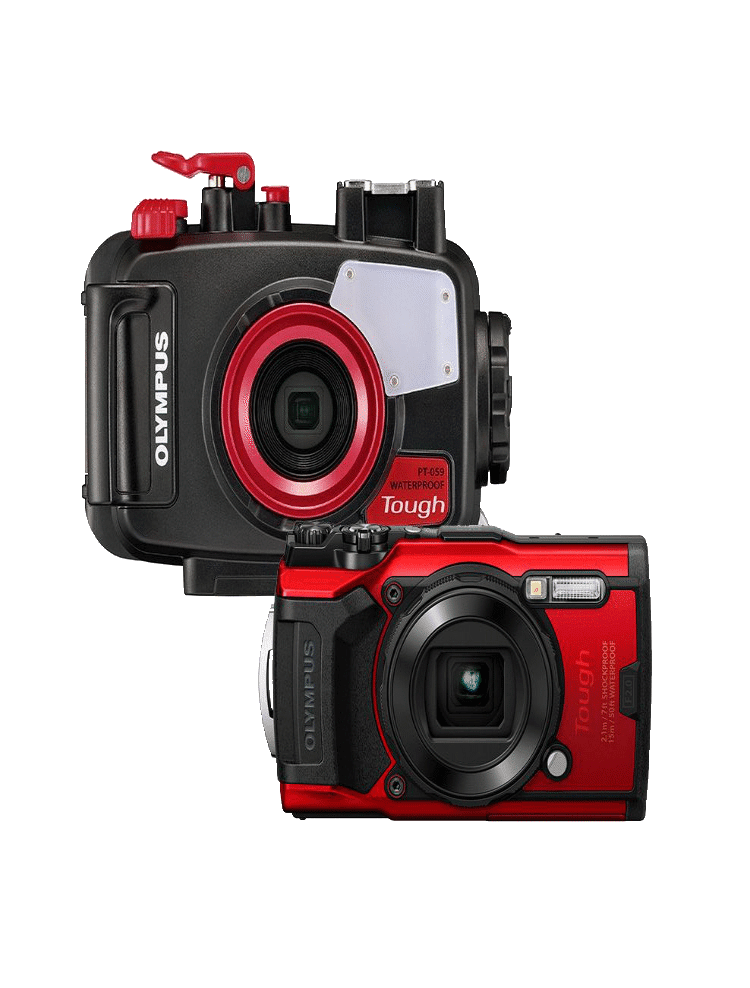 It's super cheap and also helps in protecting your compact camera from salt water, impact damage, and other outside influences.
Another advantage is that you can attach strobes, external lights and more to the housing and take you underwater photography game to the next level.
Conclusion
The Olympus Tough-TG 6 is a great underwater camera for beginners and among the best compact cameras in general. Easy to use and with great image quality, you won't go wrong with this one.
Specs & Features
| | |
| --- | --- |
| Type | Compact Camera |
| Weight | 1.2 kg (2.8 lb) |
| Megapixels | 12MP |
| Resolution | 12MP (photo), 1080p (video) |
| Good for | Macro photography |
| Zoom | 4x |
| Media Type | Micro SD |
| Other Features | waterproof down to 15m/50ft (50m/160ft with housing) |
Where to buy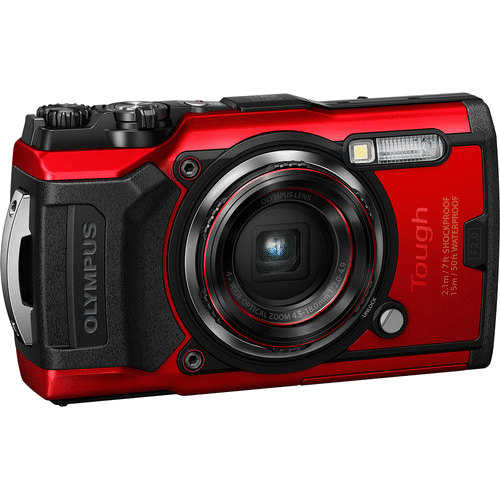 MSRP: €699