Santi is well known in the diving industry for absolute perfect build quality and smart design.
The Santi Elite Plus is their flagship drysuit and it definitely fills that spot well.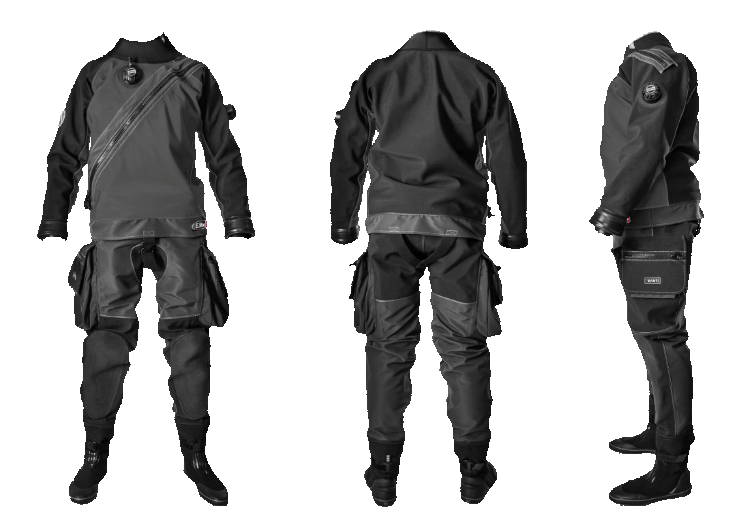 Already know the Santi Elite Plus is for you?
In that case, click on one of the links below for the latest prices. If you are undecided still, read the rest of the review to find out if the Santi Elite Plus is what you're looking for!
Reasons to buy
Incredible quality

Perfect cut

Excellent customer service

Super durable

Well-thought-out design
What could be improved
Stop charging extra for the red version!?
Where to buy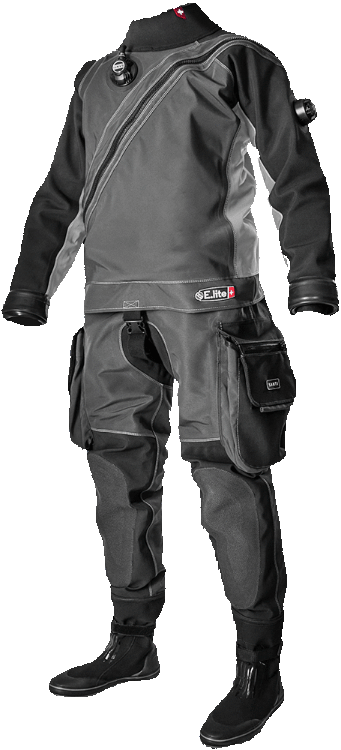 MSRP: €3499
Our Santi Elite Plus review
Below you find everything you need to know about the Santi Elite Plus, its features, specs and what we like, and don't like about it.
Santi drysuits are the absolute creme de la creme of scuba diving drysuits and the Santi Elite Plus is one of the best trilaminate drysuits I've ever worn.
It's just so well made, comfortable and durable that there is really nothing wrong with it. The Santi suits are well regarded in the industry and come with some super cool and well-thought-out features.
Last but not least, they look great and are easy to put on and off.
Specs & Features
Type
Trilaminate Drysuit
Weight
3.9kg (8.5 lbs)
Materials
Upper suit: Ripstop Nylon/Butylene/Ripstop Nylon 365-425g/sqm & Ripstop Nylon/Butylene/Polyester 515g/sqm
Upper front and back bottom legs: Elastic, light fabric
weighing 365-425g/sqm
Back, elbows, lumbar area, lower front of the legs: E.Lite fabric, 515g/m2.
Available Colors
black / blue / gray / scarlet / arctic blue / turquoise / amber
Zipper type
TiZip Masterseal zip (plastic)
Zip location
Chest
Boot type
Flex soles / socks or socks + rock boots
Wrist seal
Latex or silicone
Glove type
Kubi glove system or Santi smart glove system
Neck seal
Latex or silicone
Hood included
Yes
Pockets
2
Valves
Apeks
P-Valve
Halcyon P-Valve
Custom sizing
Made to measure & custom sizing available
Other Features
telescopic torso, 3 tiers of lifetime warranty available
Conclusion
The Santi Elite Plus is well deserving of the rare 5-star review on our site as it simply ticks all the boxes for an amazing drysuit.
From the classic design, to the high-quality build, and the value of the materials, there is just nothing I can find to complain about.
Most of all, it stands out due to some clever design choices, such as not putting any seems in the arm pits to prevent stress breaking from moving your arms.
The same goes for the position of the dry zipper.
If you want the best of the best, the Santi Elite Plus is one of the drysuits you absolutely have to check out!
Where to buy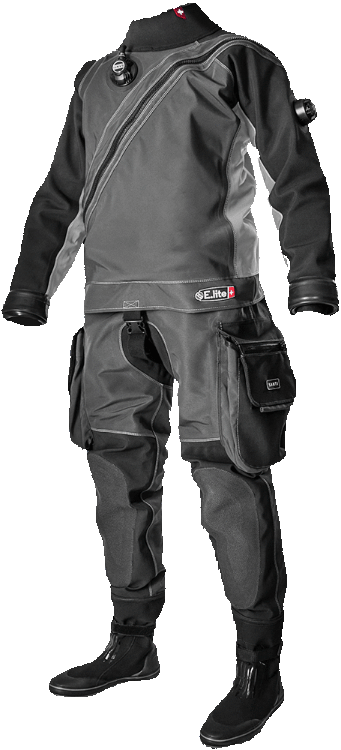 MSRP: €3499