The 10 best dive spots in Europe
It doesn't always have to be Egypt! If you are like us at Social Diving, you enjoy exploring different places to dive all the time.
In this list, you will find my list of the 10 best dive spots in Europe in no particular order.
Europe has much to offer for scuba divers of all ages and levels of experience. From mysterious wrecks to exciting caves, sharks, and coral reefs, there is no need to travel to exotic islands for some great diving.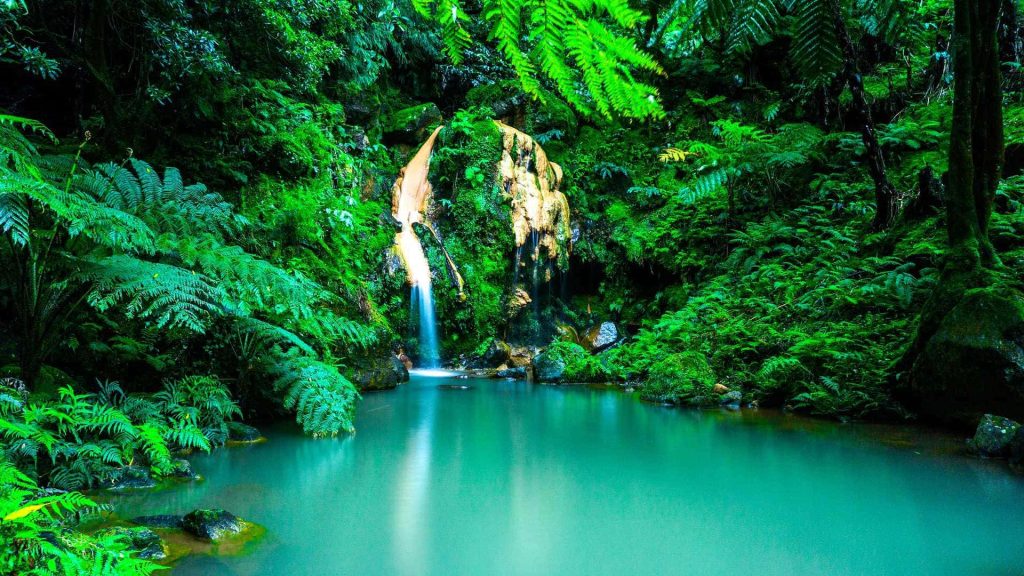 I tried to include places for both recreational and technical divers and in most cases, they are suitable for both.
Especially with the travel restrictions in place right now due to the Corona pandemic, most of these locations are easy to get to when you live in Europe.
Scapa Flow, Scotland
First on the list is one of the greatest wreck diving spots on the planet that most divers have never heard of.
Far North in the UK, the bay of Scapa Flow in the Orkney Islands in Scotland features the wreckage of the German WW1 fleet alongside other sunken ships and objects.
Getting to Scapa Flow requires some preparation as the bay lays secluded at the Northern tip of Scotland. There is a small airport close by, however, many prefer to fly into a larger city in the country and take a rental car to the dive site.
Once you made it there, Scapa Flow allows you to explore the former German WWI fleet, including three King-class battleships and four light cruisers.
Several other vessels and blockships can be found in the bay, and even a submarine. You can check out these 3D models of the Scapa wrecks, read more about their history and check out the dive sites.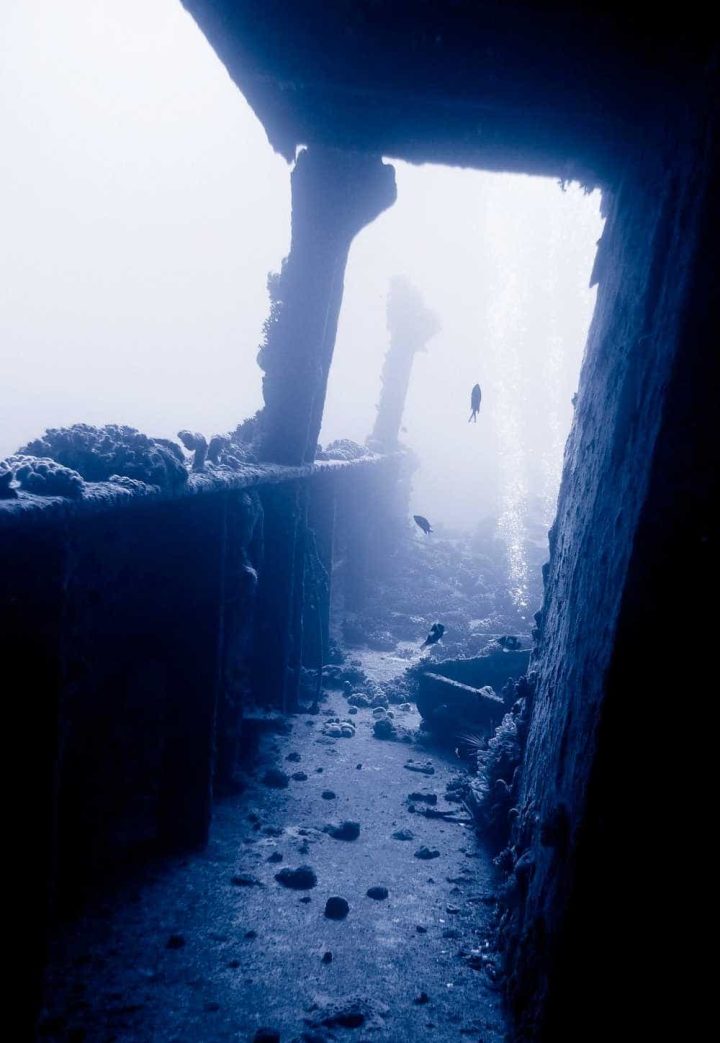 While you can certainly dive Scapa Flow as a complete beginner – the only operating dive school there even offers discover dives in the bay – the wrecks lay at depths of around 15 – 45 meters.
Hence, it is recommended to be certified to at least Advanced Open Water Diver to get the most out of your stay.
Especially if you wish to explore the SMS Markgraf which lies upside down at 45 meters, knowledge of decompression and technical diving is certainly beneficial.
Especially rebreather divers will enjoy this dive site as the wrecks are easily accessible and allow for hour-long dives to explore even the deepest corners.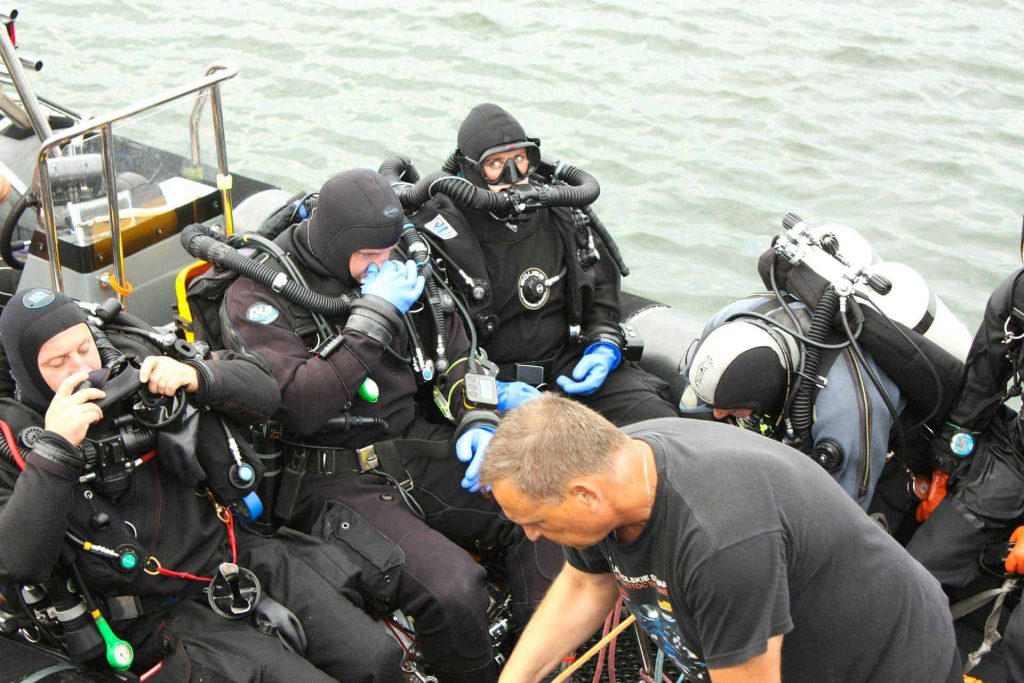 Day excursions can be arranged, but for the full experience, a 5-7 day charter is necessary to dive all the wrecks.
Although the wrecks are the main selling point for Scapa Flow, you can also find an abundance of seals and other cold-water animals here. If you are really lucky, you might even see a great Baskin shark during the summer months.
Scapa Flow, its wrecks, and unique wildlife are surely one of the best dive spots in Europe and should be on every wreck diver's bucket list!
If you are interested in diving at Scapa Flow, check out the Social Diving travel pages, and let us arrange your next stay here!
Adriatic Sea, Croatia
The Adriatic Sea has long been considered one of the hotspots of scuba diving in Europe. Especially the Croatian coast and its larger islands KRK, Cres, and Vres offer superb diving for beginners and advanced divers alike.
There are just too many great dive spots to list them all here, but some of my personal favorites are the wreck of the Lina before the island of Cres, the Plavnik cavern on Krk, and the wreck of the Peltastis between KRK and mainland Croatia.
Check out our video from the Social Diving Croatia trip in 2018 to the wreck of the Peltastis.
If you are an experienced wreck diver, don't miss out on the SS Baron Gautsch before the coast of Rovinj in the North of the Adriatic Sea.
While I am personally biased toward wreck dive sites, Croatia features countless fun and easy dive spots for scuba divers of all ages.
The water is clear and warm from May through October and great for families with Junior Divers and children.
There is an abundance of fish, octopuses, and shallow shore diving spots that are great for getting certified as a scuba diver or getting back into diving after a long pause.
Traveling to Croatia is easy and many airlines offer connections on a daily basis. If you choose to go by car, remember that you might have to take a ferry to get to some of the islands.
Finding a dive center is not difficult, however, if you want us to help you with it, we are happy to help you!
Budapest, Hungary
Next up on the list is one of the best-kept secrets of cave diving, in my opinion.
The Molnar Janos cave in Budapest, Hungary is one of my favorite cave diving locations in the world and certainly one of the best dive spots in Europe.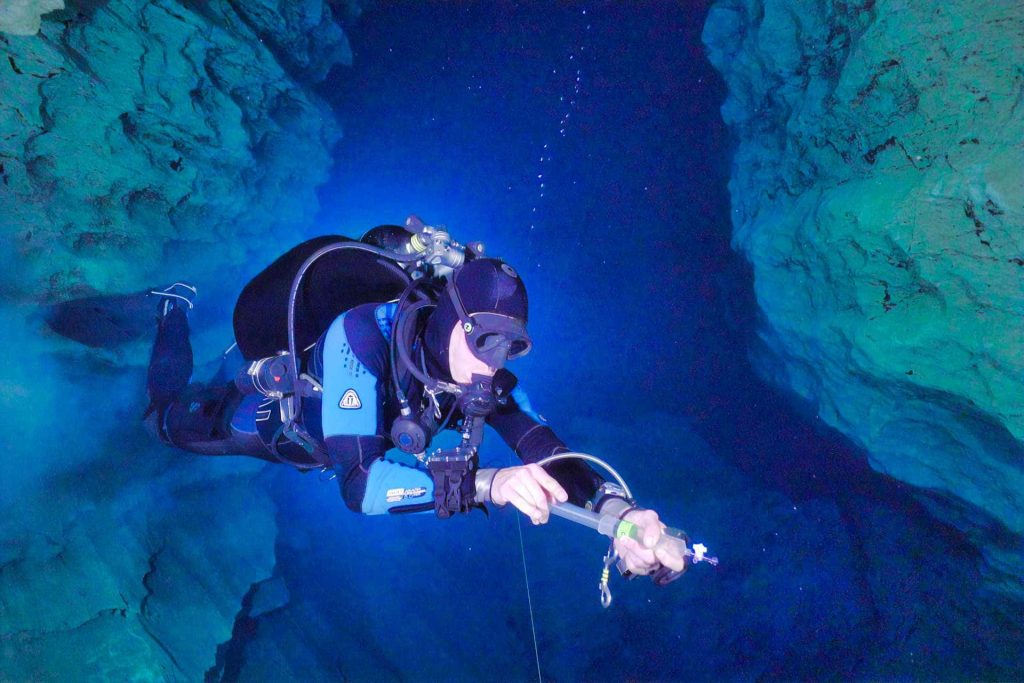 While there are deeper or more challenging caves, none of them allow you to dive in 24°C warm thermal water! The thermal baths in Budapest are world-famous, and the Molnar Janos cave system is their water source.
Therefore, it will be difficult to find healthier water for your next dive.
The cave itself offers a lot to see for cave divers of all levels and diving under the streets of Budapest is an incredible experience.
If you are not yet cave-certified but have at least 100 dives in your logbook, you can go on a 2-dive discover cave diving adventure with a guide and see if you like it.
Don't forget to bring equipment that conforms to the DIR system as you won't be allowed to dive otherwise. Don't worry, though, they have enough rental equipment on site.
Diving is limited to 30 dives per day so reserve a spot well in advance. Send us a message if you want us to arrange your cave diving adventure or join on a Social Diving trip.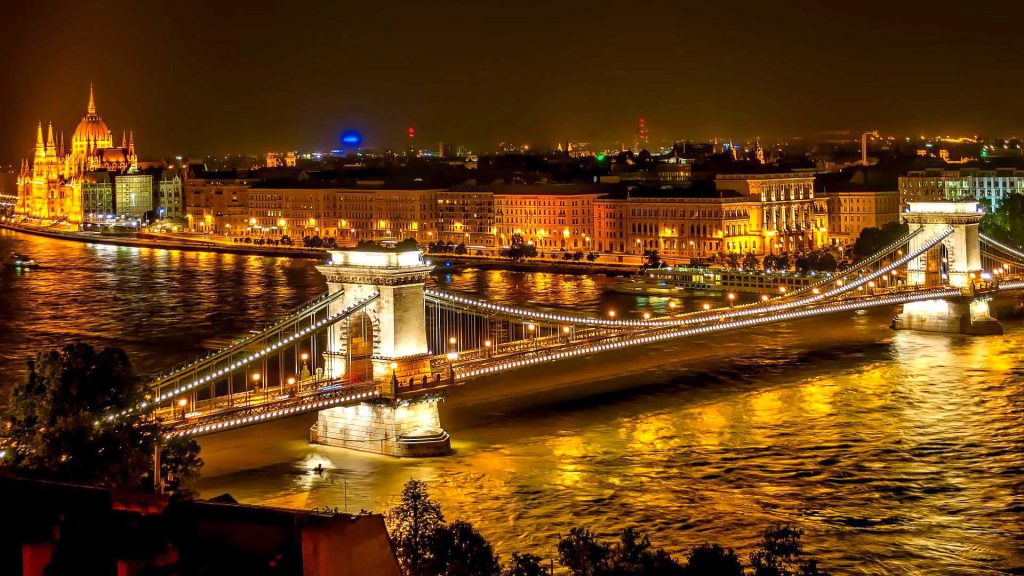 If the cave itself is not enough to convince you that it's worth traveling here, there is the city of Budapest, arguably one of the most beautiful capitals in the world.
From the beautiful old town to a vibrant nightlife, Budapest should be on every European travel list.
Malta, Gozo
Malta and its small sister island Gozo have long been known as some of the best dive spots in Europe for their beautiful reefs, caves, and a number of popular wreck diving locations.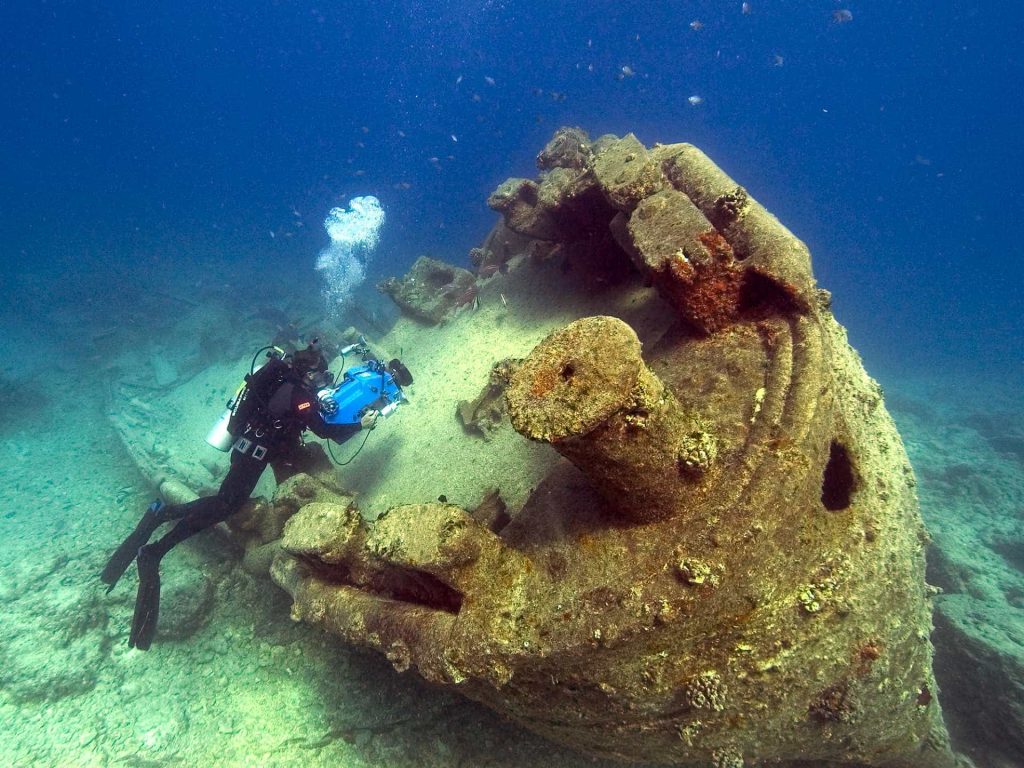 The Maltese Archipelago actually consists of over a dozen different islands of which only the three largest are inhabited.
The largest one is Malta with the capital Valletta, Gozo which boasts a number of historic sites and temples, and Camino with a population of only 3 (sic!).
Both Malta and Gozo are great dive locations for beginners, advanced and technical divers alike. It is also a popular rebreather diving destination.
Popular dive sites include the Blue Hole, Double Point Reef, and the wreck of the Um el Faroud.
In order to dive without a guide, you and your buddy need to be at least Advanced Open Water Divers by law!
There are numerous shore diving spots, however, if you are not an experienced wreck diver, consider getting a guide.
The best time to travel to Malta is from March to October as many dive bases shut down in winter. Water temperatures allow for wetsuits of 5-7mm thickness.
A dry suit is only really necessary if you plan on doing extensive technical dives or are a rebreather diver.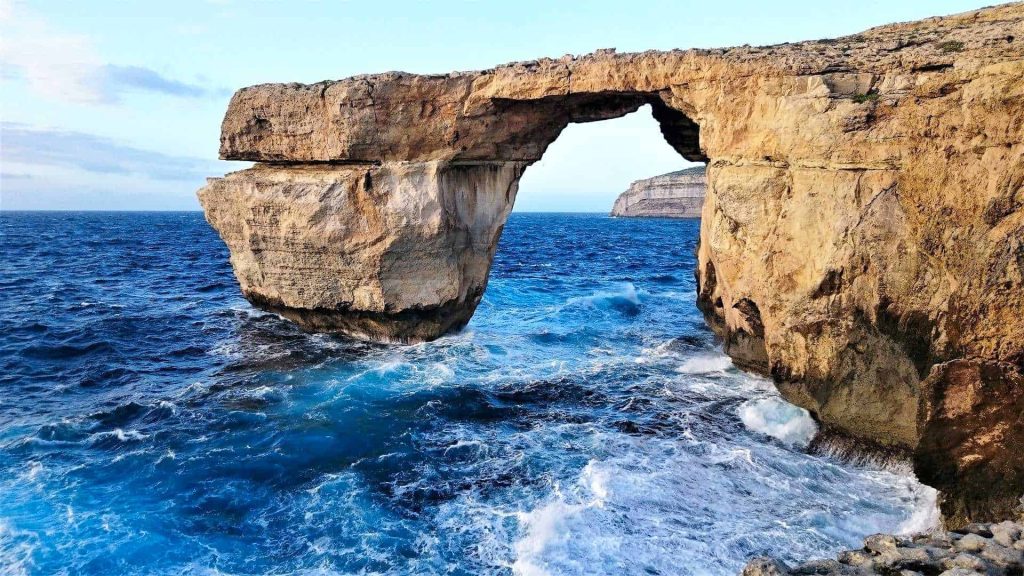 For obvious reasons, the only sensible way to get to Malta is by plane. Several airlines offer connections from all major airports in Europe and North Africa.
Maltese is the first language, however, English is the second official language so communication will be easy.
Cyprus
Cyprus offers some of the best dive spots in Europe for all divers and is a great spot for families, as well.
Clear blue water, beautiful reefs, and Mediterranean cuisine, what's not to like there?
The wreck of MS Zenobia is arguably the most famous dive site in the country and regularly makes the top 10 wreck dive sites worldwide.
The Swedish ferry capsized in 1980 and has since been open to scuba divers of all levels.
For Open Water Divers, the starboard side at 16 meters is a great starting point for a wreck diving career.
Advanced divers can go deep diving to the upper car deck at depths of up to 40 meters.
Besides the MS Zenobia wreck, Cyprus features plenty of beautiful dive sites with plenty of fish, warm water temperatures, and reefs that are still intact.
Ayia Napa, Paphos, and Kyrenia are some of the noteworthy spots you should check out when you're on the island.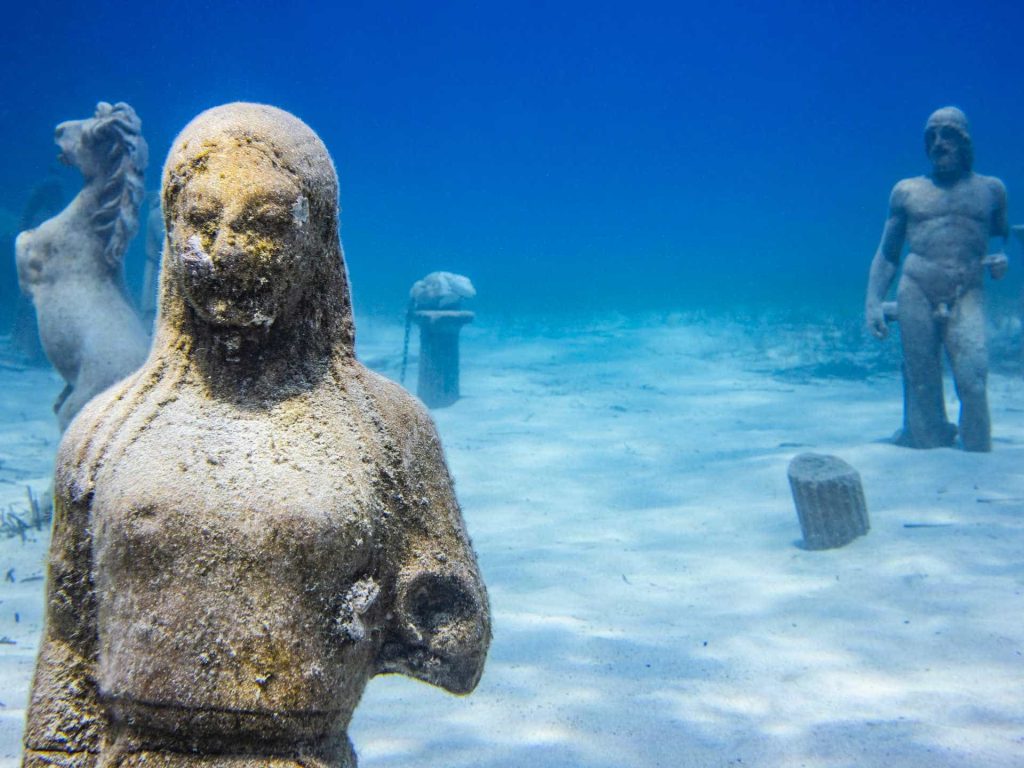 Turtles are abundant around Cyprus and you will see them on multiple occasions.
Water temperatures reach up to 27°C during the summer so a 5mm wetsuit should be enough for most divers.
The best time to visit is between April and October when you may even encounter a Manta ray or sharks on your dives.
Dive centers are not hard to come by, but if you want us to arrange your dive package, we are happy to do so.
Baltic Sea, Sweden – Germany
By now you have noticed that Europe is an excellent wreck diving region and the Baltic Sea is no different.
Located in the North of Europe and surrounded by a number of countries, you can find hundreds of wrecks in this area.
As a matter of fact, it is suspected that more than 1000 wrecks still lay undiscovered in the depth and new ones are found every year.
Check out this video from the Social Diving Baltic Sea tour in 2019. We went to the island of Rügen in March and it was really a lot of fun.
However, I don't recommend using a wetsuit like I did in 3°C water!
For scuba divers, the best way to get to them is from Germany or Sweden, although there are dive bases in the Eastern European countries, as well.
The Baltic Sea has a median depth of only 52 meters, and most dive sites are suitable for the Open Water Diver level. Usually, dive operators will take you out on a boat but be aware that some of the dive sites are rather far out from shore.
Most boats are also rather basic, and while they offer enough space to carry you and your equipment, do not expect expensive motor yachts or showers on deck.
Shore diving is an option and can be combined with camping at the beach. Some dive sites even offer an adjacent campground with running water and electricity and make diving in the Baltic extremely convenient.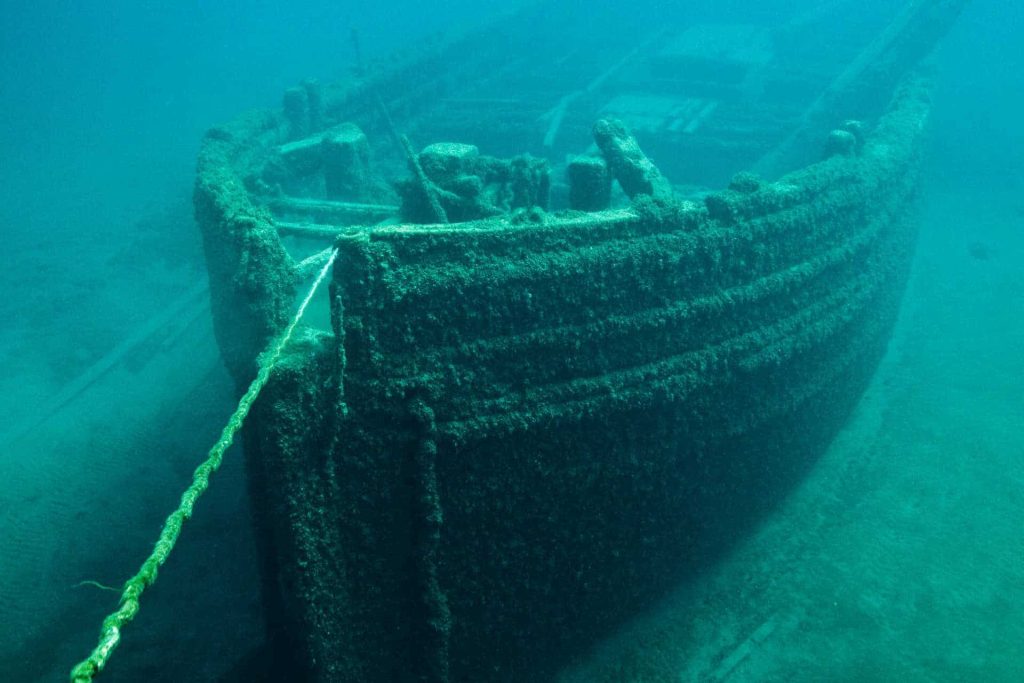 Besides shipwrecks, submarines, and airplanes, you can encounter smaller species of whales here, dolphins, and seals. There is an abundance of fish and even corrals to see.
Getting to the Baltic Sea is easy and there are plenty of airports all around. If you take a car, you are more flexible and the roads are well maintained.
The best time to travel is during the summer when the water reaches temperatures of up to 24°C. From December till March, a dry suit is recommended for the 3°C cold water.
If you want to explore the wrecks of the Baltic Sea, send us a message and we can arrange your travel!
Azores, Portugal
The Azores are probably the most exotic dive spot on this list and definitely the one that is farthest away from most people's homes.
One of two autonomous regions of Portugal, this set of islands is located halfway between Europe and the US in the Atlantic.
Many cruise ships stop here on their journey between the two continents. More importantly for us as divers, however, so do over 20 species of whales and almost as many types of sharks.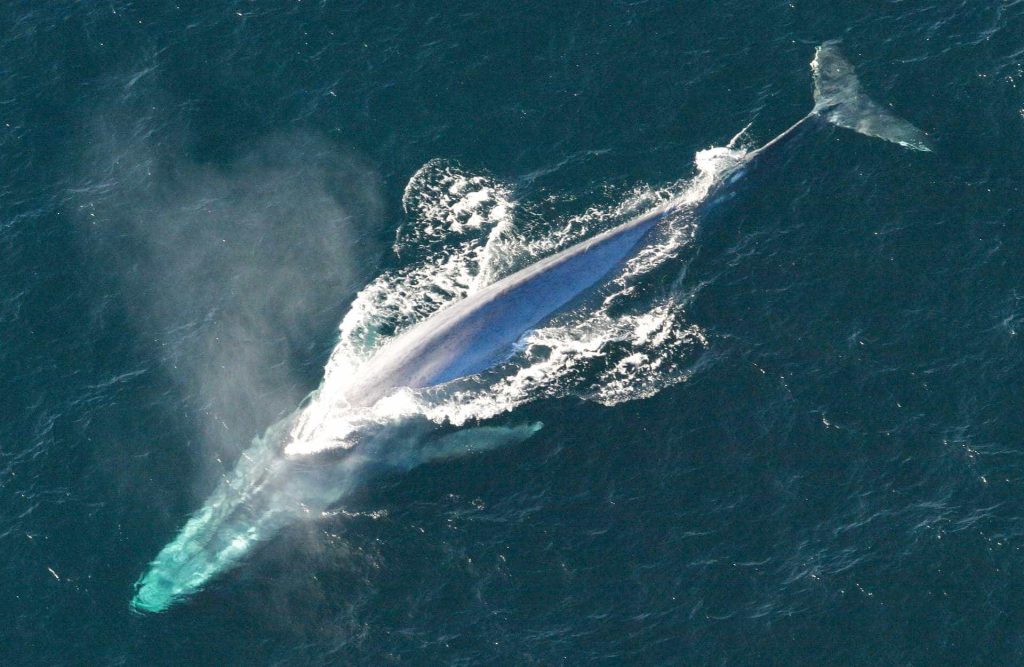 Among them are no other than the largest marine mammal on the planet, the blue whale, as well as one of the fastest species of sharks, the blue shark.
The possibility of encountering these two species alone makes the Azores one of the best dive spots in Europe and in the world.
Visibility underwater is usually very good, however, due to bad weather boat trips can get canceled on short notice so always have a backup plan.
The Azores consist of nine different islands that cover an area of over 600km. The best way to explore these islands is by going "island-hopping".
There are both ferries, as well as plane connections between them, however, do give yourself enough time to get from one to the other.
For scuba divers, the most interesting islands will be Faial if you are looking to dive with blue sharks, Santa Maria for whale shark encounters and devil rays, and Pico to explore the famous Princess Alice Bank.
My personal recommendation is to pick out a handful of interesting dive spots and see if the island fits your travel plans.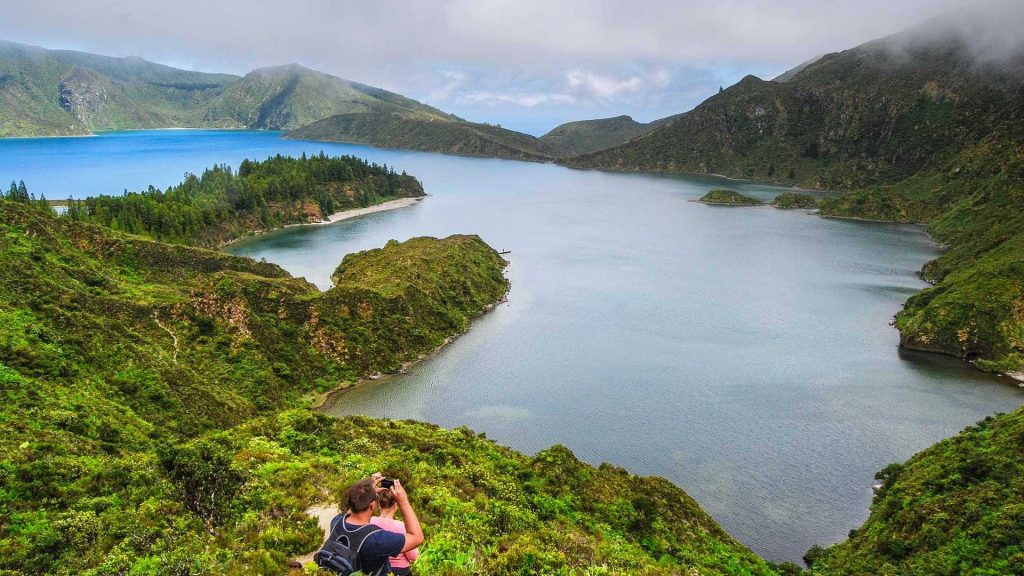 The Azores are also great for outdoor sports, hiking, and backpacking and you will find it easy to schedule a vacation for yourself or for your family so that everyone will be happy.
Whether you only visit one island or all of them, the Azores are definitely one of the best dive spots in Europe and you will not be disappointed.
Silfra Crack, Iceland
Similar to the Azores, Iceland is rather far away from Mainland Europe and requires a long plane ride, depending on where you live.
It is called the land of the Vikings for good reasons and features rugged mountain ranges, large areas of uninhabited barren land, and some of the most impressive natural phenomena.
The reason why Iceland is famous for scuba diving is the Slifra rift close to the capital Reykjavik. Here, the tectonic plates of America and Eurasia slowly drift apart from each other, creating a crack in the ground.
2 – 4°C cold, Silfra is one of the clearest waters on the planet and regularly features visibilities of 100m+.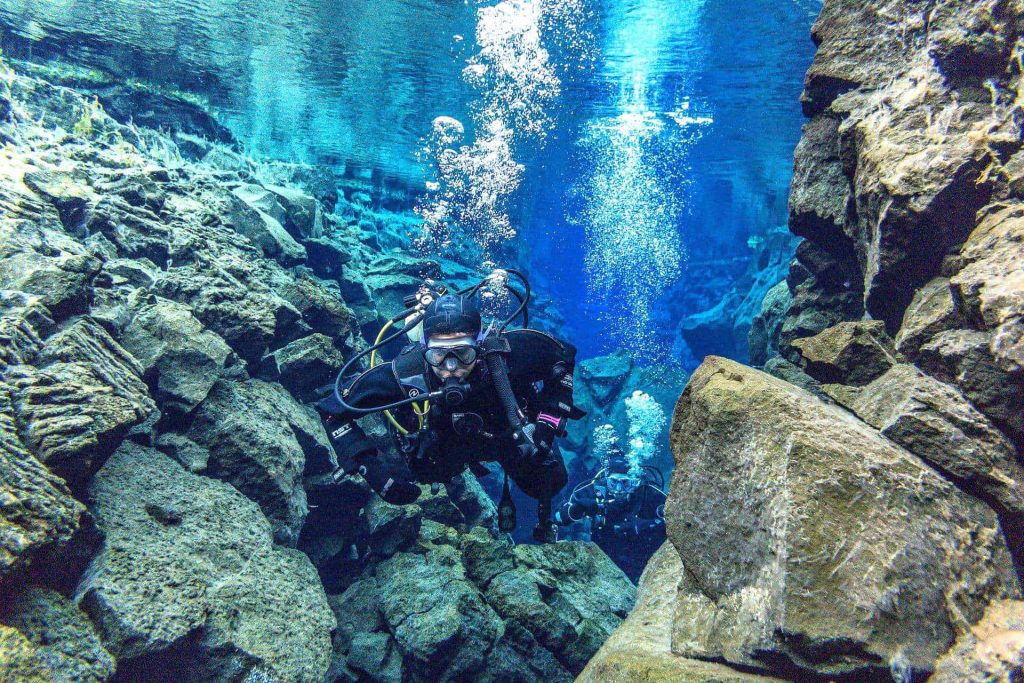 Scuba diving is only allowed in drysuits – not that you would want to use a wetsuit anyway – so if you haven't used one, make sure to do a drysuit course before you begin your trip.
If Silfra feels too cold, you might find the hot springs in Kleifarvatn to be more appealing which are another fun option when you're in the country.
Besides scuba diving, Iceland is great for anything outdoor-related from hiking to climbing, exploring a glacier cave, visiting the famous Strokkur geyser, or watching the Northern lights.
Iceland is not cheap by any means and ranks among the most expensive countries in the world. However, getting there is really cheap.
Iceland Air and other airlines offer free extended layovers for up to seven days on any transatlantic flight between Europe and North America.
I recommend staying for at least four days if you plan on doing any diving, as you need to comply with the 24-hour no-flight times.
Alps, Switzerland
Want to dive in some of the clearest fresh water in the world? Visit Switzerland where you can explore mountain lakes in the Alps while enjoying a breathtaking panorama at the same time.
Switzerland is among the top locations for freshwater diving in Europe and boasts a number of dive sites that are worth a visit. Yes, they are also very cold.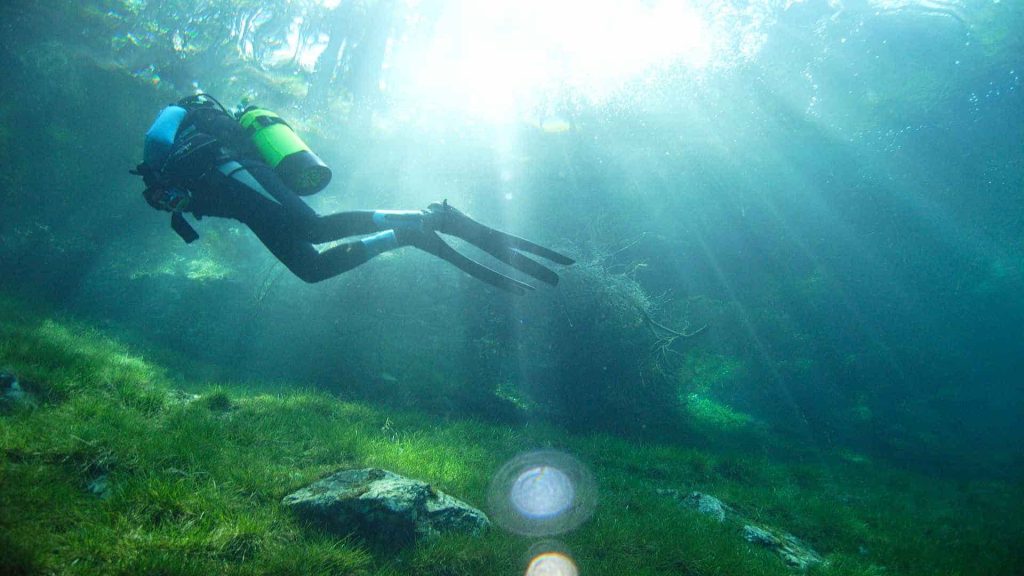 Mountain lakes can be found throughout the country, however, not all of them have a diving base close by. Take a (rental) car, pick up the tanks and drive to the desired location.
Take a look at the best mountain lakes in the Alps for some more inspiration.
Drysuits are highly recommended as glacier lakes often stay at 4°C year-round.
If you want to dive at altitude, get ready for it with an altitude specialty course before. You can also read my ultimate guide to altitude diving, if you want to know why I highly recommend it.
If river diving sounds interesting to you, Switzerland is also the place to be. You will find a number of rivers and streams that are perfect for divers of all levels of experience.
Some dive sites require a permit for larger groups so if you travel with friends, read up on the local regulations before diving. The rivers in Switzerland boast a large number of fish and are definitely worth a visit.
There are airports in all major cities in Switzerland, however, if you want to take a rental car beware that you need to purchase a vignette first.
Mine diving, Germany
Germany has a lot to offer for divers of all levels and is generally one of the best dive spots in Europe.
Down South, you have plenty of freshwater lakes, as well as the Alps which are one of the best places for altitude diving in the world.
In the North, you have the Baltic Sea and a number of other famous lakes.
So for the final spot on this list, how does diving in an old mine sound to you?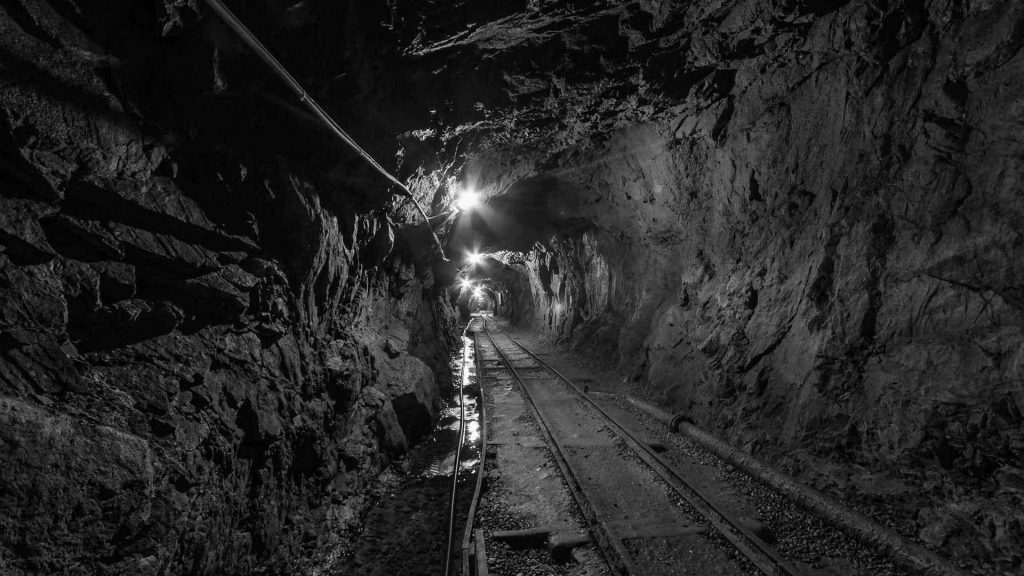 As one of the few mines that are open to divers in the world, Bergwerk Nuttlar is a dream come true for cave diving enthusiasts and those who aspire to become one.
The mine is in great condition and allows you to explore old mine shafts, mining equipment that was left behind, and rock formations that will instantly remind you of the movie "Lord of the Rings" in Moria.
Diving here requires a cave diving certification and a valid medical statement (the scuba medical questionnaire is NOT enough) but the local dive base offers to discover cavern courses for those who are not yet certified.
The dives you do here are not particularly deep, with maximum depths of ~15 meters on average. This is great for those who want to keep their decompression times low and enjoy longer dives.
Of course, there are deeper spots, and rebreather and advanced technical divers can dive here for hours down to 30 meters+.
Getting to Nuttlar is easy by car and you'll find a number of big airports relatively close by such as Cologne, Düsseldorf, or Frankfurt.
I don't have any photos from Nuttlar personally, however, you can check out this video and see for yourself.
Scuba diving in Europe
I hope you liked this list of the top 10 best dive spots in Europe and are ready to go diving again!
Whether you are a wreck enthusiast, enjoy the underwater macro life, or think overhead environments such as caves and mines are the holy grail, Europe has plenty to offer.
Please remember to always take pictures, leave only bubbles and keep the memories on every dive.
If you have dived at one of these places and like to share your thoughts, join the discussion in the comments or on our social media channels!
Join the email list to get regular diving tips, tricks, insights, and news straight to your inbox!
Always dive with friends and happy bubbles. 😃
Cheers
Julius