The ScubaPro Seawing Nova Pro fins look super unique and are loved among many scuba divers.
Super durable and great for reef and current diving, they are among the fastest fins I've ever tested.
ScubaPro Seawing Nova Review - Table of Contents
(Click to expand)
Of course, we also read other opinions online but in the end, nothing beats real world experience. So we took the time for a thorough ScubaPro Seawing Nova test and review! Below you find everything you need to know, including features, specs and what we like, and don't like about it.
Review Summary
Social Diving Editor's Choice
The Seawing Nova Pro are great fins for reef diving. Super lightweight and perfect for strong currents these fins will make you stand out among the crowd.
Our Rating
What We Like
Super lightweight

Cool colors

Ultra fast

The foot pocket feels great
Reasons to Avoid
Not great for back finning

Too long for some narrow places
First Impression
In a hurry and looking for the gist of things? Here is our review in short. Keep reading for the entire version.
ScubaPro's Seawing Nova Pro fins look like something out of a sci-fi movie and are among the most popular scuba fins on the market.
They feature a two-part design in which the foot pocket and the blade are connected through two extra springs in the middle. This makes the Seawing Nova Pro fins some of the fastest I have ever used.
They are incredibly comfortable and their foot pocket leaves you feeling like you are not wearing fins at all.
The ScubaPro Seawing Nova Pro fins perform very well in both flutter and frog-kicking situations, although they are not the best in terms of backward finning or when doing helicopter turns. You just have to try a few fin-kicking techniques to find the right one.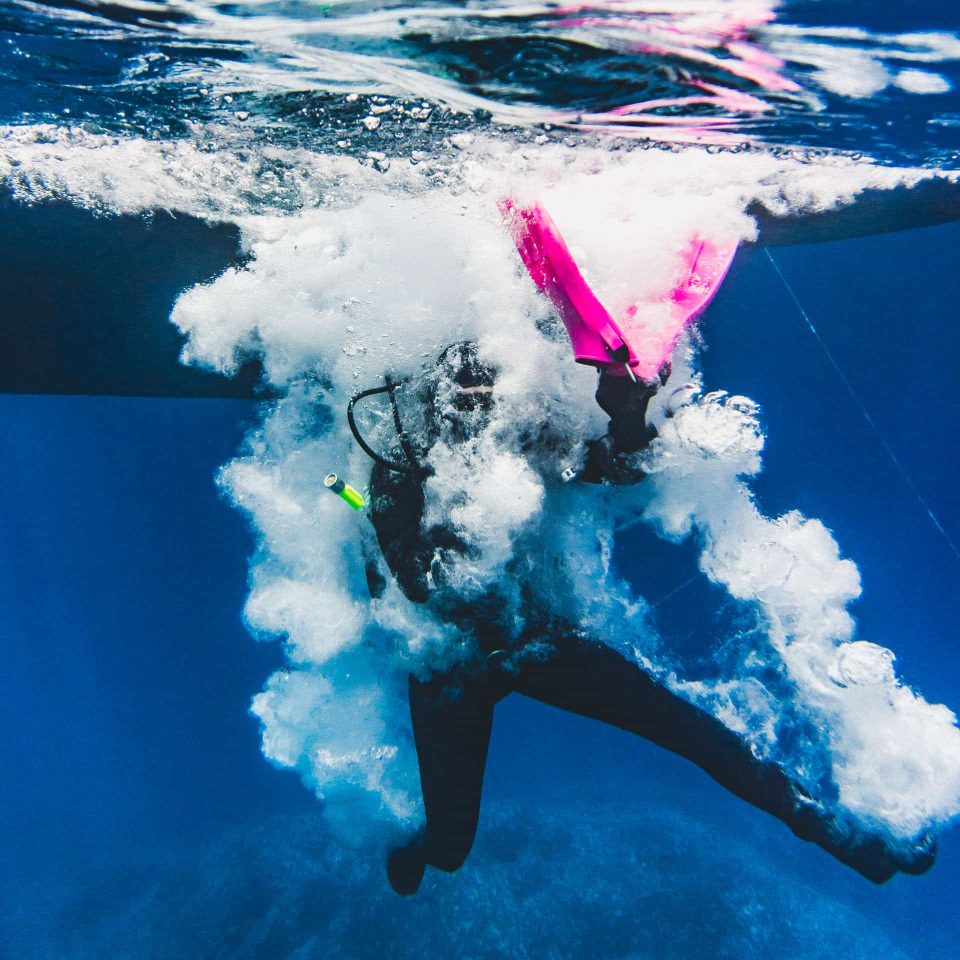 Featuring a number of different colors across the spectrum, you will find some that fit your style. I can testify that you will be seen in those pink ones…
Another advantage is that these fins come in both open-heel and full-foot configurations, so you can pick which one suits your style best.
The drawback of their design is that they are longer than others and might not fit into your suitcase as easily.
Conclusion
If you are looking for some of the best scuba fins that are super comfortable, check out the Seawing Nova Pro.
If you have any other questions or need advice, leave us a comment below and get the conversation started.
Join the email list to get regular diving, travel, and outdoor tips, tricks, news and our latest deals straight to your inbox!