Stahlsac makes some great scuba gear so it is no wonder that the Stahlsac Caicos Cargo Pack had to be reviewed.
It is the largest dive bag offered by Stahlsac and made for some heavy duty diving.
It is advertised as holding 2 complete sets of scuba gear and shines with great durability and design.
Stahlsac Caicos Cargo Pack Review - Table of Contents
(Click to expand)
Of course, we also read other opinions online but in the end, nothing beats real world experience. So we took the time for a thorough Stahlsac Caicos Cargo Pack test and review! Below you find everything you need to know, including features, specs and what we like, and don't like about it.
Review Summary
Durable, cool design and so much space. This is the Stahlsac Caicos Cargo Pack in a nutshell.
Our Rating
What We Like
Lots of space for scuba gear

Cool design in different colors

Very durable bag that can take some impact
Reasons to Avoid
Will not hold two entire scuba kits on its own as advertised

Heavy for a dive bag

Unlike other competitors no shoulder straps
First Impression
In a hurry and looking for the gist of things? Here is our review in short. Keep reading for the entire version.
The Stahlsac Caicos Cargo Pack is made for those who absolutely, positively do not want to carry their scuba gear in their hands or back or anywhere besides in a rolling suitcase. It fits a lot of scuba gear, looks really cool, and can withstand quite some impact and throwing around (not that you should do that with your equipment).
Most importantly, however, it will keep your scuba gear safe at all times. It has no shoulder straps, but considering it weighs more than most other dive bags on this list, that's probably not so bad.
That's why you won't find any shoulder straps or even a number of handles on this dive bag. That's a shame as this means no convenient way to carry it over sand or similar stretches.
In return, you get a super solid dive roller bag with a great design, enough space to almost hold two entire scuba kits on its own and that can definitely take a few hits.
While I am not suggesting throwing it around with your precious gear in it, a few bumps here and there or some rough handling at the airport will not bother this dive bag or its contents in the least.
Unfortunately, this durable design makes this dive bag very heavy in comparison to some others on the list.
For local divers, this is a non-issue, however, if you plan to travel with this bag, keep the weight in mind.
Conclusion
The Stahlsac Caicos Cargo Pack is among the best dive bags in 2023 and will be perfect as a heavy-duty dive bag.
If you have any other questions or need advice, leave us a comment below and get the conversation started.
Join the email list to get regular diving, travel, and outdoor tips, tricks, news and our latest deals straight to your inbox!
Where to Buy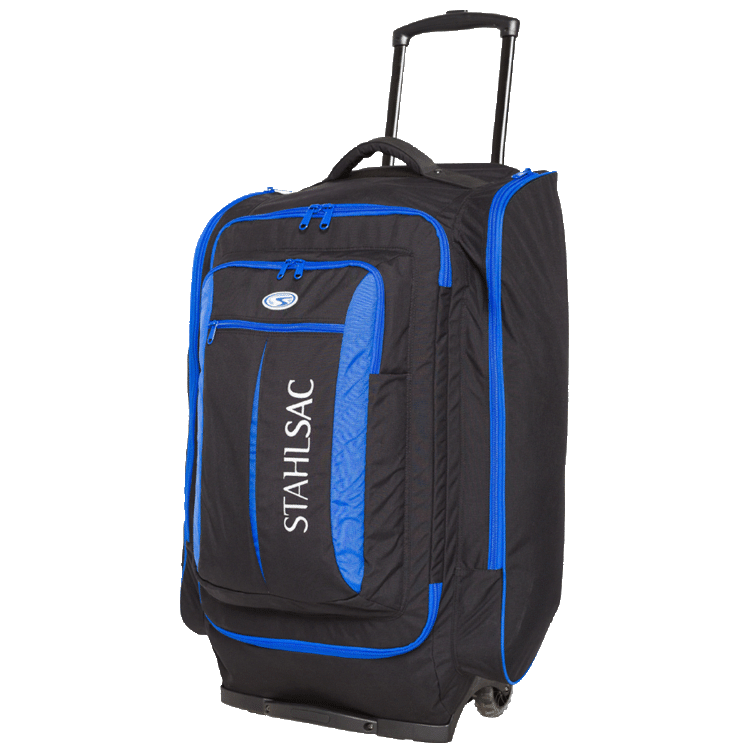 MSRP: $349