Atomic Aquatics is well known to be the absolute creme de la creme of scuba diving equipment and the T3 is their flagship model.
This is not a diving Tesla or Mercedes...it's a scuba regulator Lamborghini. It's outrageously expensive but so worth it.

It has the best breathing performance I have ever encountered in any scuba regulator and I have used just about every single one out there.
Already know the Atomic Aquatics T3 is for you?
In that case, click on one of the links below for the latest prices. If you are undecided still, read the rest of the review to find out if the Atomic Aquatics T3 is what you're looking for!
Reasons to buy
The best breathing experience ever

It looks so cool

100% quality

3 years (!) service intervals

Titanium material makes it virtually indestructible

Ultra-lightweight & perfect for travel

30 years warranty!
Reasons to avoid
It's prohibitively expensive for most

Replacement parts hard to come by outside of Europe

Piston design
What could be improved
Lower the price 😁
Make it a diaphragm reg
Where to buy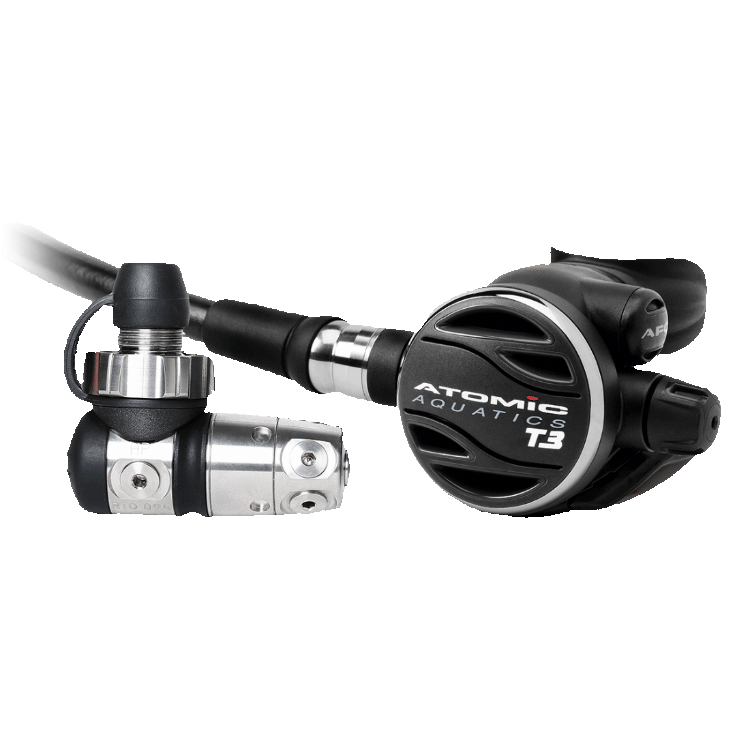 MSRP: €1999
Our Atomic Aquatics T3 review
Below you find everything you need to know about the Atomic Aquatics T3, its features, specs and what we like, and don't like about it.
The Atomic Aquatics T3 is the premium scuba regulator of the arguably most premium scuba gear brand in the world.
Everything about the T3 screams "top-notch", "premium" and "value".
It's really the best of the best and if you have the money for it, there is nothing better on the market.
The Atomic Aquatics T3 regulator features titanium grade 5 metal all throughout which makes it much lighter yet stronger than stainless steel ones.
If you roll your car over it this regulator will simply chuckle and say "do it again, I dare you".
While it's made for absolute durability, it is still light enough to be used on travel.
I don't suggest putting your scuba regulator in your suitcase and instead it should go into your carry on item. However, even here we like to save weight.
When I first held this thing in my hand I thought I was holding a plastic replica instead of the actual regulator. Especially if you suffer from easy jaw fatigue, the ultra light weight will be great for you.
Atomic Aquatics T3 Breathing Performance
I first used the T3 a couple of years ago when it just came out and was blown away by the breathing performance.
Many cheaper regulators are hard to breathe from at the surface and then again once you cross the 30m/60ft mark.
More expensive models counter this by allowing you to adjust the airflow with a knob.
The Atomic Aquatics T3, on the other hand, simply kept the same easy breathing performance at every depth.
I took it to 42m / 130ft and it felt like doing a safety stop at 5m / 18ft.
I know I know…it sounds like a cheap advertisement but it was really just that good.
Ask anyone who has ever used a T3 (or even just the T2, the smaller sibling so to speak) and they will confirm the same.
A big advantage of the T3 is the service interval of 3 years or 300 dives that Atomic recommends.
Most regulator manufacturers require servicing of their products every year…2 in some very rare cases.
Yes, the servicing will be more expensive…but Atomic Aquatics is so confident in its products that 3 years is really cool and will save you a little money in the long long run.
A drawback of the T3 is its price which makes it pretty much unaffordable for many divers.
However, of course, quality comes at a price which is justified in this case.
Replacement parts are harder to come by and the piston setup is a little disadvantageous in comparison to the simple design of Apeks or ScubaPro regulators.
Keep in mind, as a piston regulator, the Atomic Aquatics T3 is clearly meant to be used as the ultimate ocean diver regulator for warm(ish) water.
In extremely cold environments, in cold water or under ice, I prefer the Apeks MTX or ScubaPro Mk25 as they simply perform better.
Last but not least, be a little careful with titanium and Nitrox mixtures with more than 40% O2 content. Titanium and high oxygen content are not the best friends. Read the manual on how to make it oxygen safe and you'll have a lot of fun with this regulator.
Conclusion
If money really is not an obstacle…and you want the absolute smoothest breathing experience of any scuba regulator in the world…then the Atomic Aquatics T3 is THE one.
From the looks to the feel, the packaging, the materials, and the breathing…it's flawless.
Where to buy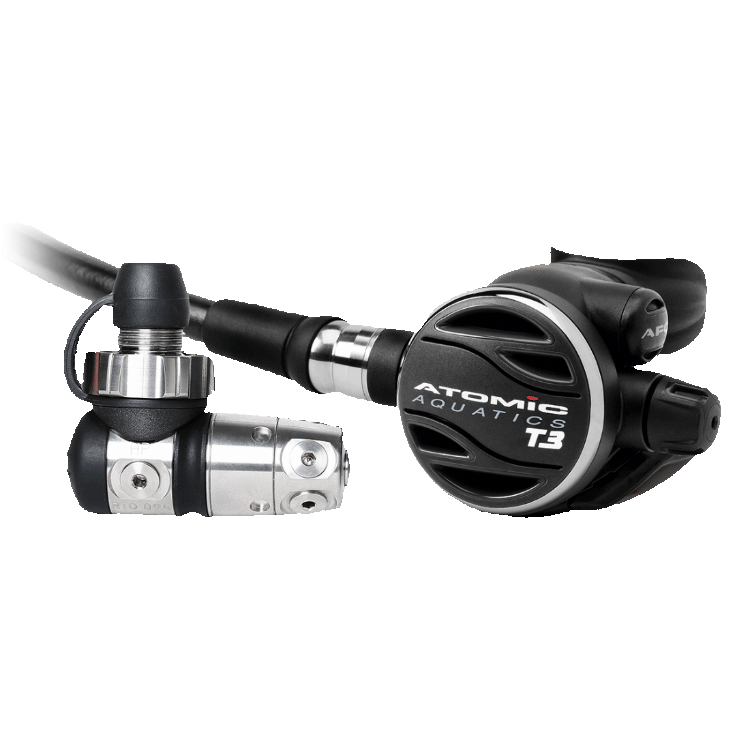 MSRP: €1999