HOG makes some of the best "budget" scuba gear on the market and has long left the "secret champ" status. Their equipment is rock-solid, built extremely well, and will last you for years.
The HOG D3 is one of their newer products and comes with an incredible list of cool features at an even more incredible low price point.

Already know the HOG D3 is for you?
In that case, click on one of the links below for the latest prices. If you are undecided still, read the rest of the review to find out if the HOG D3 is what you're looking for!
Reasons to buy
Great value

5 ports

Rotating swivel port

Coldwater certified

It looks super super cool!
Reasons to avoid
Hard to come by replacement parts outside of North America

Faceplate of 2. stage hard to rinse

Short bubble exhaust
What could be improved
More dealers outside of North America
Check 2.stage faceplate access
Offer longer bubble exhaust option
Where to buy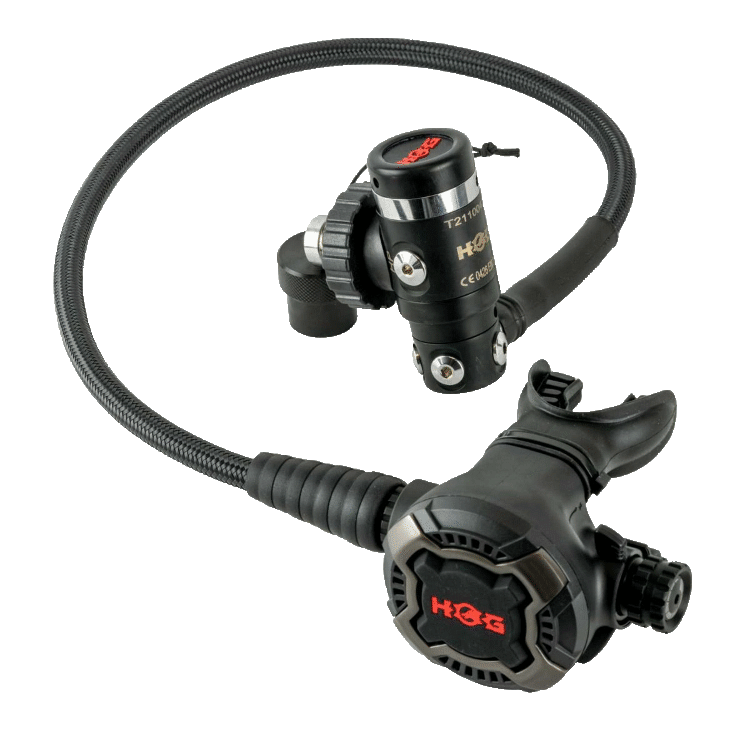 MSRP: €549
Our HOG D3 review
Below you find everything you need to know about the HOG D3, its features, specs and what we like, and don't like about it.
The HOG D3 is one of my favorite scuba regulators out there and breathes super smoothly.
It looks cool, works in any environment, and will last forever. What's not to love?
While it is commonly referred to as the HOG D3, that's actually just the first stage.
The D3 regulator set ships with the HOG Zenith Smoke second stage by default which looks equally cool.
The list of features the D3 comes with reads like a blueprint for premium scuba regulators in 2023:
Sealed 1.stage
Balanced Diaphragm
2 HP and 5 LP Ports
Compact size
Convenient hose routing
360° Rotating LP swivel
Excellent breathing performance
Wheew…that's like a wishlist of any tech diver for a new scuba regulator.
Their prices are very competitive, especially if you are from North America. The biggest drawback I see with HOG equipment is that replacement parts are hard to come by in other parts of the world.
While some select online shops sell HOG scuba gear in Europe, they are frequently sold out on Amazon and co.
I suggest you buy some replacement parts like O-rings and screws with the regulator to have them in case you need to replace some stuff.
While HOG advertises its Zenith Smoke second stage front cover as "without the "Rot away" feature other brands offer" I actually found it to be a disadvantage.
The faceplate is rather hard to rinse which could lead to stuff getting stuck and damaging the regulator.
Maybe that's just me but I did find another review saying the exact same thing.
Of course, you can take it apart and clean it but it's an additional hassle I'm not super fond of.
Last but not least, the bubble exhaust is on the shorter side. Depending on your diving style, you might find the bubbles annoy you.
I didn't see it as an issue, but be aware of this.
Conclusion
The HOG D3 kit looks super cool and works flawlessly in most diving environments.
At this price point, you will not find very many worthy competitors with a similar set of great features and quality parts in it.
If you are looking for a new regulator, the HOG D3 might just be the one you're looking for.
Be careful outside of North America though and order some spare parts right away.
If you are willing to bring your own small spare parts kit on a dive vacation, the HOG D3 is a super well-made piece of equipment for any beginner.
Where to buy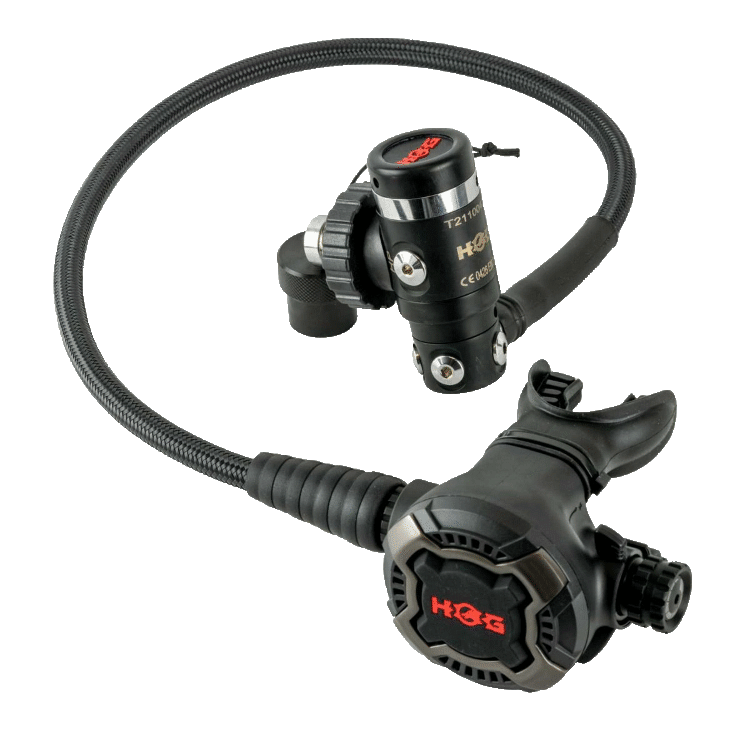 MSRP: €549