The Shearwater Peregrine is the first "recreational" dive computer by Shearwater Research in the sub €1000 price range after the groundbreaking Teric which is generally regarded as one of the best dive computers ever made.
It is aimed at beginners who still want the excellent Shearwater build quality but don't need all the bells and whistles of the top-of-the-line models.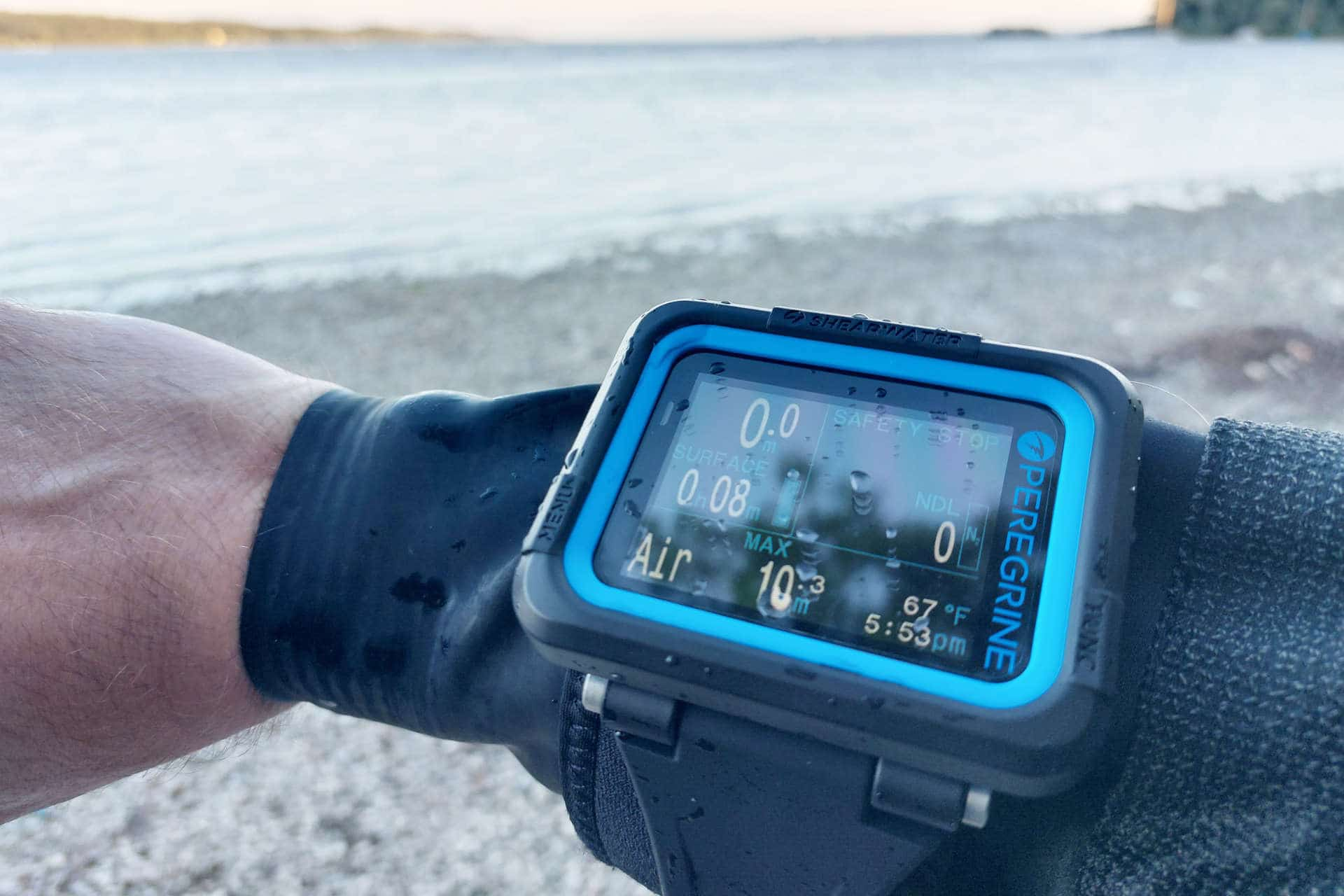 The Shearwater Peregrine is a console dive computer for anyone from beginner Open Water Diver to experienced scuba instructors and from the look to the features, there is not much you can complain about with this one.
Shearwater Peregrine Review Summary
The Shearwater Peregrine is optimal for all recreational divers who are looking for the maximum amount of features and quality at an affordable price tag. If you are fine with diving a console-style dive computer, this is the best one on the market at the sub $800 dollar range and it's not even close.
Already know the Shearwater Peregrine is for you?
In that case, click on one of the links below for the latest prices. If you are undecided still, read the rest of the review to find out if the Shearwater Peregrine is what you're looking for!
Reasons to buy
Great value for the money

Easy to use

Expected best-in-class Shearwater quality

Excellent battery life

Bright display

Customizable layout

Easy charging
Reasons to avoid
No air integration

No compass functionality

Alarms could be improved

Settings UI is not super pretty
Important Features
Several dive modes
Excellent battery life
Great color display
What could be improved
Air integration
Come on...a compass at least
Settings UI is not super pretty
Where to buy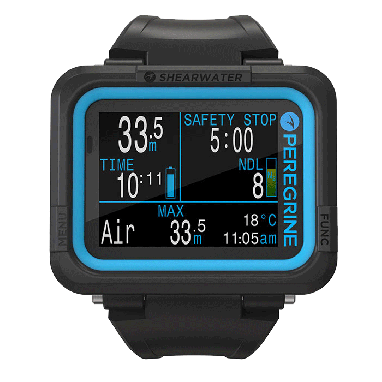 MSRP: €599
Our Shearwater Peregrine review
Below you find everything you need to know about the Shearwater Peregrine, its features, specs and what we like, and don't like about it.
Shearwater Dive Computers
Shearwater Research is one of the best and most reputable dive computer manufacturers in the world and their products are used by many of the best dive professionals around the world.
They have made a name for themselves, especially in the mixed-gas technical diving scene where they are generally regarded as the market leader by many.
The Shearwater Peregrine is a budget-friendly introduction to the excellent Shearwater build quality many have gotten used to which still offers amazing features for serious divers.
When the company announced its first dive computer aimed at recreational divers, its website collapsed from all the people wanting to preorder it.
In that sense, the Shearwater Peregrine was very similar to Apple announcing the MacBook Air as their more budget-friendly alternative to the Mac and MacBook.
Specs & Features
| | |
| --- | --- |
| Buttons | 2 |
| Display | 5.59 centimeter (2.2 inch) LCD, customizable |
| Depth Rating | 120m (390 ft) |
| Memory | 24 dives |
| Battery | User Changeable (CR2450) |
| Operating Modes | Air, nitrox (to 40%), three gas nitrox (to 100% O2), Gauge |
| Oxygen Blend | 3 Gasses, up to 100% O2 |
| Decompression Algorithm | Multiple choices, Bühlmann ZHL-16C |
Shearwater Peregrine dive computer specs.
The build
The Shearwater Peregrine features a user-friendly 2-button interface and up to 4 different dive modes, including Nitrox and Gauge mode.
When you unpack it, you notice immediately that it's relatively light, despite its size, and the entire dive computer seems really well made.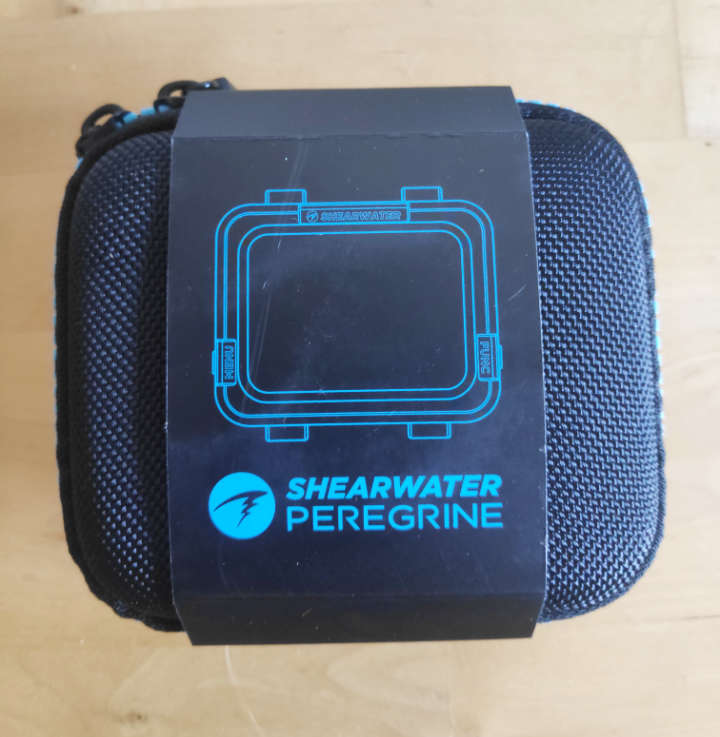 The wrist strap has to be attached first, but unlike the Garmin Descent G1 or the Mk2, it doesn't feature a quick clip. I like the Garmin one a lot better, but since the Peregrine is not a wristwatch-style computer, it doesn't influence the review negatively.
I did not try it, but the Shearwater Peregrine feels like I could probably run over it with my car and it would still look flawless.
Variations & Color Options
You can get the Shearwater Peregrine dive computer in different color variations, as you can see below.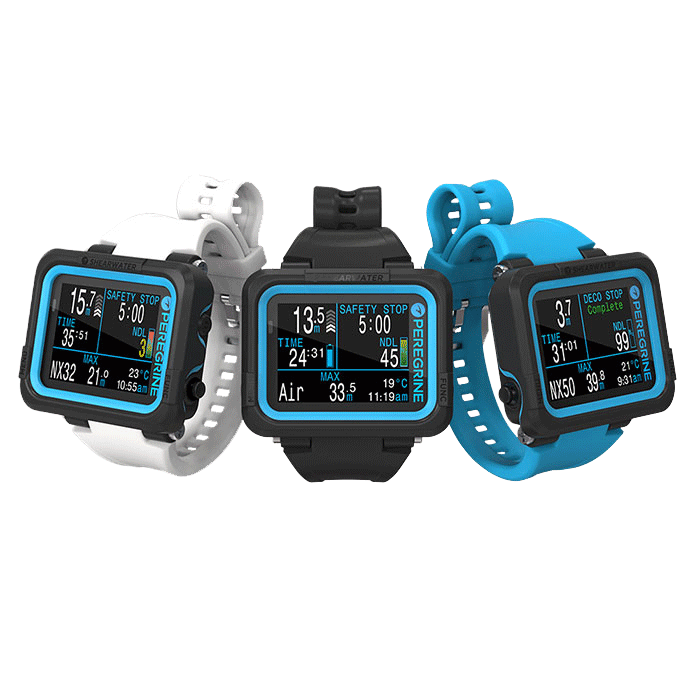 For me, black is the color, but I really like the white and blue straps and they can easily be exchanged if you decide later than you absolutely need a different one.
Besides that there are no other options and the computer comes as is.
Battery & Charger
The Shearwater Peregrine uses a USB charging pad that's included in the box. It works super well and charging the dive computer doesn't take long at all.
The battery life on the Shearwater Peregrine is great despite its size and the bright color display.
It is rated at 30 hours, although I found it to be a little less when diving in our lakes. This could also be due to the cold water below 10°C which we have at depth here, so your mileage will vary.
You could also turn down the display brightness (which sort of defeats the purpose) to extend the battery life even further.
The display
The 5.59 cm LED LCD screen of the Shearwater Peregrine is great and half of the reason I think this is one of the best dive computers at this price range.
Even in murky, green, dark water with sediment floating around, the display was easy to read and the colors looked amazing!
Especially divers who wear glasses will enjoy the large size of the display and one glance is enough to get all the most important information and readings off of it immediately.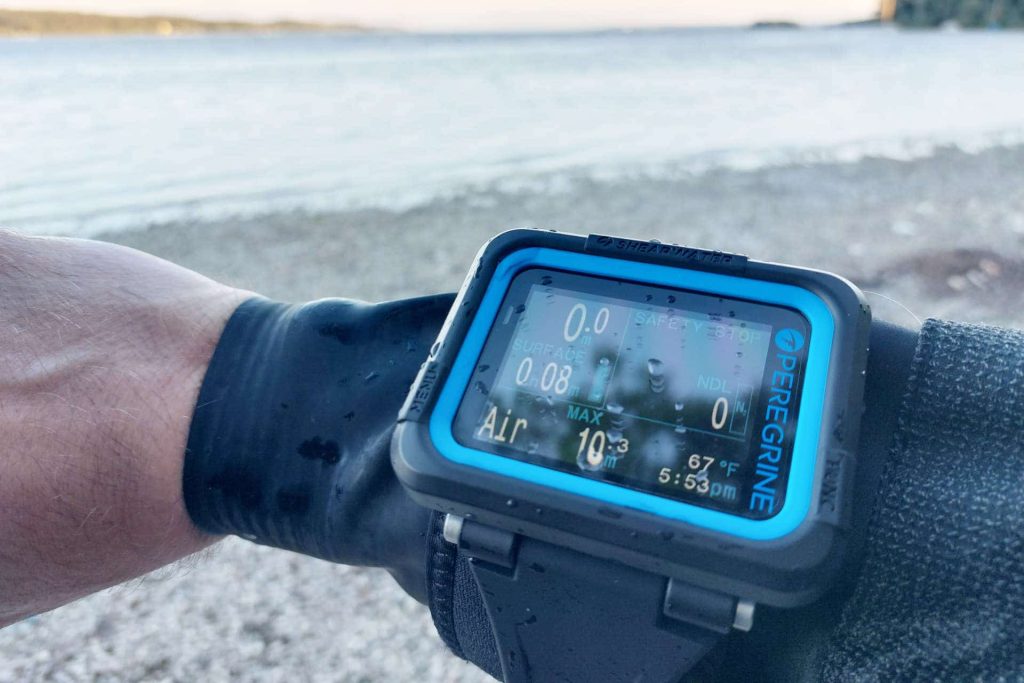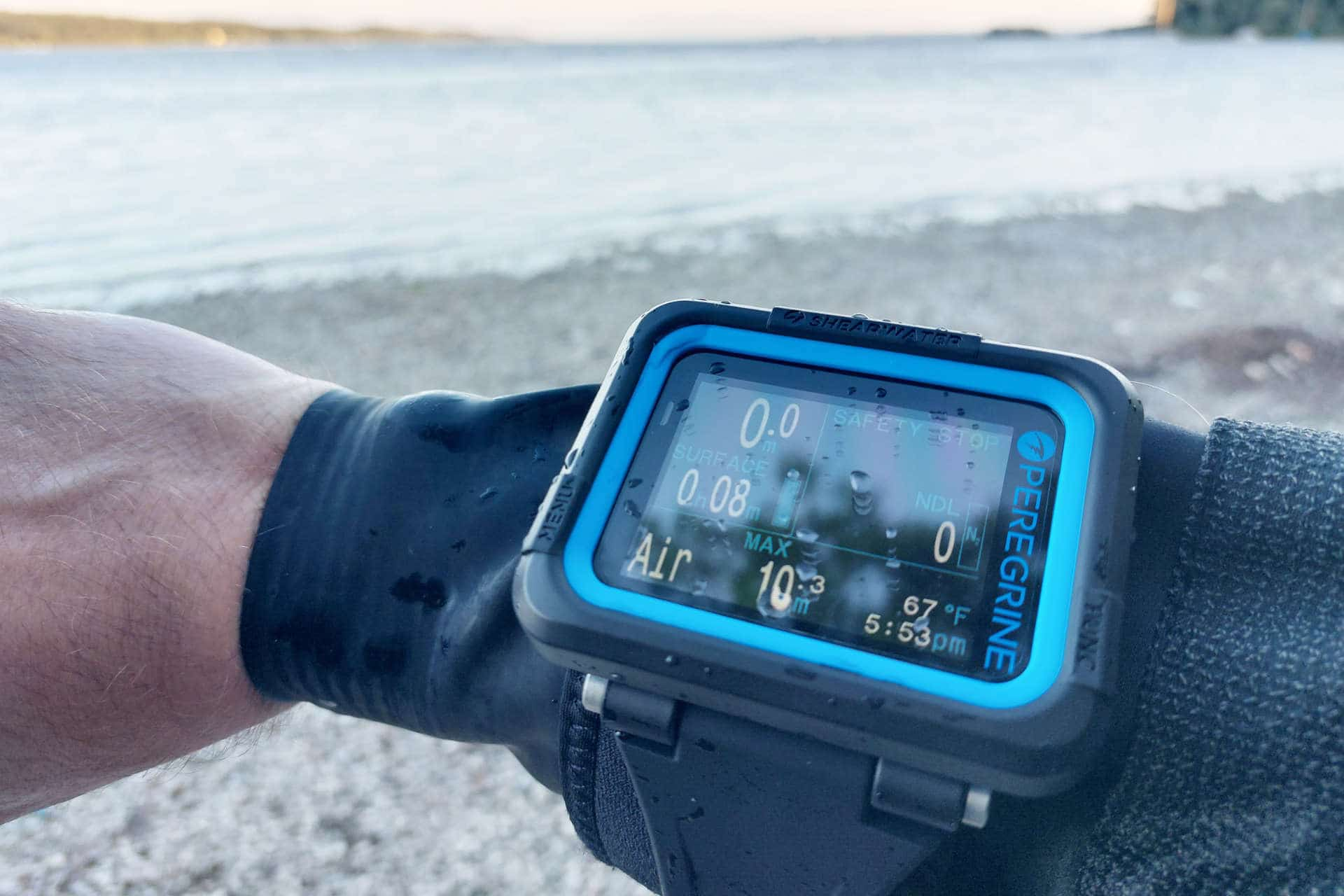 Similar to more expensive offerings from Shearwater Research and other contenders, the entire display can be customized to one's liking including colors, font sizes and style, and layout.
Interface & Navigation
Display and diving interface look nice and are easy to understand once you know, what information is displayed.
I am personally not a huge fan of the settings UI which I find looks outdated in comparison to Suunto and Garmin computers.
On the other hand, once you get the hang of it the menus are easy to navigate and the available options are cool.
I do think Shearwater might be better off giving less technical terms to options like the water salinity etc (basic salt vs fresh vs brackish should be enough) as the computer is clearly aimed at less advanced divers.
I like the menu a lot more than Suunto, Aqualung and other options, but do find it on par with the Garmin Descent G1 Solar.
Dive Modes
The Shearwater Peregrine comes with four dive modes:
Air
Nitrox (Single gas up to 40%)
3 Gas Nitrox (Up to 100% O2)
Gauge (Depth, time, resettable stopwatch function)
It is not meant to be a full-blown technical dive computer, however, the three-gas mode allows for light decompression diving including bottom and deco gases.
As Shearwater posts on their website, it is "best suited for Air and Nitrox divers that want a great screen at an exceptional value with a simplified feature set".
In addition, you can use the dive planner to plan your decompression in advance.
The Peregrine has a quick NDL planner and intuitive DECO planner that divers can use to plan their dives. I liked it much better than the Garmin ones, but beginners will need to check the documentation to get the hang of it.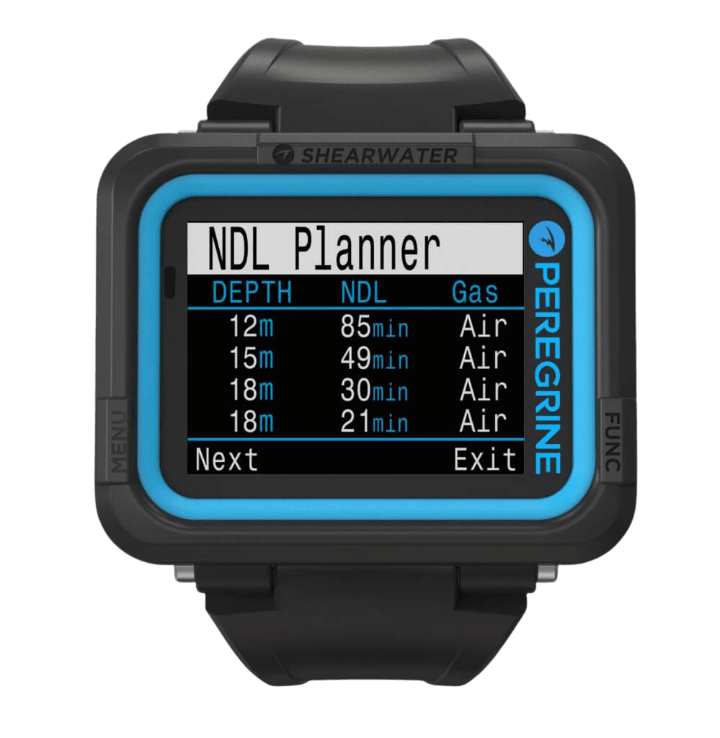 We'll get more into the decompression model used by Peregrine later, however, there is no deco lockout. This means the dive computer will never lock you out for dive plan deviations.
Altitude Mode
If you ever want to dive in the mountains, you need a dive computer that features an altitude diving mode.
In my case, this is a basic requirement for any dive computer, and equally as important as Nitrox support.
The Shearwater Peregrine not only features both but also comes with a great automatic altitude detection and adjustment.
While Suunto computers need to manually set, for example, the Peregrine monitors the ambient pressure and uses that for its decompression calculations.
Alarms & Notifications
I was surprised to notice that Peregrine does not have any audio alarms, and relies solely on visual notifications, as well as vibration alarms.
In addition, the vibration alarms are not turned on by default, instead requiring the diver to turn them on manually.
It is very strange that such a well-thought-out dive computer aimed specifically at recreational divers would neglect clear alarms in such a way.
The color notifications on the display are easy to read and alert the diver of gas switches, deco stops, or MOD breaches.
What I like is that all alarms must be manually dismissed, in order to make sure divers definitely take not of it.
But then again…why not just turn on audio and vibration alarms by default…
Dive Log & Data Transfer
I really like the dive log of the Peregrine that logs up to 200 hours of information which is more than most other dive computers out there.
In the Dive Log menu, divers can quickly view detailed graphs and dive information such as a dive log list, water temperature changes, depth, start and end time, surface interval time, and more.
The charts look nice, although the Garmin ones still top the list in this regard.
The entire dive log can be connected to the Shearwater Cloud Control app via Bluetooth that's available for all common operating systems.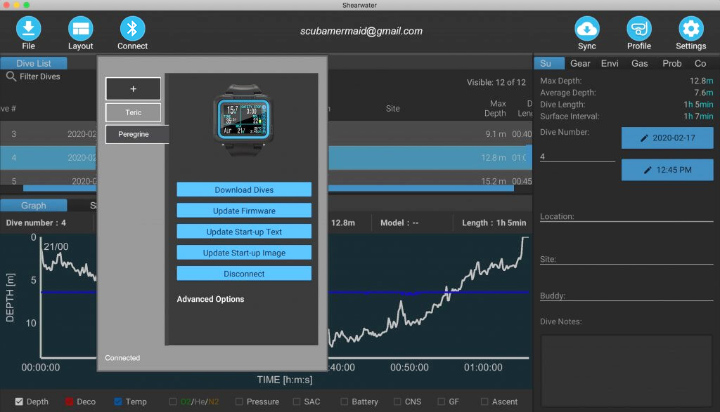 Language Support
International divers will enjoy a multitude of language options, including English, French, Simplified Chinese, Traditional Chinese, German, Portuguese, Korean, Japanese, Italian, Italian, and Spanish.
The app also supports these languages.
Units Support
It is super easy to switch between metric and imperial measurements in the settings.
As a matter of fact, I did a dive with a student starting with the dive computer set to feet and were able to switch to meters while still in the water.
I do wish it was set to metric from the start, especially with Shearwater being from Canada, but I understand that a large part of their customer segment is from the US.
Shearwater Peregrine Decompression Model
The decompression model is the final thing we must look at when reviewing a dive computer, as the choice of algorithm largely determines its usability and reliability underwater.
While the following analysis might be a little technical, it's important to know these things as a scuba diver.
Decompression algorithm
The Shearwater Peregrine uses the Bühlmann ZHL-16C decompression model that you can find in all Shearwater Research dive computers. It is a modified version using a modern gradient factors approach.
If you have followed my articles for long enough, you know that this is my personal favorite decompression model and my recommendation for all experienced and technical divers.
The Bühlmann model uses 16 body tissue compartments to simulate the on and off-gassing of the human body underwater. Each compartment comes with different rates of Nitrogen on and off-gassing.
Depending on how long these compartments have been under Nitrogen load during a dive, the required decompression time changes.
Gradient factors
Gradient factors make the Bühlmann model adaptable to modern scuba diving.
They essentially allow the user to alter the algorithm and change the acceptable levels of tissue load, and select different levels of algorithm conservatism.
Divers can incorporate decompression stops and durations which differ from the original model to accommodate their dive plan better.
This is done by setting the "conservatism" option to either low, medium or high, which adjusts the gradient factor accordingly.
Experienced divers can even manually set the gradient factor with their custom conservative option.
In practice
The Bühlmann ZHL-16C decompression model is one of the oldest and most commonly applied decompression algorithms used today.
It has been scientifically proven and is trusted by the majority of technical divers around the world.
Using gradient factors means that we can simply switch the conservatism setting to be more liberal (low) or conservative (high), depending on our requirements.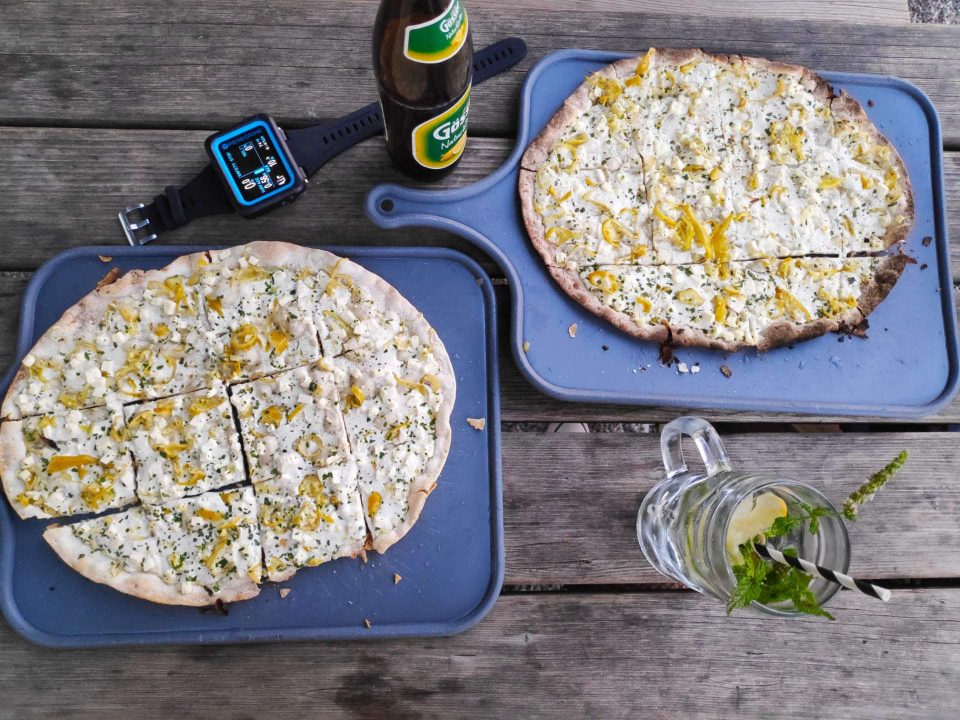 For beginner and intermediate divers, I recommend leaving the setting at default.
The Shearwater Peregrine makes use of the best decompression model for scuba divers and based on this, I can wholeheartedly recommend it.
Video review of the Shearwater Peregrine
Check out the video below for a short overview and look at the Shearwater Peregrine dive computer.
What is missing?
Air integration and compass functionality to be precise. If you want either of those you will have to look elsewhere.
While the air integration does not feel missing, it is a complete mystery to me why Shearwater did not put a compass into the Peregrine.
It's such a basic feature and really the biggest drawback.
Conclusion
Shearwaters dive computers are generally regarded as some of the best-made computers in the business and the Peregrine is no exception.
If you are looking for the best mid-range dive computer with the most advanced features out there and don't want or require a wrist-watch style one then the Peregrine ticks all the boxes and then some.
Alternatives
The most obvious alternative to the Peregrine is the Garmin Descent G1 Solar, followed by the somewhat less premium Aqualung i300c.
Let's see how they stack up against each other.
Shearwater Peregrine vs Garmin Descent G1 Solar
This comparison is not entirely fair, as both computers cater to slightly different audiences.
The Peregrine is an advanced dive computer for recreational divers looking for Nitrox support and reliable Shearwater quality.
The Descent G1 Solar, on the other hand, is a much cheaper alternative to the Garmin flagship Descent Mk2 that features a smartwatch and dive computer features.
Therefore, my recommendation is to go for the Shearwater Peregrine if scuba diving is your only goal and you want a very sturdy, well-thought-out product that's very reasonably priced.
If you want a smartwatch, the extensive Garmin app ecosystem, and a superb wristwatch-style dive computer, go for the Descent G1 or something similar.
Last but not least, if you are a freediver, the Garmin Descent G1 Solar is the obvious choice, as it features a full freediving mode which the Peregrine does not.
Shearwater Peregrine vs Aqualung i300c
Both the Peregrine and the i300c are entry-level offerings of their respective manufacturers, however, Aqualung offers even more budget models while the Peregrine is the cheapest Shearwater Research dive computer.
Specs-wise these two dive computers are rather similar and aimed at beginner to intermediate divers that require Nitrox and introductory gas-switch support.
Neither will be used by advanced technical divers, apart from being used as a gauge or backup.
The Peregrine has a better depth rating (120m / 390 ft vs (100m / 330 ft) and both use the Bühlmann ZHL-16C decompression algorithm.
The build quality is good on both, but the Shearwater takes the edge with a much better display. The Aqualung i300c does not have color support, for example, and I am not the biggest fan of the protective plastic cover.
Both have good app support, and which one you prefer is very subjective, but the Shearwater Peregrine has the bigger integrated dive log.
What really decides this comparison for me, however, is that Shearwater dive computers will never lock you out for deco violations or not sticking to their recommendations. The Aqualung i300c will do just that.
As a technical diver and dive instructor, who sometimes deviates from the dive plan, this is a break feature so my vote goes to the Peregrine.
If you can afford the extra 100$ price difference, get the Shearwater Peregrine and enjoy a dive computer for many years to come!
Where to buy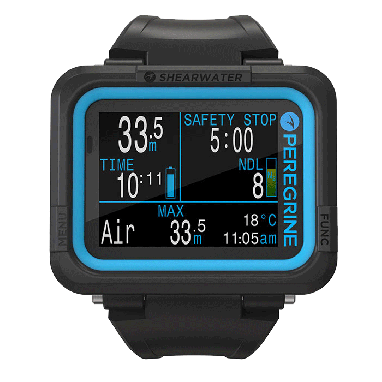 MSRP: €599