The TUSA BA-301 Roller Mesh Bag fits an entire scuba kit which by itself is more than can be said for many other mesh bags.
It's lightweight but offers wheels and several handles that make carrying it a breeze.

Already know the TUSA BA-0301 Mesh Roller Bag is for you?
In that case, click on one of the links below for the latest prices. If you are undecided still, read the rest of the review to find out if the TUSA BA-0301 Mesh Roller Bag is what you're looking for!
Reasons to buy
Lightweight but with wheels

Will fit an entire scuba kit

Affordable for such a large dive bag

Several practical handles
Reasons to avoid
Handle a little short

Tends to fall over when pulling too quickly

Top pouch on the small side
Where to buy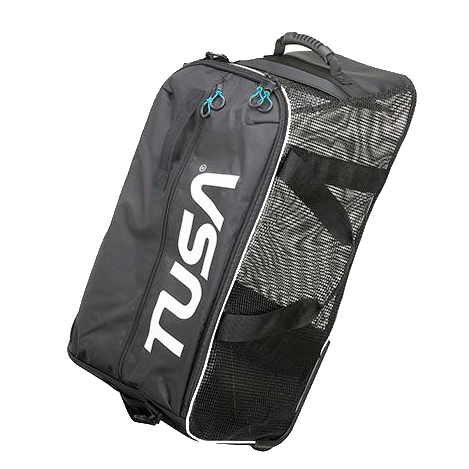 MSRP: €169
Our TUSA BA-0301 Mesh Roller Bag review
Below you find everything you need to know about the TUSA BA-0301 Mesh Roller Bag, its features, specs and what we like, and don't like about it.
Although the TUSA Mesh Roller Bag carries "mesh bag" in its name, it is a lot more sturdy and durable than comparable mesh bags out there.
The mesh itself has a plastic coating, making it a lot stiffer than others out there while also drying quicker.
There are not many mesh bags out there that also feature a set of wheels to be used as a roller bag so that's two birds with one stone, so to speak. The handle is a little on the shorter side but will be fine for most people.
Like many larger dive bags, your scuba gear might shift inside if you pack it loosely, so make sure your camera and regulators are stored away safely.
Conclusion
The TUSA BA-0301 Mesh Roller Bag is a decent choice for a lightweight roller bag that will fit your entire scuba gear.
Where to buy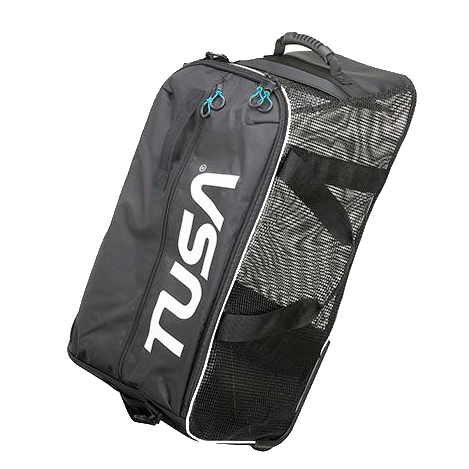 MSRP: €169