In the ultra-budget section, you will not find many worthy alternatives to the Cressi Leonardo which I could actually recommend to any serious diver.
It is easy to use, looks decent, does Nitrox and normal recreational diving well and is priced super competitively.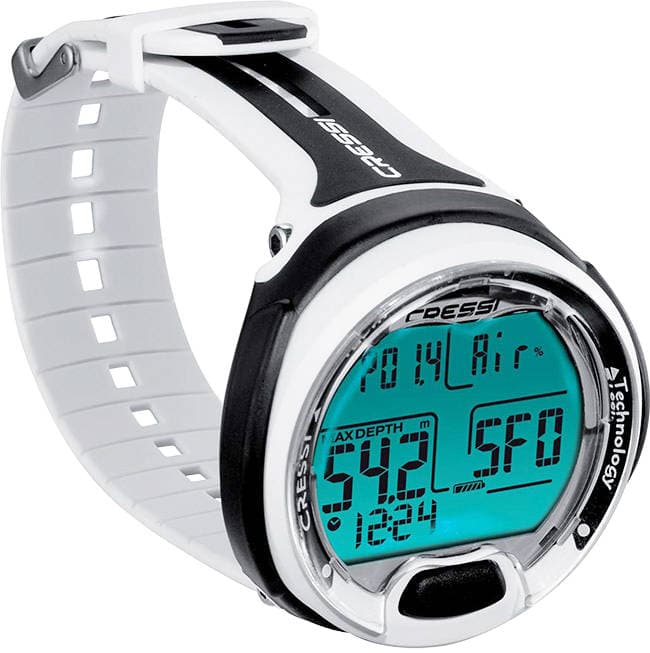 Already know the Cressi Leonardo is for you?
In that case, click on one of the links below for the latest prices. If you are undecided still, read the rest of the review to find out if the Cressi Leonardo is what you're looking for!
Reasons to buy
Very cheap
Adjustable conservatism
Residual Nitrogen Reset (great for instructors and dive centers)
Different colors & wristbands
PO2 adjustable between 1.2 bar and 1.6 bar
Nitrox capabilities
Reasons to avoid
1-button only
Not in "wrist-watch" format
Logbook function rather limited
Uses RGBM algorithm
Important Features
1-button design
Cressi RGBM
User changeable battery
Nitrox ready
Where to buy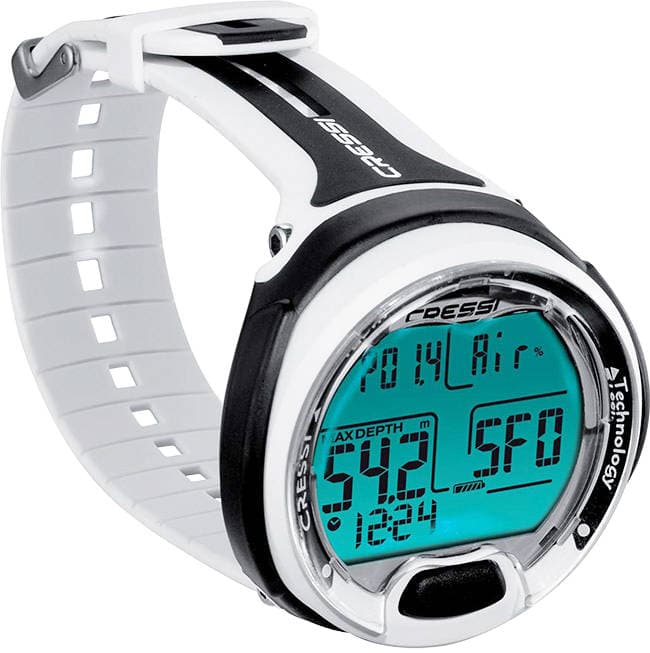 MSRP: €299
Our Cressi Leonardo review
Below you find everything you need to know about the Cressi Leonardo, its features, specs and what we like, and don't like about it.
This dive computer is used by many of our students and they are happy with it.
It is marketed as a scuba diving computer for beginners by Cressi themselves, due to the straightforward one-button design.
It will calculate your dives, give you accurate accent rate warnings, and even includes Nitrox functionality.
If you are an instructor or dive center looking for rental equipment, the Cressi Leonardo has the super useful residual nitrogen reset feature.
This means you can reset the computer after each student and therefore don't need to use two different computers (as long as your students dive one after the other).
If you have read some of my other articles, you know that I am not a fan of the Reduced Gradient Bubble Model that many brands incorporate nowadays.
While Cressi does disclose some of its details, an RGBM will never give you full control and understanding of the inner workings of the decompression algorithm.
Specs & Features
| | |
| --- | --- |
| Buttons | 1 |
| Display | LCD Backlit |
| Depth Rating | 120m (393 ft) |
| Memory | 70 hours |
| Battery | User Changeable (CR2430) |
| Operating Modes | Air, Nitrox, Gauge |
| Oxygen Blend | 2 Gasses, up to 50% O2 |
| Decompression Algorithm | Cressi RGBM |
Conclusion
The Cressi Leonardo is one of the best choices if you are not willing to spend a lot of money on your scuba diving hobby.
There is a good reason it's both in the list of the best dive computers 2022 and the best dive computers for beginners!
Alternatives
In the budget dive computer range, the biggest competitor to the Cressi Leonardo are the Mares Puck Pro, as well as the Suunto Zoop Novo which both feature great displays and lots of features.
Where to buy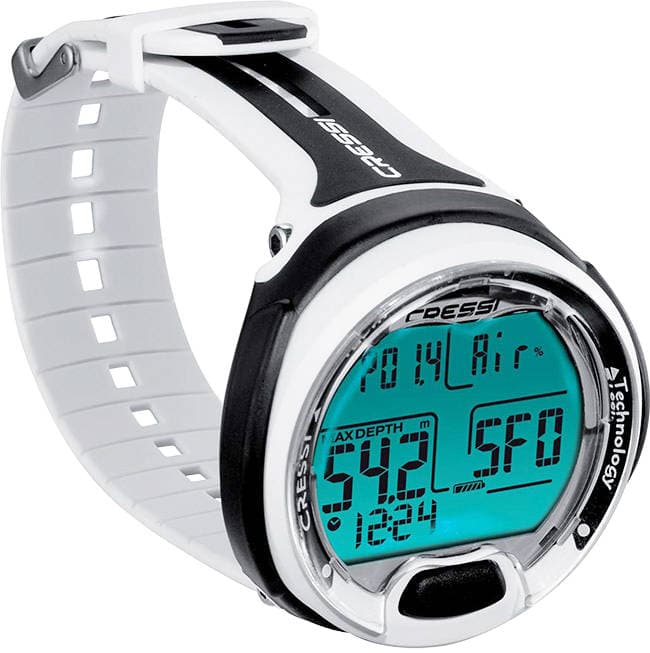 MSRP: €299