The Cressi Leonardo is a very popular dive computer at an incredible price point and it was about time we did a review on it.
It is marketed as a scuba diving computer for beginners by Cressi themselves, due to the straightforward one-button design.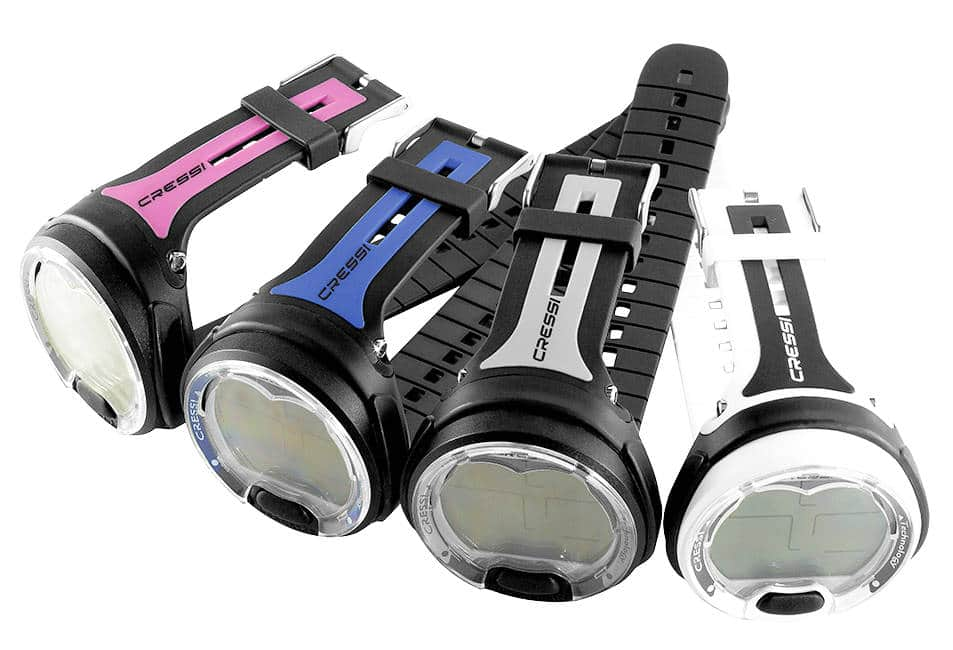 In the ultra-budget section, you will not find many worthy alternatives to the Cressi Leonardo which I could actually recommend to any serious diver.
It is easy to use, looks decent, does Nitrox and normal recreational diving well and is priced super competitively.
It is also used by many of our students and they are happy with it.
Cressi Leonardo Review Summary
The Cressi Leonardo is a super solid choice for a beginner dive computer. Packed with features and built very sturdily, you will not need to upgrade for quite some time. Just be aware that this is not a wristwatch-style computer and the one button design is not for everyone.
Already know the Cressi Leonardo is for you?
In that case, click on one of the links below for the latest prices. If you are undecided still, read the rest of the review to find out if the Cressi Leonardo is what you're looking for!
Reasons to buy
Very cheap

Adjustable conservatism

Residual Nitrogen Reset (great for instructors and dive centers)

Different colors & wristbands

PO2 adjustable between 1.2 bar and 1.6 bar

Nitrox capabilities
Reasons to avoid
1-button only

Not in "wrist-watch" format

Logbook function rather limited

Uses RGBM algorithm

Bulky

Strap much too long
Important Features
1-button design
Cressi RGBM
User changeable battery
Nitrox ready
What could be improved
Better backlight
Where to buy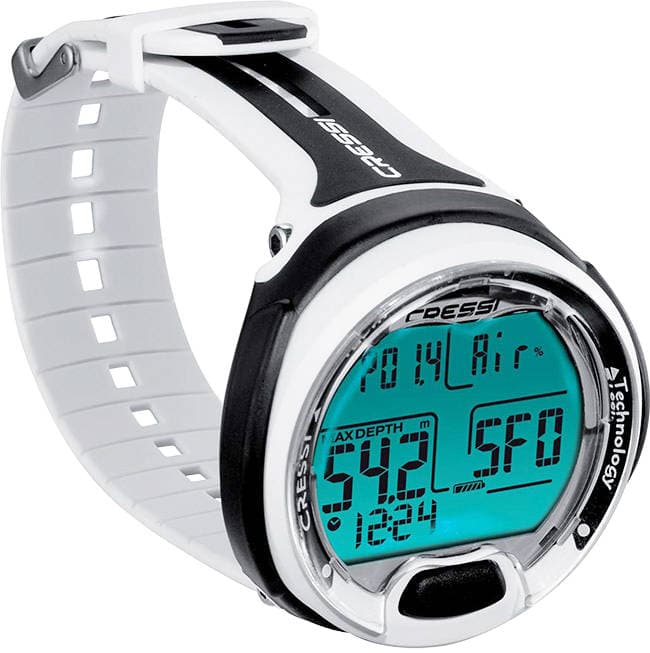 MSRP: €299
Our Cressi Leonardo review
Below you find everything you need to know about the Cressi Leonardo, its features, specs and what we like, and don't like about it.
Initial Thoughts
It feels like no matter where you dive, at least one person on every dive boat or shore dive wears a Cressi Leonardo.
It's a no-nonsense option with a single button and if you don't require fancy color displays or a want to wear it as a wristwatch, then it is absolutely worth checking out.
Priced about the same as the popular Mares Puck Pro and the Suunto Zoop Novo, it is placed at the super competitive ultra-low budget end of the spectrum for dive computers.
It is pretty clunky, and lies somewhere between a wristwatch-style and a console dive computer. Not the prettiest one around but it does the job just fine.
If you are an instructor or dive center looking for rental equipment, the Cressi Leonardo has a super useful residual nitrogen reset feature.
This means you can reset the computer after each student and therefore don't need to use two different computers (as long as your students dive one after the other).
It's also a reason why I have used a lot of them over the years.
Cressi Dive Computers
Cressi has a long history of making affordable, yet high-quality scuba gear that's loved by divers around the world.
The Italian brand which started in 1939 and is still family-owned to this day, makes several dive computers and all of them can be found in the sub $400 price range.
All of them wear iconic Italian names and the Cressi Leonardo is the most budget one of them.
They also look very similar and the features are not super different so it sometimes makes very little difference which one you get.
All Cressi dive computers use the modified Cressi RGBM (reduced gradient bubble model) decompression algorithm which I personally am not a fan of but makes them very safe for recreational divers of any level.
Specs & Features
| | |
| --- | --- |
| Buttons | 1 |
| Display | LCD Backlit |
| Depth Rating | 120m (393 ft) |
| Memory | 70 hours |
| Battery | User Changeable (CR2430) |
| Operating Modes | Air, Nitrox, Gauge |
| Oxygen Blend | 2 Gasses, up to 50% O2 |
| Decompression Algorithm | Cressi RGBM |
Cressi Leonardo dive computer specs & features.
The Build
The Cressi Leonardo dive computer features a rugged and tough build.
Unlike the Aqualung i100 & i300c series, the display has a one-piece layout and won't crack as easily.
This dive computer could not be built simpler and more straightforward.
One button for navigating the menus, activating the backlight and for on and off.
I personally don't like one-button designs and think in 2023 every manufacturer should at least offer 2-3 to make it easier to use.
However, at least there is nothing you can do wrong with one of these.
Variations & Color Options
As usual for Cressi scuba gear, the Cressi Leonardo comes with several color options and they all look decent.
Although black is my color, I do like the all-white version and think it's easily the prettiest one of them.
Even more important than the color options is the fact that you can get the Cressi Leonardo in both wristwatch and console-style.
The console version is more expensive but comes with an air pressure gauge and a compass which the wristwatch one is sadly missing.
Battery & Charger
The Cressi Leonardo is powered by a user-replaceable CR2430 battery. What stands out is that there are no special tools required to do so unlike with other brands (looking at you here Suunto & Aqualung!).
Please note that some older models that I found online use a CR2441 type battery!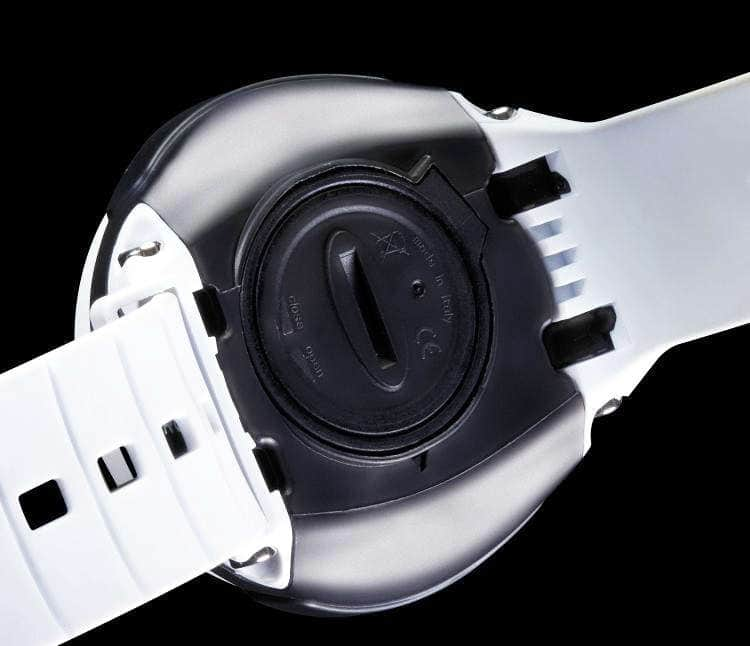 The battery will last around 100 dives (based on around 40-60 minutes per dive), or 2 years, however, your mileage will vary here.
Especially coldwater divers know that batteries tend to last way less when diving in waters below 15°C (70°F).
As a casual vacation diver, this is plenty and will last for a few years before the battery needs to be replaced.
The display
The Cressi Leonard comes with a nice LCD display and the screen is easy to read. Even if you dive in dark waters, you will have no issues reading the screens and the font size is large.
I also think the font sizes are very advantageous for beginner divers who want to have all the information immediately visible to them.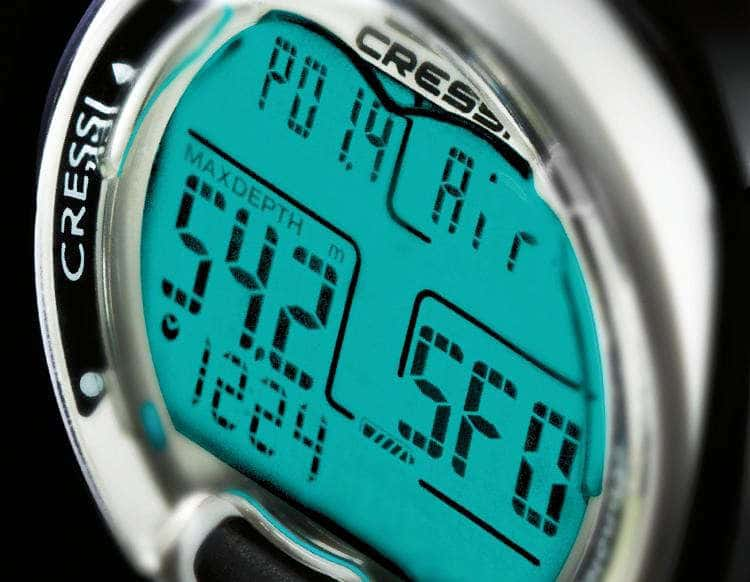 A big advantage is the battery indicator right on the main screen. We all fear the dreaded "low battery" warning before a dive and Cressi has made sure you know the state of your battery right away.
The backlight can be easily activated by pressing the button (there is only one) down for a few seconds and it also switches on automatically when any alarm goes off.
Unless you're looking for a color display, the Cressi Leonardo leaves nothing to wish for in regard to the display.
Setup
The setup is basically a "turn on and forget" kind of style.
You can adjust some settings like pO2 max, alarms, and conservatism, but you can essentially turn it on and jump into the water immediately.
I have encountered models which did not have the safety stop activated by default (what?!) so I do suggest you go through the settings at least once.
Interface & Navigation
One-button designs are always less convenient than dive computers with 2,3 or even more buttons.
On the other hand, you know exactly which one to press if you want to navigate through the menus.
The menus are nicely laid out and once you got a little more experience with them, they are easy to navigate. Just don't expect any fancy layouts.
In my personal opinion, one-button designs should be a thing of the past, and brands like Suunto show with their famous Suunto Zoop Novo that you can easily fit four buttons on a budget dive computer in the sub $300 range.
After all, we now have full-color multi-button technical dive computers priced at roughly $500 with the Shearwater Peregrine and the Aqualung i200 has four buttons, as well.
Dive Modes
The Cressi Leonardo comes with 3 different dive modes which are easy to select:
Dive Air
Nitrox (up to 50% O2)
Gauge (Depth, time)
This is the bare minimum any dive computer should have in 2023 and there are no bells and whistles.
Nitrox mixes up to 50% O2 can be used which is sufficient for recreational diving.
The Gauge mode is simply a bottom timer with a depth and time indicator. It can be used for freediving, however, there is no dedicated apnea mode.
Altitude Mode
The Cressi Leonardo has 4 different settings for altitude adjustments up to 3,700m/12,139ft. You need to manually select them before a dive:
ALT. 0 (no mountain) – from 0 to 700 m
ALT. 1 (low altitude) – from 700 to 1500 m
ALT. 2 (medium altitude) – from 1500 to 2400 m
ALT. 3 (high altitude) – from 2400 to 3700 m
I would not recommend you use this dive computer for altitude diving above 1,500m/5,000ft, since it uses an RGBM decompression algorithm.
However, it is nice that Cressi gives us a functioning altitude diving mode at such a low price.
Alarms & Notifications
The Cressi Leonardo has both audio and visual alarms and they are very noticeable.
All alarms can be adjusted which I think is very convenient.
You get the following alarms:
Ascent rate alarm (max 10m/32ft per minute)
Depth alarm
NDL limit approaching / Decompression forewarning
Deep Stop
Safety Stop
All of them are audio alarms and to be honest, I found them to be almost too loud.
I get it, as a beginner diver you need to really be reminded of them…however…the Cressi Leonardo is loud enough to serve as an audible alarm for all members of the dive group combined.
In my opinion, this is too much but at least nobody can say they didn't hear the alarm…
Be careful with the safety stop settings, as I have had models which had them turned off by default.
I am not a proponent of deep stops (making an extra stop at half the maximum depth on dives deeper than 20m/ 65ft, as they are scientifically debatable and not based on sufficient data.
However, many RGBM (reduced gradient bubble model) decompression algorithms use it extensively. It is up to you to activate it or not.
Dive Log & Data Transfer
The Cressi Leonardo has a logbook for 60 dives/ or 75 hours of information with a 20-second sampling rate.
This is usually enough for two to three dive trips.
To access log data on your computer, a separate interface is needed.
You can then download the appropriate software from the Cressi website and synchronize your dive log data.
Language Support
The Cressi Leonardo only features English settings, however, most settings are near self-explanatory so no extended language skills are needed.
Units Support
It is super easy to switch between metric and imperial measurements in the settings menu and by default, the dive computer is set to metric.
Support & Warranty
The Cressi Leonardo has been on the market for a long while now and it doesn't look like Cressi will stop supporting it anytime soon.
The dive computer comes with a two-year warranty which is pretty standard.
I never had to contact support, however, there are plenty of resources on their website, including the Cressi Leonardo manual.
I read of some poor experiences with the Cressi customer support, but I cannot comment on them.
Cressi Leonardo Decompression Model
The decompression model is the final thing we must look at when reviewing a dive computer, as the choice of algorithm largely determines its usability and reliability underwater.
While the following analysis might be a little technical, it's important to know these things as a scuba diver.
Decompression algorithm
The Cressi Leonardo uses the proprietary Cressi RGBM (Reduced Gradient Bubble Model) decompression algorithm.
First developed by Dr. Bruce Wienke when working for the Suunto dive computer brand, the RGBM algorithm is based on the Haldane model to calculate decompression stops and integrates modified gradient factors.
The one found in Cressi dive computers is based on 9 tissue compartments to simulate the on and off-gassing of the human body underwater. Each compartment comes with different rates of Nitrogen on and off-gassing.
Depending on how long these compartments have been under Nitrogen load during a dive, the required decompression time changes.
The half times of these compartments lie between 2.5 and 480 minutes.
The algorithm is considered rather conservative, but very safe for recreational diving and can be found in many dive computers today.
Conservatism settings
Most RGBM algorithms on the market today are proprietary and it can be hard to find reliable information on their inner workings.
In most cases, dive computers running a variation of the RGBM feature a "Safety Factor" option that can be chosen in the settings menu.
They essentially allow the user to alter the algorithm and change the acceptable levels of tissue load, and select different levels of algorithm conservatism.
This is done by setting the "conservatism" option to either low, medium or high, which adjusts the gradient factor accordingly.
Cressi calls these SF0 (SF for safety factor), SF1, and SF2. By default, SF1 is selected.
In practice
Feeling like this was too much technical information? Let's look at what this means for us as divers in practice.
How your dive computer works
Your dive computer uses a built-in depth sensor, and timer to feed data into its decompression algorithm during a dive.
It then calculates in real-time how much gas (nitrogen) is theoretically being absorbed and released by the tissues in your body.
All this information is then used to determine your current no-decompression limit (NDL) which is what you see on your display underwater.
The Cressi Leonardo is one of the most conservative dive computers on the market, as are all other Cressi models and they really take diver safety seriously.
This also means your NDL tends to run out faster than with other computers, especially those using a Bühlmann ZHL-16 one.
While your first reaction could be "this is a bad computer, I want to dive longer!", remember that Cressi does this to make diving safe for you. As such, always stick to the recommended NDL on your dive computer.
If you feel like your dive times are way too short, adjust the conservatism settings accordingly to make them less strict.
The Cressi Leonardo in practice
While diving, the Cressi Leonardo does what it is supposed to do without issues.
It isn't a premium dive computer but works flawlessly and makes your diving very safe.
There is no built-in compass, so you will need to wear a separate one in addition.
I think the alarms are a bit loud and almost obnoxious, especially the rapid ascent warnings. It's like diving up too fast and the computer is screaming at you "SLOW DOWN!!!". 😄
But hey, at least it works as it should.
The backlight is too dim for my taste and diving in murky lakes makes it somewhat difficult to read the display properly.
Diving in the Red Sea was no problem, though.
The NDL is rather low, as expected from a RGBM style decompression model and I would NEVER use it for advanced recreational or basic technical diving.
Nitrox settings are easy to find, however, the one-button design naturally isn't the most convenient one out there.
A word of caution, I did have one model flood after about 2 years of use, but I don't know if this is due to overall bad quality or just because I had bad luck.
What is missing?
This is clearly an ultra-budget dive computer aimed at beginners, casual recreational divers, and dive base owners looking for cheap rental equipment.
Therefore, you should not expect premium features, design, or build quality (and we won't judge it based on that).
Here are some things, you will not get with the Cressi Leonardo:
No compass
No air integration
No multi-gas diving
Multi-language support
The backlight is not the best and it can be a little hard to read in dark water. If you only dive in clear sea water, you should be fine, however.
Considering the low price tag, the Cressi Leonardo comes with lot of features.
However, the built-in RGBM algorithm means it is super conservative and will lock you out if you breach decompression stops.
Video review of the Cressi Leonardo
Check out the video below for a short overview and look at the Cressi Leonardo dive computer.
Conclusion
The Cressi Leonardo is one of the best choices if you are not willing to spend a lot of money on your scuba diving hobby.
It will calculate your dives, give you accurate accent rate warnings, and even includes Nitrox functionality.
There is a good reason it's both in the list of the best dive computers 2023 and the best dive computers for beginners!
Alternatives
In the budget dive computer range, the biggest competitor to the Cressi Leonardo is the Mares Puck Pro, as well as the Suunto Zoop Novo which both feature great displays and lots of features.
Where to buy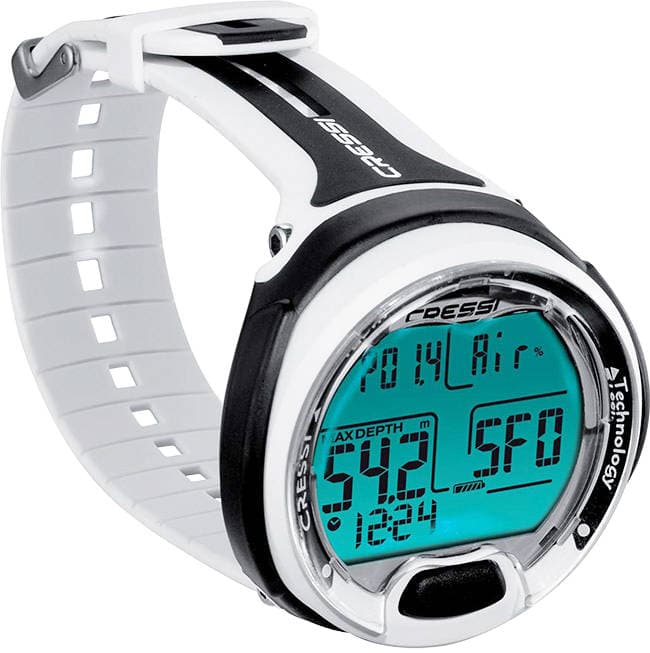 MSRP: €299