The Suunto Zoop Novo is a super popular dive computer for beginners and more experienced divers alike.
It comes with a ton of features, a hyper-competitive price, and Suunto dive computers are loved all around the world for their absolute user-friendliness.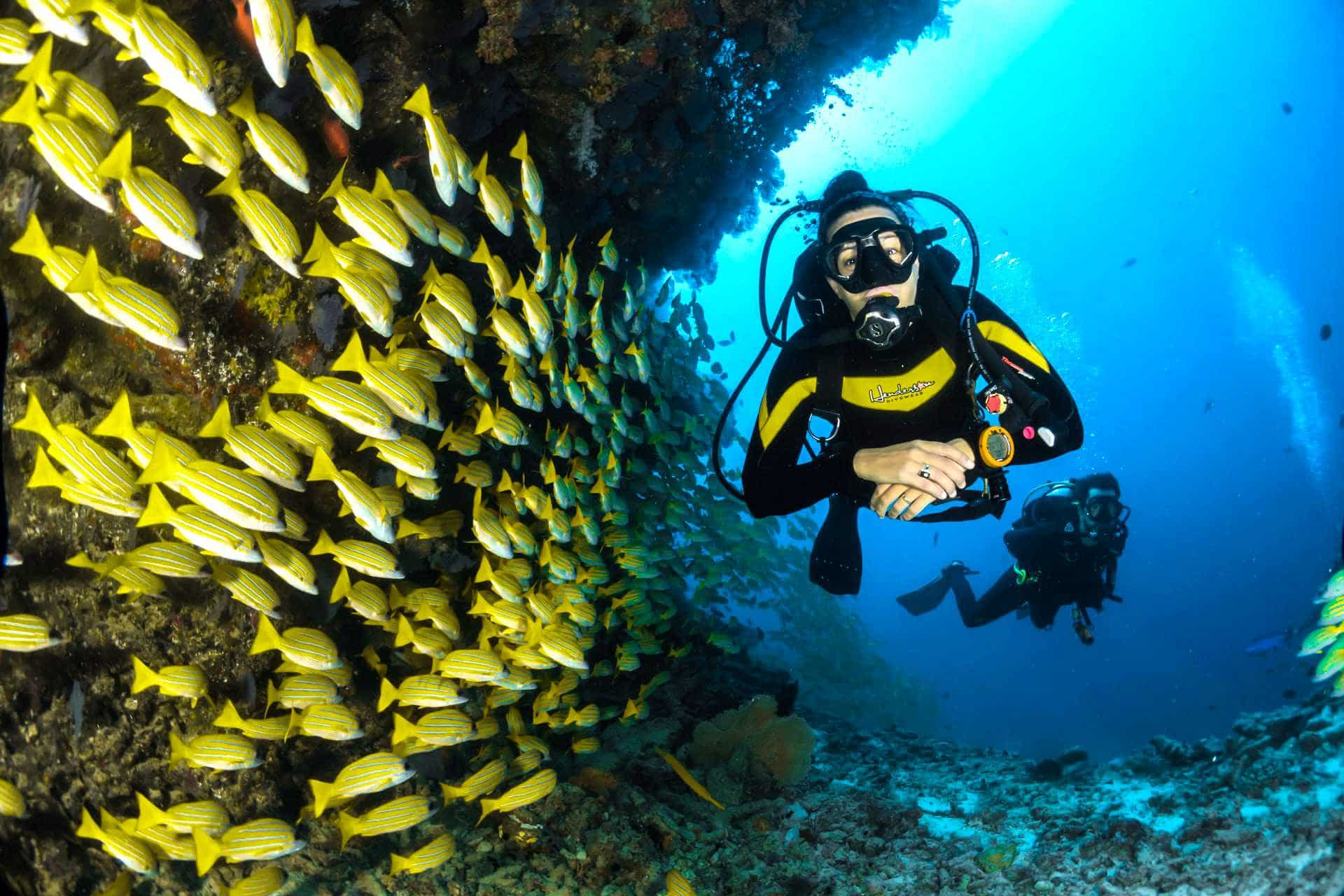 Despite its low price, it comes with 4 buttons which makes navigating and using it much more fun than other budget dive computers.
Already know the Suunto Zoop Novo is for you?
In that case, click on one of the links below for the latest prices. If you are undecided still, read the rest of the review to find out if the Suunto Zoop Novo is what you're looking for!
Reasons to buy
Very user friendly

Looks very cool

Budget computer with 4 buttons

Long strap fits over any suit (some dislike that though)

Just works out of the box

Big & bright display

Good value for the price

Features a freediving mode

Good alarm features
Reasons to avoid
Interface dongle not included

Buttons can be a bit unresponsive

Menu navigation can be confusing

Uses Suunto RGBM algorithm

Annoying deco lockout
Where to buy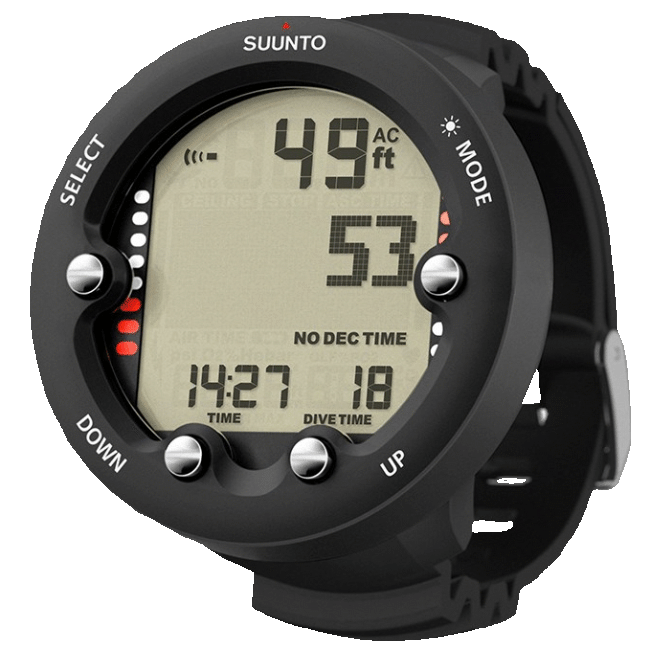 MSRP: €299
Our Suunto Zoop Novo review
Below you find everything you need to know about the Suunto Zoop Novo, its features, specs and what we like, and don't like about it.
Suunto makes some of the most user-friendly dive computers and they are well regarded for great quality and design.
The Suunto Zoop Novo is their most budget-friendly dive computer but is loaded with features other manufacturers charge double the price.
The display is very bright and easy to read. Especially in dark waters, you will see how that's a great advantage.
Like all Suunto dive computers, there is no setup required. Turn it on and it just works.
While you might want to check the manual for the menu navigation (which I find a little confusing at times), the Suunto Zoop Novo can be used straight out of the box.
While older versions only had a Nitrox and Air mode, the newer ones feature a freediving mode that's perfect for snorkeling and basic freediving exercises.
Suunto puts special emphasis on "safe diving" in their dive computers. This means alarms and notifications are clear and easy to understand.
This brings me to my two biggest complaints with the the Suunto Zoop Novo…and Suunto dive computers in general.
First off, Suunto implements a proprietary RGBM (reduced gradient bubble model) in all its dive computers.
While the general RGBM is a valid, though inferior, alternative to other popular ones like the Bühlmann ZHL-16 algorithm, we do not know how exactly Suunto implements it.
This will not bother most recreational vacation divers out there, however, if you are more advanced or even into technical diving…that's a clear no-go.
The advantage of the model is clear, it is easy to build dynamic computer algorithms around it and sell it with a ®-trademark.
This is not unique to Suunto, and other big brands like Cressi or Mares follow the same fashion in this regard.
For me as a technical and cave diver, and as a dive instructor teaching decompression theory to students, makes it difficult to use Suunto dive computers on many of my more advanced dives.
Another big drawback for more experienced divers is the super annoying automatic deco-lockout all Suunto computers have.
If you breach a non-decompression limit or deviate from the suggested decompression procedures of the computer, it will lock you out for diving for 24 hours.
Super annoying and you can't turn it off! Grr!
From a technical perspective, the entire computer is well designed and made, just the buttons feel a bit unresponsive at times.
It's not just me who noticed it, and you can find other reviews noticing the same thing.
Conclusion
If you want a super user-friendly, well-designed, and performant budget dive computer, look no further than the Suunto Zoop Novo.
It has everything you could ever ask for and then some.
It's definitely one of the best dive computers for beginners, however, even experienced divers will find the Zoop Novo to be sufficient for their diving needs.
Nitrox mode, great display, 4 button design, and a long enough wrist strap for any suit make this a stand-out model at this price range.
Yes, it does face limitations mainly due to the RGBM algorithm and deco lockout but since it's geared towards the beginner to intermediate diver, this does not take away from its quality.
Alternatives
Two worthy alternatives to the Suunto Zoop Novo are the Mares Puck Pro, as well as the Cressi Leonardo.
Both of them are very cheap with similar feature sets, however, they are 1-button models which is inferior to the 4 buttons the Suunto Zoop Novo has.
If you want to spend a little extra, consider the Suunto D4i Novo that comes as a wrist-watch style model, looks even better, and is an all-time bestseller, as well.
Where to buy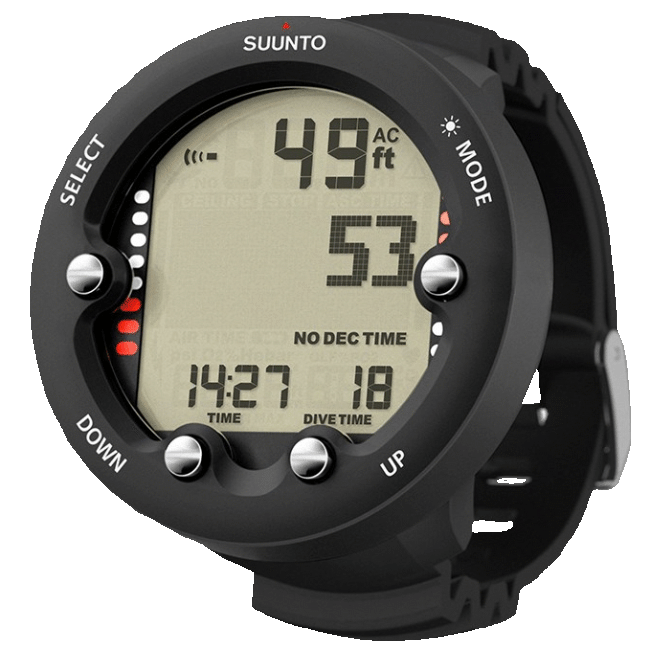 MSRP: €299