The Waterproof D10 Pro ISS is the flagship drysuit model at Swedish scuba gear manufacturer Waterproof.
It's a true powerhouse that fulfills all requirements of a drysuit and then some.

They released a new version last year and it's better than ever before.
Already know the Waterproof D10 Pro ISS is for you?
In that case, click on one of the links below for the latest prices. If you are undecided still, read the rest of the review to find out if the Waterproof D10 Pro ISS is what you're looking for!
Reasons to buy
Great quality

Rugged but flexible

Very durable silicon seals all around

Very warm
Reasons to avoid
Quality comes at a price

Neoprene is less flexible than trilaminate

Heavy
What could be improved
Add gloves to the package...
Where to buy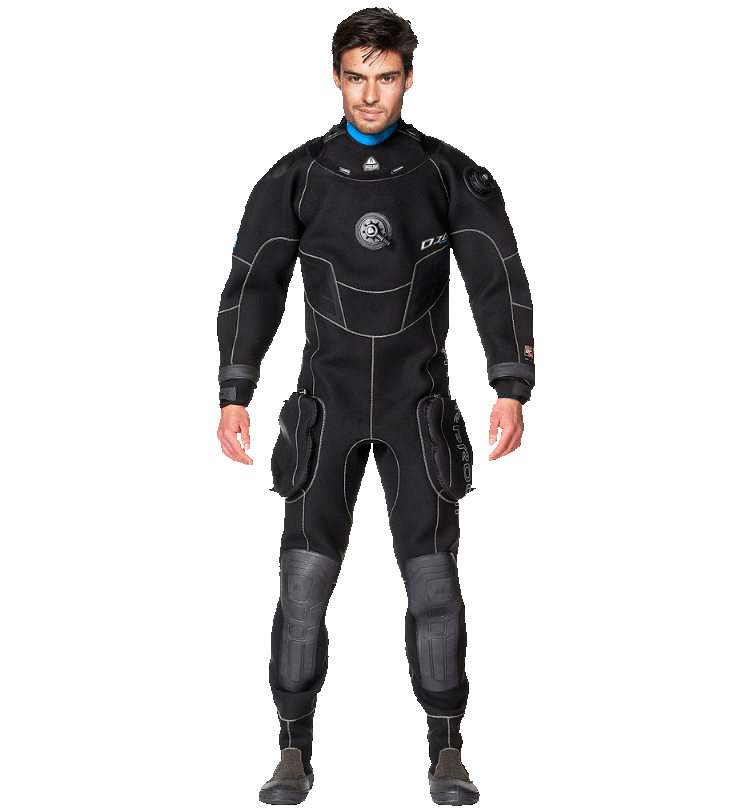 MSRP: €2499
Our Waterproof D10 Pro ISS review
Below you find everything you need to know about the Waterproof D10 Pro ISS, its features, specs and what we like, and don't like about it.
Waterproof has a long history of making great diving exposure suits and the Waterproof D10 Pro ISS is a great one.
They are extremely well made and being from a cold country, all Waterproof drysuits feature excellent thermal insulation.
This is the successor to the popular D9 and previous D10 models and it comes with some nice quality improvements.
I'm personally not the biggest fan of crushed neoprene drysuits (which Waterproof calls Hi-Densite neoprene) as I value the flexibility and lightweight of trilaminate ones more.
However, if you are a professional diver looking for a rugged yet flexible drysuit for underwater work, this is your suit.
It's also perfect for recreational divers looking for a heavy-duty drysuit for their home lake or quarry where the water temperature stays relatively similar all year round.
The biggest drawback of the Waterproof D10 Pro ISS is the weight. The suit alone comes in at 5.8 kg (12 lbs) which is almost double the weight of popular trilaminate drysuits such as the Santi Elite Plus.
The price tag is quite hefty on this one, too, but shows off the premium quality of the materials used inside.
Quality comes at a price and I would find it justified…if the suit did come with gloves included! Or a p-valve…
Specs & Features
| | |
| --- | --- |
| Type | Hi-Dense Neoprene Drysuit |
| Weight | 5.8kg (12 lbs) |
| Materials | Suit: 3.5mm Hi-Dense neoprene with SD Toughtex lining, Boots: DuPont™ Kevlar® Fiber reinforced |
| Available Colors | black / gray |
| Zipper type | plastic & metal zipper options |
| Zip location | Back |
| Boot type | Boot |
| Wrist seal | Latex |
| Glove type | – |
| Neck seal | Latex |
| Hood included | Yes, H1 5/7mm hood |
| Pockets | 2 |
| Valves | SI TECH |
| P-Valve | – |
| Custom sizing | – |
| Other Features | Warm neck system with molded velcro tabs, lifetime warranty available |
Conclusion
The Waterproof D10 Pro ISS is an incredible neoprene drysuit that will keep you really nice and cozy while not limiting your flexibility.
Where to buy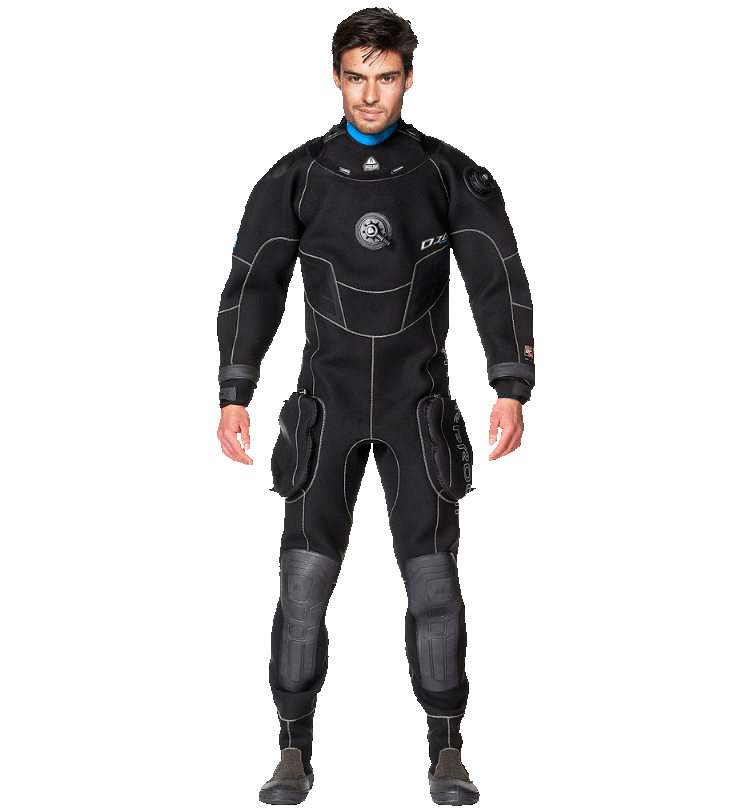 MSRP: €2499