The Suunto Zoop Novo is a super popular dive computer for beginners and more experienced divers alike. It comes with a ton of features, a hyper-competitive price, and Suunto dive computers are loved all around the world for their absolute user-friendliness.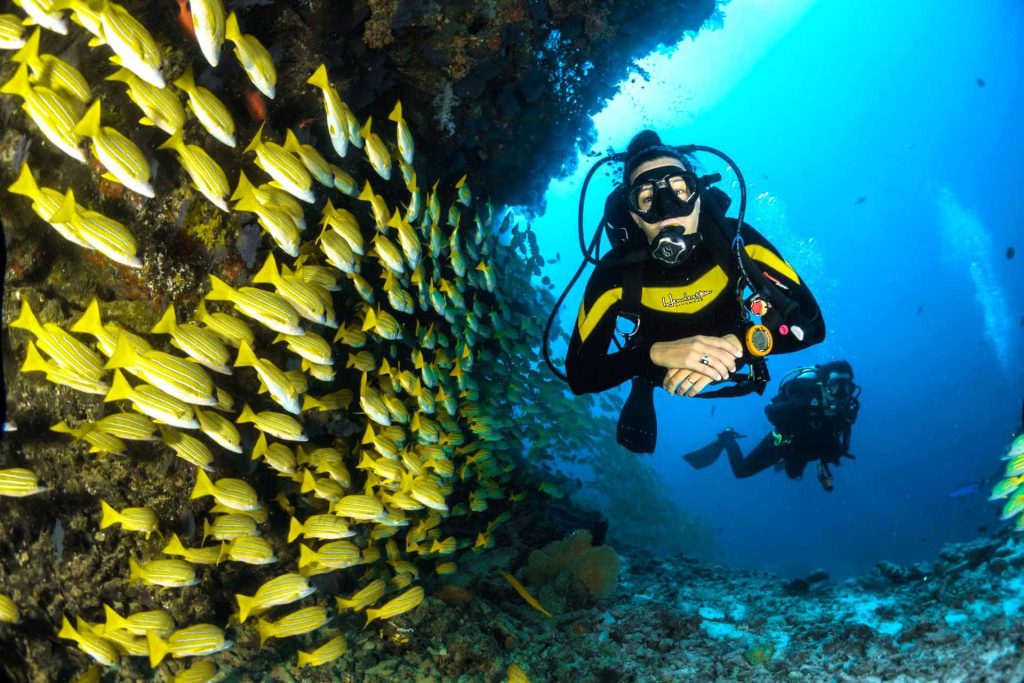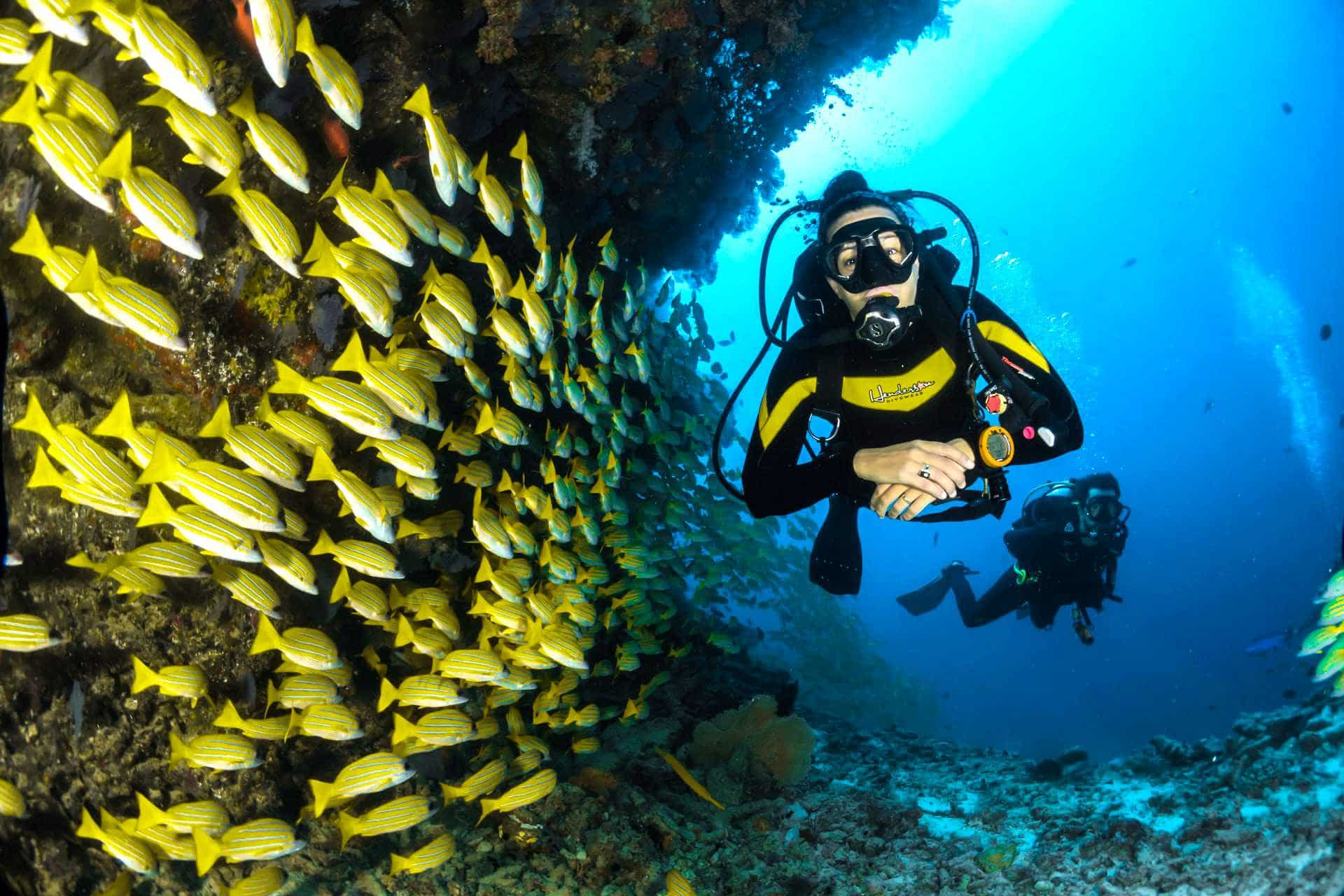 Despite its low price, it comes with 4 buttons which makes navigating and using it much more fun than other budget dive computers.
Suunto Zoop Novo Review - Table of Contents
(Click to expand)
Of course, we also read other opinions online but in the end, nothing beats real world experience. So we took the time for a thorough Suunto Zoop Novo test and review! Below you find everything you need to know, including features, specs and what we like, and don't like about it.
Review Summary
Social Diving Editor's Choice
An absolute budget beast that gives you a 4-button design in combination with versatility and super high quality.
Our Rating
What We Like
Very user friendly

Looks very cool

Budget computer with 4 buttons

Long strap fits over any suit (some dislike that though)

Just works out of the box

Big & bright display

Good altitude mode

Good value for the price

Features a freediving mode

Good alarm features

Different colors available

4 dive modes (including freediving)
Reasons to Avoid
Interface dongle not included

Buttons can be a bit unresponsive

Menu navigation can be confusing

Uses Suunto RGBM algorithm

Annoying deco lockout

No compass
Important Specs & Features
4-button design
4 diving modes
Altitude diving mode
What could be improved
Add compass
First Impression
In a hurry and looking for the gist of things? Here is our review in short. Keep reading for the entire version.
The Suunto Zoop Novo is one of the world's best-selling entry-level dive computers of all time. It is super popular among beginners and more experienced divers alike and our favorite budget beast on this list. It comes with so many goodies that it's hard to find something that isn't amazing value.
First off, the Zoop Novo features a 4-button layout that's far superior to the 1- or 2-button dive computers of other contenders at this price range. Secondly, it is super affordable, offers Nitrox support, a nice logbook functionality, and has a really bright display. Being such a well-known brand, you can get service and replacement parts for Suunto computers anywhere in the world.
In addition to the technical features, which are superb, the Zoop Novo just looks really nice, even though it isn't a wristwatch-style computer. What I don't like about the Suunto dive computers in general, is their proprietary RGBM decompression algorithm. This is not specific to this dive computer, but all the Suunto ones. As it is unlikely that divers at this price range will use the Zoop Novo for any technical diving activities, it is not as relevant as in higher-priced tiers.
The Zoop Novo is by far our favorite budget dive computer in 2023 and the right choice for casual divers and beginners.
About Suunto Dive Computers
Suunto makes some of the most user-friendly dive computers and they are well regarded for great quality and design. Originally from Finland, they have since been bought by the Chinese company Liesheng after previously belonging to Amer Sports.
This has not lead to any big changes in lineup and product quality and they continue to stand out for making some of the most beginner-friendly products out there.
The Suunto Zoop Novo is their most budget-friendly dive computer but is loaded with features other manufacturers charge double the price for. It falls under the entry-level dive computer category and has garnered popularity among recreational divers for its simplicity, reliability, and affordability. It is an excellent choice for those new to diving or who prefer straightforward functionality.
Build Quality
The Zoop Novo is constructed with a robust and sturdy case and can take a beating. We have used ours in any type of diving and I even know some technical divers who take it as a 2nd backup for fun. The large buttons can easily be operated with or without gloves.
We'll take off one point because sometimes a button can be a bit unresponsive. It's not just us who noticed it and you can find other reviews noticing the same thing. Nothing to worry about though.
Our Rating: 4/5
Design
Let's be honest: Any wrist-style dive computer that doesn't have the size of a wristwatch will get minus points for that. However, that's really the only "flaw" of the Zoop Novo, if you can even call it that.
Sporting a classic dive computer design, the Zoop Novo has a large display with a clear and straightforward layout. The design prioritizes functionality and readability over sleekness. However, it comes in different colors and the finish is SOO much better than some other cheap ones out there.
The dot-matrix screen provides clear information, with a decent backlight for visibility in low-light conditions. It works for the occasional night dive on a liveaboard diving trip, but if you want to use it in pitch darkness all the time, you might want to grab the D5 instead.
Our Rating: 4/5
Ease of Use
Like all Suunto dive computers, there is no setup required. Turn it on and it just works. It doesn't get easier than that.
Suunto always goes to lengths to ensure their products are foolproof and the Zoop Novo has long been an absolute monster in this category. While you might want to check the manual for the menu navigation (which I found a little confusing at first), once you get the hang of it, it's super simple.
Just something to note: The manual itself isn't super helpful but some internet searching usually helps.
Our Rating: 5/5
Alarms & Notifications
Suunto puts special emphasis on "safe diving" in their dive computers. This means alarms and notifications are clear and easy to understand. There are options for safety stops and deep stops.
If you ascend too fast, the Zoop Novo WILL TELL YOU. AND IT WILL TELL YOU VERY LOUDLY!
Yes, the audible alarms are really good but everyone in the water will know, too.
Our Rating: 4/5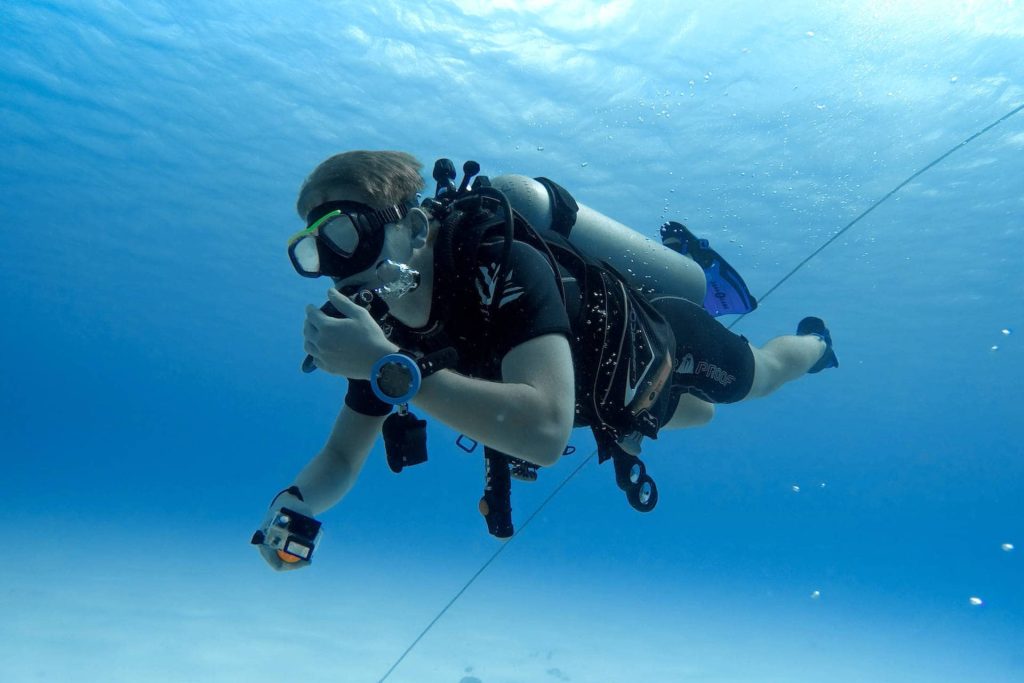 Features & Performance
While older versions only had a Nitrox and Air mode, the newer ones feature a freediving mode that's perfect for snorkeling and basic freediving exercises. There is also a Gauge mode. Best part? Each of them is just the click of a button away!
We love the fact that it comes with a good altitude diving mode as we are big on that ourselves. It works up to the 1,500-3,000m / 4,900-9,800ft range, although we think the latter is already pushing it.
The Suunto Zoop Novo has three options to set the level of conservatism:
P0: For standard conditions (most will use this)
P1: A moderate conservative setting
P2: The highest level of conservatism
A ton of features, a hyper-competitive price, and 4 easy to use buttons? Sign us up!
One drawback we found: It doesn't come with a compass.
Please note it has no air integration, but honestly, at this price range no dive computer does.
Our Rating: 4/5
Apps & Connectivity
The Zoop Novo lacks wireless connectivity or Bluetooth and requires a physical connection to upload dive data to Suunto's DM5 software. The software allows for detailed analysis of dive data and has a logbook functionality, though it's less convenient than wireless syncing.
What we found super annoying is that the interface USB dongle isn't included! Why, Suunto?!
Our Rating: 2/5
Battery Life & Charging
Battery life is mainly determined by how much you use it but it will last for a long time!
If you only dive a few times every year, your battery might last a couple of years (although we still recommend changing them regularly before a dive trip).
The battery is user changeable and with the Suunto Zoop Novo battery replacement kit it takes about 10 minutes. The kit includes the screwdriver, O-ring, and battery and is super cheap.
Our Rating: 5/5
Diving with the Suunto Zoop Novo
When we review scuba gear, we always test it from 3 perspectives: Recreational divers, technical divers, and dive professionals and instructors.
On the one hand, we have team members from all these sides so it's easy for us to test it this way. On the other hand, we think all these 3 groups have individual requirements and what might work for one doesn't have to work for the others.
Suunto Zoop Novo for recreational diving
This is where the Zoop Novo really shines. It is a budget beast for recreational divers of all levels who don't want or need a watch-sized model. With its versatility we think this is an amazing deal for beginners especially.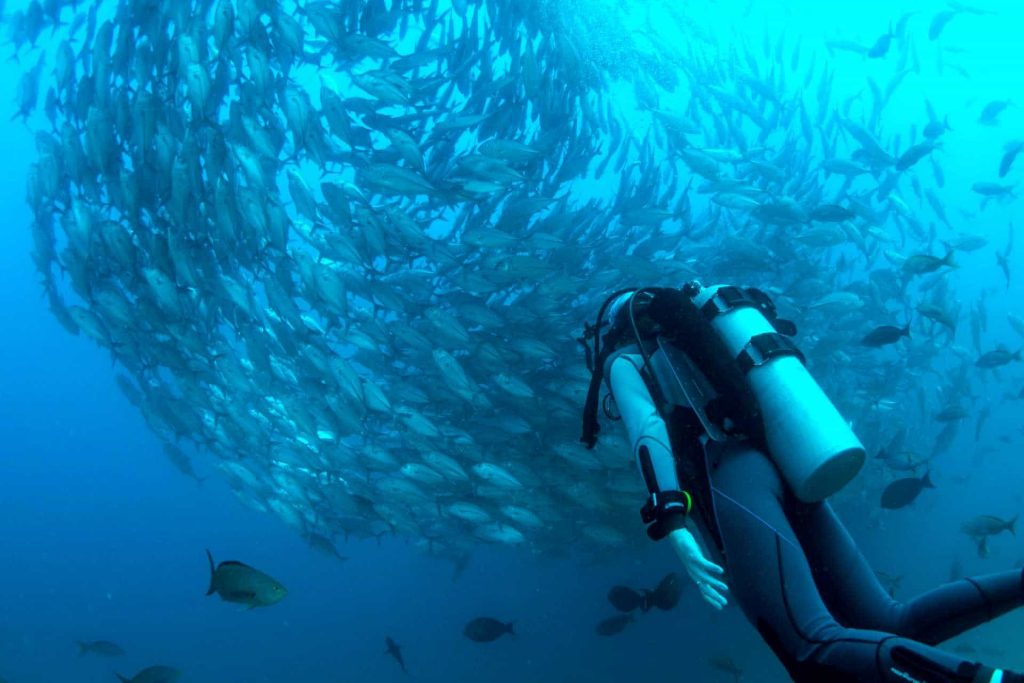 Suunto Zoop Novo for technical diving
The only time you really want to use the Suunto Zoop Novo for technical diving is as a bottom timer in gauge mode. Do we recommend it? No. Do we know people who love it for this reason? Plenty!
Suunto Zoop Novo for dive professionals and instructors
The way the Suunto dive computers are built, they cater extremely well to the teaching system of PADI and other scuba training agencies. That's why the brand has been featured in many programs and it's hugely popular among beginners.
This means if you are a dive instructor diving regularly with students, there is a very good chance at least one or two of them will have a Suunto dive computer. Or rather, the dive center hands them out as rental gear. You know it's always good to dive with the equipment your students use, as well, so yes. The Zoop Novo can work well in that regard.
However, as all Suunto computers use the same algorithms, we find that wristwatch-style computers like the Suunto D5 or higher-end models will serve you better in the long run.
Suunto Zoop Novo Decompression Algorithm
Suunto implements a proprietary RGBM (Reduced Gradient Bubble Model) in all its dive computers.
The RGBM is used by some dive computers to calculate safe decompression during a dive. The "gradient" in RGBM refers to the difference between the amount of nitrogen in your tissues and the amount of nitrogen in the water at a given depth. By "reducing" this gradient, the model aims to minimize the risk of bubble formation. It essentially tells you how fast you can ascend without letting this gradient become too large, thus preventing bubbles.
While the general RGBM is a valid, (though inferior we'd say), alternative to other popular ones like the Bühlmann ZHL-16 algorithm, we do not know how exactly Suunto implements it. This will not bother most recreational vacation divers out there, however, if you are more advanced or even into technical diving…that's a clear no-go.
The advantage of the model is clear, it is easy to build dynamic computer algorithms around it and sell it with a ®-trademark. This is not unique to Suunto, and other big brands like Cressi or Mares follow the same fashion.
For me as a technical and cave diver, and as a dive instructor teaching decompression theory to students, this makes it difficult to use Suunto dive computers on many of my more advanced dives.
But like I mentioned before, I do know some people who use it as a backup so hey…it can work!
Deco Lockout
As explained above, there are some issues with the choice of algorithm in the Zoop Novo. This brings us to our second big complaint with it…and Suunto dive computers in general:
They have a super annoying automatic deco-lockout. If you breach a non-decompression limit or deviate from the suggested decompression procedures of the computer, it will lock you out for diving for 24 hours.
Super annoying and you can't turn it off! Grr!
Conclusion
If you want a super user-friendly, well-designed, and performant budget dive computer, look no further than the Suunto Zoop Novo. It has everything you could ever ask for and then some. It's definitely one of the best dive computers for beginners, however, even experienced divers will find the Zoop Novo to be sufficient for their diving needs.
Nitrox mode, great display, 4-button design, and a long enough wrist strap for any suit make this a stand-out model at this price range. Yes, it does face limitations mainly due to the RGBM algorithm and deco lockout but since it's geared towards the beginner to intermediate diver, this does not take away from its quality.
Alternatives
Two worthy alternatives to the Suunto Zoop Novo are the Mares Puck Pro, as well as the Cressi Leonardo.
Both of them are very cheap with similar feature sets, however, they are 1-button models which is inferior to the 4 buttons the Suunto Zoop Novo has. If you want to spend a little extra, consider the Suunto D5 that comes as a wristwatch style model, looks even better, and is an all-time bestseller, as well.
If you have any other questions or need advice, leave us a comment below and get the conversation started.
Join the email list to get regular diving, travel, and outdoor tips, tricks, news and our latest deals straight to your inbox!
Where to Buy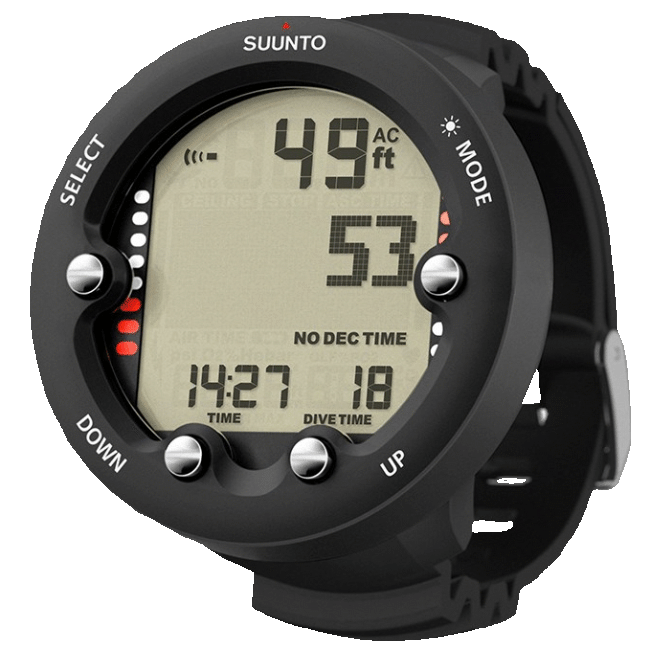 MSRP: $299