The Garmin Descent Mk2 & Mk2i is one of the best "smartwatch goes full dive computer" models on the market and one of our favorite pieces of scuba gear ever. Featuring air integration (finally!), improved location tracking, and even more goodies, you really cannot go wrong with this one.

We love the extensive options for diving and sports, and the connectivity with other apps on our phones. If you are looking for a smartwatch and dive computer at the same time, you should keep on reading.
Gosh, I love this thing!
Garmin Descent Mk2i Review - Table of Contents
(Click to expand)
Of course, we also read other opinions online but in the end, nothing beats real world experience. So we took the time for a thorough Garmin Descent Mk2i test and review! Below you find everything you need to know, including features, specs and what we like, and don't like about it.
Review Summary
Social Diving Editor's Choice
The improved version of an already fantastic dive computer. Featuring air integration, smartwatch and fitness tracking capabilities, and extensive multi-gas diving options, this dive computer is not only a beauty to look at but also has some serious power under the hood.
Our Rating
What We Like
Smartwatch & Dive computer in one

Looks gorgeous

Versatile

Great battery life

Integrates with other Garmin offerings

Super nice logbook features

Air integration (finally!)

Freediving mode

Multi-sport activities

Subwave sonar technology on Mk2i

Integrates tanks 30 feet away
Reasons to Avoid
Expensive

Could be too heavy for some users

Display a little too dim for some

The basic Mk2 doesn't come with air integration

Relatively low depth rating
Important Specs & Features
Smartwatch & Fitness Tracking
Air integration
Multi-gas diving
What could be improved
Brighter display
Include air integration in all Mk2 models
First Impression
In a hurry and looking for the gist of things? Here is our review in short. Keep reading for the entire version.
The Garmin Descent Mk2i features a few awesome improvements such as air integration, even better battery life, and a great inbuilt logbook system.
It has multi-sport support, so it doubles as my dive computer and running, hiking, climbing, and swimming watch. Whether you want to do casual reef diving, or advanced stage handling with different gases, the Garmin can do it all. It integrates flawlessly with the entire Garmin ecosystem and looks super gorgeous. The display is super nice, the Garmin map feature is above anyone else on the market, and I personally love the App and community ecosystem.
The clippable wrist strap is very convenient and makes it easy to switch between the short and long wristband, depending on exposure suit thickness. It does come at a high price and the air integration pod isn't exactly cheap either. I would have wished for some more diving customizations like algorithm switching but that's maybe pushing it.
The Garmin Descent Mk2i is truly one of the best dive computers on the market and if you are an athlete or need a new smartwatch, this is almost a no-brainer.
About Garmin Dive Computers
Garmin launched its dive computers line in 2018 with the Garmin Descent Mk1 and made quite a splash. It takes something to disrupt an entire industry and blow lines of competitors out of the water. However, that's exactly what they did by introducing the novel combination of premium dive computer and full-blown smartwatch.

With unique and handy features, great build quality, and the extensive and time-proven Garmin app ecosystem behind them, it was only a matter of time until they introduced an improved Mk2 (read: Mark 2) version.
They even released a budget-friendly one with the newest Garmin Descent G1 Solar and it's safe to say, they are here to stay. The company is best known for its GPS devices and extensive sports watch lines. When they first announced they were entering the dive computer market in 2018, people were thrilled (myself included).
Specs & Features
| | |
| --- | --- |
| Buttons | 5 |
| Display | 3.5cm / 1.39in AMOLED display |
| Depth Rating | 100m (330 ft) |
| Memory | Lots |
| Battery | Rechargeable |
| Operating Modes | Single-gas, multi-gas, freediving, gauge, apnea, customizable |
| Oxygen Blend | Nitrox, Trimix, Custom |
| Decompression Algorithm | Bühlmann ZHL-16C with adjustable gradient factors |
Garmin Descent Mk2 & Mk2i dive computer specs & features.
Build Quality
Similar to its predecessor, the Garmin Descent Mk2i is a super cool-looking 5-button smartwatch/dive computer based on the famous Garmin fitness watch Fenix 6. It ships in a nice little box and from the first moment you use it, it yells "Made for athletes".
Even with the Shearwater Teric or the Suunto D5, you ultimately get a dive computer, even though they make for nice wristwatches, as well.
However, with the Descent line from Garmin, you get an actual smartwatch that just so happens to have extensive and well-thought-out diving features. The build quality is great and after using Garmin dive computers for the last 4 years, I can attest to their durability and reliability.
I have bumped my various dive computers on door frames, scuba tanks, and many other things over the years and never once even noticed a scratch.
The buttons are very responsive and work flawlessly.
Our rating: 5 / 5
Design
In short: We think the Garmin Descent looks really good and gets full points for design. The numerous nice features like a quick change mechanism for the wristband are just icing on the cake!
There are 3 main variations of the Garmin Descent Mk2 line:
Garmin Descent Mk2 (available with stainless steel or titanium bezel)
Garmin Descent Mk2i (features air integration, only with titanium bezel)
Garmin Descent Mk2s (smaller battery life & display, additional features aimed at women)
The Garmin Descent Mk2 is the base version of the dive computer and comes as a premium dive computer and extensive multi-sport GPS smartwatch in one.
Like the Mk1, there is a stainless steel version and a slightly more expensive titanium bezel one available, if you like the look.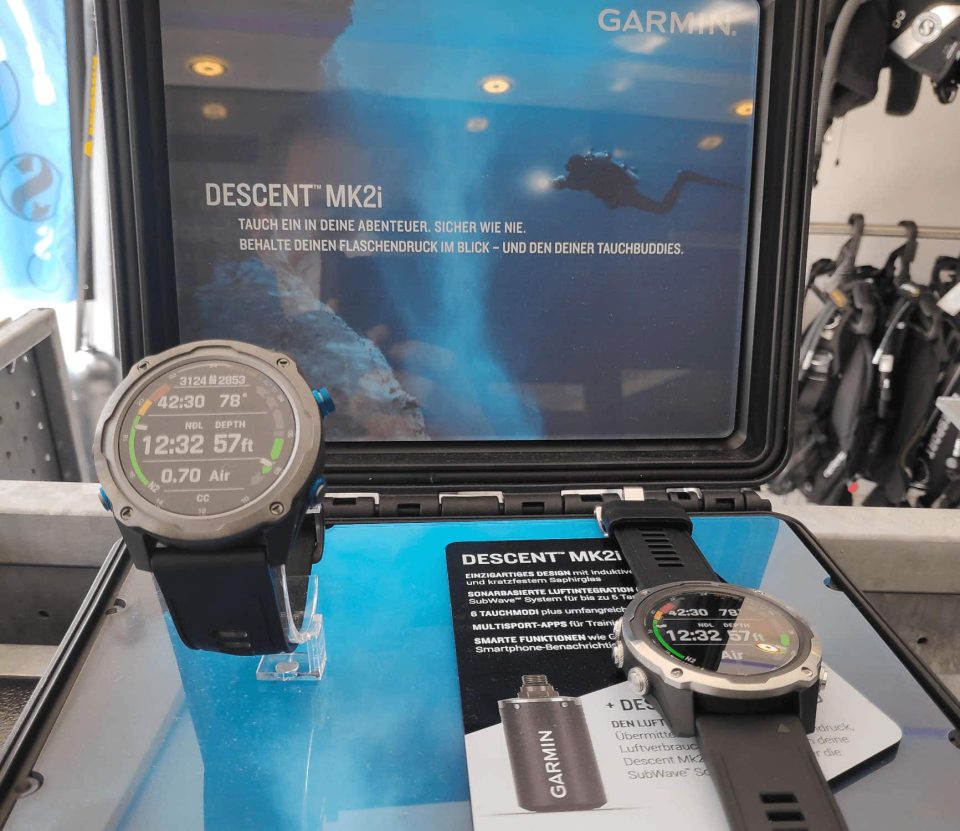 The Garmin Descent Mk2i features the long-awaited air integration and is the one we are looking at in this review.
It only comes with a titanium bezel which is the cooler one, in my opinion. Please be aware once more that you will NOT have air integration on the Descent Mk2 base model!
Last but not least, Garmin introduced the Descent Mk2s version to accommodate female divers more. It comes in three different colors, fits smaller wrists much better, and ships with additional features like pregnancy and menstruation cycle tracking.
Our rating: 5 / 5
Ease of Use
Setting up and starting to use the Garmin Descent Mk2i is super simple! Just turn it on and you can use the default settings right away. You are then free to customize the watch face and settings as you wish.
I recommend doing a quick calibration of the compass and altimeter before using it underwater which can be done in about one minute. To receive software updates etc., connect it to your phone via Bluetooth and the Garmin Connect app. There is also a dedicated dive log app and the Garmin app store to complete the setup.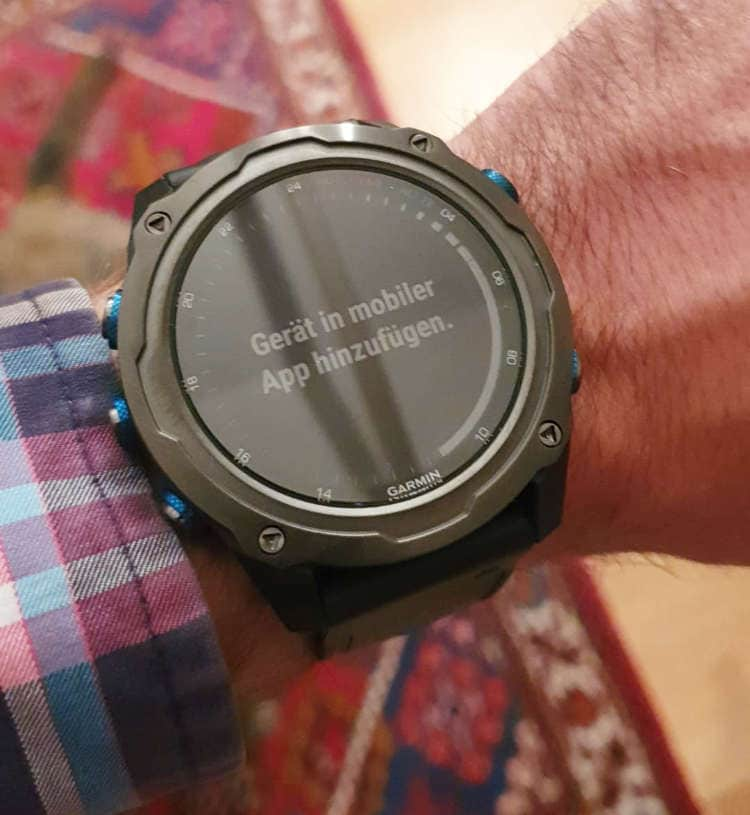 Unless you need some advanced technical diving setup, the Garmin Descent Mk2i dive computer is super super simple to use and we love using it right out of the box.
Our rating: 5 / 5
Battery Life & Charging
The Garmin Descent Mk2i comes with a special USB clip charger which is different from the previous one on the Mk1. It can easily be clipped onto the dive computer and charges to full within only 3 hours.
Of course, it would be easier if the computer had a USB-C powered charger or a charging pad like other computers, but this is not really a big drawback. Considering all the fitness tracking it does and everything else, the Garmin Descent Mk2i has amazing battery life:
| Activity | | Battery Life |
| --- | --- | --- |
| Default | | 16 days (14 days in my case) |
| GPS in background | | 96 hours |
| In-activity GPS tracking | | 48 hours |
| In-activity GPS + music | | 15 hours |
| Dive mode | | 80 hours |
Garmin Descent Mk2 & Mk2i battery life.
According to the manufacturer, it can last up to 16 days (if you leave the brightness settings on medium) in normal mode without charge, however, I think 14 days is more accurate.
Granted, this is only if you don't constantly use the GPS for tracking your hiking activities or other sports. In that case, it goes down to about 48 hours (still plenty), and using music, etc. will bring it down to around 14-16 hours.
Again, your mileage will vary depending on your brightness settings, and the temperature around. Extremely cold temperatures will also have their toll on the battery life.
Still, this is pretty amazing for any sports watch and even better than the Mk1. If you just use the GPS tracking in the background, you get around 96 hours of constant use. Last but not least, you get up to 80 hours in dive mode, which is more than enough for a full weekend of diving with friends.
You could even get by on a liveaboard diving cruise without charging if you use the single-gas mode only.
In regard to battery life, the Garmin Descent Mk2i blows the competition out of the water (no pun intended) and it has the best battery life of any rechargeable computer I have ever used.
Our rating: 5 / 5
The display
The display of the Garmin Descent Mk2 & Mk2i is large and easy to read while diving. I think it's better than the one on the Mk1 which suffered from being a little too dim. It's also 36% (around 1/3) bigger than the one on the Mk1 and comes in at 52 x 52mm, with a 35.56mm (1.4") display.
In my case, I like the size and enjoy that it gives me a lot of information on a relatively small area.
However, people with smaller wrists may find it a little large, but this is something Garmin addressed with the Mk2 model. It's simply a large smartwatch and meant to show off when wearing it during the day.
The display is less bright than the Shearwater Teric, or the Suunto D5, however, once you turn on the backlight it gets better. Underwater, the dive computer adjusts the backlight according to depth so it's easy to read.
Last but not least, the display is basically uncrackable and even after hitting it against door frames, scuba tanks, and falling on the floor repeatedly, it shows no scratches or signs of wear.
The only complaint I have (and mention again below) is that the smartwatch notifications don't have a full-color mode. I mean…everything looks really nice and you still have to look at your text message previews in black and white? Meh…
Our rating: 5 / 5
Interface & Navigation
The Garmin Descent Mk2 & Mk2i feature different modes depending on the activity. Experienced Garmin users will find their way around the menus easily and they are very similar to the previous Mk1 model.
Once you get the hang of it, it's very easy to navigate and the interface is clean and intuitive.
Selecting an activity opens the specific interface for it and gives you lots of customizations and options.
As a scuba diver, you will most likely use the "single dive" interface the most.
Before every dive, you get to an intermediate menu that allows you to adjust all settings, including water type, conservatives, gas type(s), and MOD.
During the dive, you can switch through different watch faces to get the information you require.
I like it and it's well thought-out, however, I would have preferred better options to customize what you see on each face and in what order.
Dive Modes
Garmin Descent Mk2 & Mk2i both come with 7 different dive modes plus quick settings for Nitrox mode and mixed gas settings:
Single-Gas (Air, Nitrox, or Trimix up to 100% O2)
Multi-Gas (Nitrox, Trimix, or custom up to 100% O2)
Gauge (Depth, time, resettable stopwatch function)
Apnea (freediving mode)
Apnea Hunt
CCR (Closed Circuit Rebreather)
Dive plan
Single Gas: You will probably use the Single Gas mode the most for recreational, one-tank diving that allows you to easily adjust Nitrox and other settings on the fly.
In single gas mode, you still have the option to switch gases underwater, when using up to 100% O2 content for decompression.
Multi-Gas: Aimed at technical divers, the multi-gas diving mode allows for up to five gases with any oxygen and helium content and combination. This means both advanced Nitrox, and Trimix dives are possible.
The Mk2 allows you to save up to 12 preset gases for future use which I find very useful.
Gauge: In gauge mode, the Garmin Descent Mk2i only measures time, depth, and bottom time and is usually used by technical divers who use another primary dive computer. The stopwatch function is resettable.
Apnea: The Descent Mk2i includes a pretty cool apnea mode that's useful for freedivers, snorkelers, and skindivers.
Please note that there is a lockout by the dive computer to prevent repetitive freedives after scuba diving.
Apnea Hunt: Identical to the Apnea mode, except it mutes any audio and vibration alarms.
CCR: The closed circuit rebreather mode can be used when diving with rebreathers.
I have not used it during a dive myself, as most rebreathers use specialized dive computers that directly connect to the device, like the Poseidon Mk7.
However, as a casual backup computer, I can see some use for it.
Dive Plan: You also get a very easy-to-use NDL calculator and dive plan mode that allows gas switches, bottom time calculations, and anything else you could desire.
Overall, I am very happy with the diving modes you get in the computer and Garmin allows you to customize the screens and data you see on them.
Altitude Mode
Like all other Garmin dive computers, the Garmin Descent Mk2i includes automatic altitude detection and adjusts the deco algorithm accordingly.
This is super useful and works like a charm when I dive in mountain lakes in the Alps.
It also means you don't need to remember to set it before diving and everything is done for you.
However, please note that you do need to make sure it is calibrated before starting to use it.
Check if altitude mode works
To confirm that the altitude mode is working, you can check the surface interval screen and check the current N2 saturation. On the mountains, it should rise the higher you go.
Air Integration
Garmin finally made the much-requested air integration feature (AI) available and it doesn't disappoint.
Please note that you only get the air integration feature on the Mk2i (i for integration) and not on any other Mk2 model!
The Garmin Descent Mk2i can be paired with the Descent T1 transmitter for integrated pressure monitoring on up to 5 tanks via their SubWave™ sonar data network.
Most dive computer manufacturers use VHF radio technology that covers a range of roughly 1-3m underwater from the transmitter (called a "tank pod") to the wrist-mounted dive computer.
Garmin went a step further to improve on that with their proprietary SubWave™ sonar technology and the pairing works for up to 10m / 30ft distance.
This means you can monitor your entire dive group's air at all times.
I can see a lot of use for this for dive instructors and dive guides diving with students and guests.
What's the drawback? For obvious reasons, this means any existing tank pods you might own won't work in combination with the Garmin Descent Mk2i.
The Descent T1 transmitter also comes at quite a large price tag and the dive computer-pod combo comes in at a whopping $1849 MSRP.
If you choose the titanium wristband, this adds about $200 on top (I think it's worth it but I also like to wear heavy wristwatches in general).
Alarms & Notifications
The Garmin Descent Mk2i comes with visual, audio, and vibration alarms.
They are great and there is no way to miss them. You can set up loudness and vibration intensity settings and overall it has one of the best notification and alarm setups, I have ever used.
What I'd like to mention, though, is that I am not sure why Garmin still hasn't managed to offer full-color notifications for their smartwatch features (like text messages, emails, etc).
The dive mode looks great but once you get back on land you feel slightly disappointed that the colors stop there.
Dive Log & Data Transfer
Where the Descent dive computer line really shines (and what you ultimately pay a premium price for), is the Garmin app ecosystem that's attached.
It includes a superb dive log and data transfer is as easy as connecting it to your phone via Bluetooth.
It runs in the background and by the time you're back on land or home, it is already synchronized.
Hands down, this is so much better than anything else on the market and also looks a lot more modern and appealing than even the Shearwater Cloud.
If you like to have a full overview of your diving and activities data and like to look at pretty charts, graphs, and tables, this is truly a revelation.
Language Support
The dive computer can be set to near any language, just like the app, and no matter where you are from, you will find a locale setting for you.
Units Support
It is super easy to switch between metric and imperial measurements in the settings.
They can conveniently be changed in the settings menu and by default, the dive computer is set to metric.
Payments
The Garmin Descent Mk2 & Mk2i line features contactless smartwatch payment solutions through Garmin Pay and a number of providers.
Especially when traveling or visiting a dive center, I see a lot of use for this in the future (granted they support it at the diving destination).
The technology is still in its infancy but give it a couple of years and more banks and other providers will have it picked up.
Garmin Descent Mk2 & Mk2i Decompression Model
The decompression model is the final thing we must look at when reviewing a dive computer, as the choice of algorithm largely determines its usability and reliability underwater.
While the following analysis might be a little technical, it's important to know these things as a scuba diver.
Decompression algorithm
Garmin Descent Mk2 & Mk2i use the Bühlmann ZHL-16C decompression model that you can find in all Garmin dive computers. It is a modified version using a modern gradient factors approach.
If you have followed my articles for long enough, you know that this is my personal favorite decompression model and my recommendation for all experienced and technical divers.
The Bühlmann model uses 16 body tissue compartments to simulate the on and off-gassing of the human body underwater. Each compartment comes with different rates of Nitrogen on and off-gassing.
Depending on how long these compartments have been under Nitrogen load during a dive, the required decompression time changes.
Gradient factors
Gradient factors make the Bühlmann model adaptable to modern scuba diving.
They essentially allow the user to alter the algorithm and change the acceptable levels of tissue load, and select different levels of algorithm conservatism.
Divers can incorporate decompression stops and durations that differ from the original model to accommodate their dive plan better.
This is done by setting the "conservatism" option to either low, medium, or high, which adjusts the gradient factor accordingly.
Experienced divers can even manually set the gradient factor with their custom conservative option.
In practice
The Bühlmann ZHL-16C decompression model is one of the oldest and most commonly applied decompression algorithms used today.
It has been scientifically proven and is trusted by the majority of technical divers around the world.
Using gradient factors means that we can simply switch the conservatism setting to be more liberal (low) or conservative (high), depending on our requirements.
For beginner and intermediate divers, I recommend leaving the setting at default.
The air integration feature also allows for even more accurate calculations as respiratory minute volume and breathing rate are taken into consideration.
Both Garmin Descent Mk2 & Mk2i make use of the best decompression model for scuba divers and based on this, I can wholeheartedly recommend them.
The Garmin Descent Mk2 & Mk2i in practice
Diving wise the Garmin Descent Mk1 is smooth and leaves nothing to wish for.
Several operating modes like scuba diving, freediving, gauge, and a number of different inbuilt gas mixtures are included.
Even if you are a technical diver, the Garmin Mk1 Descent will do a great job.
Video review of the Garmin Descent Mk2 & Mk2i
Check out the video below for a short overview and look at the Garmin Descent Mk2 & Mk2i dive computers.
What is missing?
The Garmin Descent Mk2 line is much top-notch in pretty much all regards.
Most obvious for most is the steep price of $1299 and even more when you factor in air integration.
At $1849, the Mk2i + T1 bundle is simply too expensive for most recreational divers, and even for a smartwatch, this is a steep price.
Of course, it's totally worth it, in my opinion, but I understand if this is offputting for many.
I am also not sure, why they released the Mk2 and Mk2i as separate models when there is already the Descent G1 Solar as a budget option.
Garmin could improve on the display brightness again, however, I understand that they like to exceed at battery life ratings.
My personal biggest disappointment is the low depth rating of 100m / 330ft which means that advanced technical divers will have to choose the Shearwater Teric when looking for a deep diving technical dive computer in the wristwatch format.
I understand that most recreational divers simply will never get even close to that range but considering the Teric is rated at double(!) the maximum depth at 200m/650ft, the difference is noticeable.
Other than that, I really cannot find anything else to complain about.
Conclusion
The Garmin Descent Mk2i is the perfect smartwatch dive computer.
It has a ton of features, gets you massive value out of the box and the Garmin ecosystem is superb.
It's a big step up even from the already excellent Descent Mk1, and Garmin Pay, music integration, extended GPS tracking, a bigger logbook, and air integration make it worth the upgrade.
Scuba divers will enjoy the Bühlmann Z-16 algorithm, bright display, gorgeous compass, and a large number of diving modes above all.
Even technical divers will feel right at home and unless you do deep exploration diving, I think this is an absolute beast of a dive computer.
If you are looking for a dive computer and a smartwatch, this is a must-buy!
Alternatives
The most obvious alternatives to the Garmin Descent Mk2 & Mk2i are the almighty Shearwater Teric dive computer, the Suunto D5, and the predecessor model Descent Mk1.
If you have any other questions or need advice, leave us a comment below and get the conversation started.
Join the email list to get regular diving, travel, and outdoor tips, tricks, news and our latest deals straight to your inbox!