Neu beim Tauchen
Wie mit dem Tauchen anfangen
Welcome to Scuba Diving!
Did somebody show you amazing photos from their last vacation? Were you mesmerized by a BBC Dokumentation über Haie auf Netflix? Oder hast du diesen einen besonderen Menschen in deinem Leben getroffen, der dir gesagt hat, dass du unbedingt deinen Open Water Diver machen sollst?
Was auch immer dich zum Tauchen gebracht hat, wir freuen uns, dass Du hier bist. Hier bekommst Du eine ausführliche Erklärung auf wie Du deine Tauchzertifizierung bekommst. We wrote this for everyone who is new to diving. We have been in your shoes ourselves a didn't know how to get started with scuba diving. Our guide is meant to help you decide if scuba diving is a good sport for you, where you can learn to dive, and which scuba diving courses are suitable for beginners. Have fun!
How To Become A Certified Scuba Diver
Becoming a certified scuba diver is actually really simple. Most people go about it like this:
😁
That's pretty much it…thank you for reading!
Just kidding, of course, you'll find a detailed guide below. However, in essence, these are the necessary steps to get scuba certified.
Why Get Scuba Certified?
Sich als Taucher zertifizieren zu lassen ist eine gute Idee! Es gibt fast 15 Millionen zertifizierte Taucher auf der Welt und die Zahl wächst stetig. Schätzungen zufolge absolvieren über 1 Millionen Menschen ihren Open Water Diver jedes Jahr.
Wenn Du schon immer mal die Unterwasserwelt erkunden wolltest und Fische, Schildkröten, Haie oder sogar Wale aus nächster Nähe sehen möchtest, ist das Tauchen der richtige Sport für dich.
Diving is a lot of fun & burns a ton of calories!
Du fühlst dich wie ein Astronaut unter Wasser!
70% of our planet is covered by water. It's time to explore them!
Since we always dive in a buddy team you are never alone. If you join a local or global dive club like our Social Diving Communitybeitrittst, wirst Du viele Leute treffen, die wie Du gerne reisen und tauchen.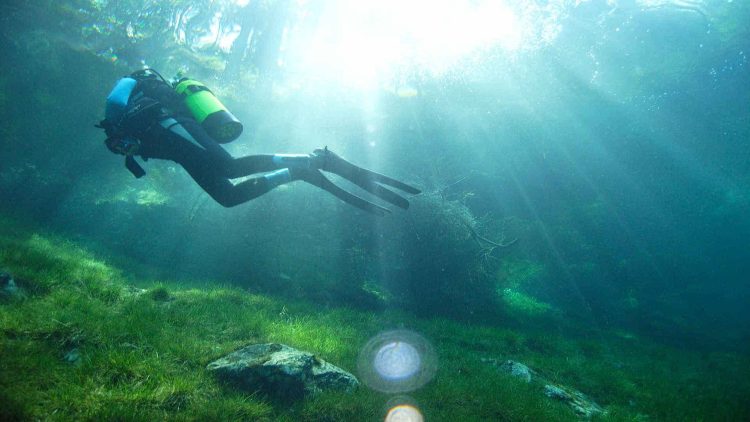 For those of you who like to stay fit, diving is a great way to burn tons of calories, too. One dive uses as much energy on average as one hour of jogging in the park. If that isn't a good point for going diving. Speaking about exercises and moving around, scuba diving is the only other place besides space where you can feel basically weightless! If you ever wanted to float around like an astronaut on the ISS, you absolutely must try out scuba diving!
Last but not least, you get to explore places that many others will never see. From shallow reefs to deep underwater caves, from exotic islands in Indonesia to frozen lakes in Europe, diving brings you to places you have never been to before. Those new to diving, and even experienced scuba divers, are often surprised to find there is a dive center just about anywhere on earth.
If you want to get some inspiration on the incredible destinations that you can visit as a diver, check out 100 Dives of a Lifetime book by National Geographic.
3 Steps To Become A Certified Scuba Diver​
Now that you know why scuba diving is super cool, let's find out how to become a certified scuba diver, okay?
Viele, die neu mit dem Tauchen beginnen, werden durch die Anzahl der Trainingsagenturen, different course offers, and terminology. But don't worry. Becoming a certified scuba diver is actually pretty simple. No matter where you go or who certifies you there are three parts to every beginner diving course:
Tauchtheorie
Diving Skills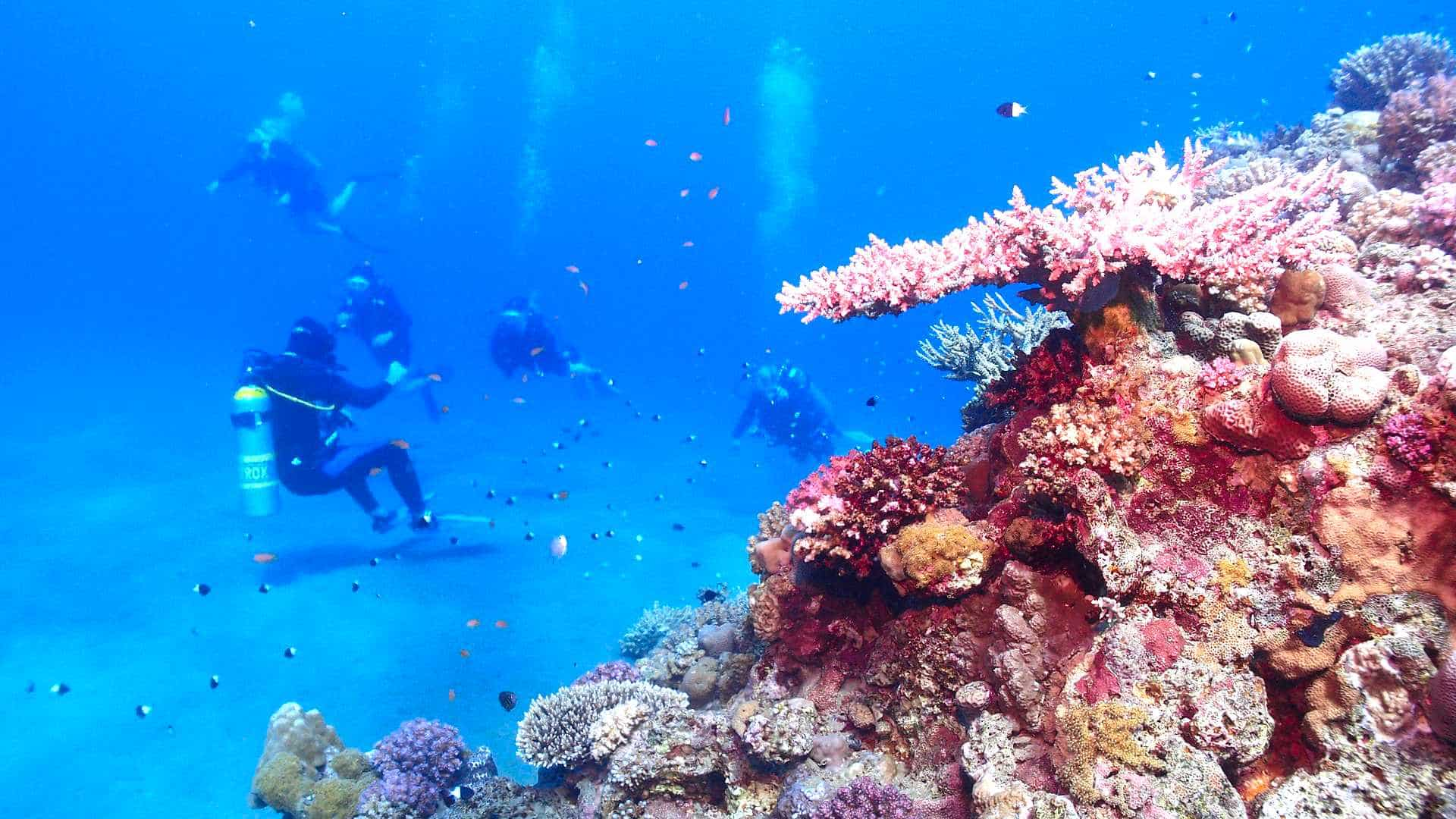 Tauchen im Freiwasser
Der Theorie will teach you everything you need to know before going diving. During the Skills session, you get to know the equipment and practice the skills every diver needs. Every course contains a number of Tauchgängen im offenen Wasser um das Gelernte anzuwenden.
Schnuppertauchen oder ein kompletter Kurs?
Wenn Du dir bereits sicher bist, dass Du Tauchen lernen und Taucher werden möchten (gute Entscheidung!), kannst Du diesen Abschnitt überspringen und sofort mit dem nächsten nächsten fortfahren. Wenn Du dir jedoch nicht sicher bist, ob das Tauchen zu einem neuen Hobby von Dir werden könnte, ist der beste Start ein Versuchstauchgang, der auch als Schnuppertauchen event.
Here you can try out diving in a relaxed way without committing to a full dive course right away. Almost every dive center will offer this course in some way or another for you to try out if you like diving.
We offer discover scuba diving in München, Frankfurt, and at our other locations. Alternatively, book your next vacation through us and we arrange it at any dive center around the world. Contact us, if you are interested!
Wenn Du mehr darüber erfahren möchtest, was während eines Schnuppertauchens passiert, kannst Du auf den Pfeil klicken, um weitere Informationen angezeigt zu bekommen.
Getting Certified as a Scuba Diver
Tauche ein, in eine neue Welt unter Wasser
Open Water Diver Kurs
Der erste Schritt zum zertifizierten Taucher ist der sogenannte Open Water Diver course or OWD in short. In this beginner course, you will learn all the theory, skills, and regulations necessary to go diving together with a dive buddy.
You will get to know the equipment we need to breathe and move effortlessly underwater and we discuss how to dive safely without the risk of hurting yourself, others, and the environment.
The physics of diving and health aspects are an important topic, as well. The course includes four dives in open water in which you can apply what you have learned right away.
Der CMAS* (or CMAS 1*, read as "C-M-A-S one star") is an equivalent dive certification to the OWD. If you want to know the difference between the two, check out our comparison post. Most people who are new to diving have a hard time deciding between the two. Just know, both of them are great options and you will learn to dive with either one.
Verbesser deine Tauchskills
Go Scuba Diving!
Now you are ready to go diving with those whale sharks and manta rays! With your new diving certification, you can go diving anywhere in the world together with a dive buddy. So let's go! The more you dive, the better you become.
How about joining on one of the Social Diving scuba trips now? Besides longer diving trips, we go on diving excursions and weekend trips with our Social Diving Club. Während der Woche fahren wir oft zu einem nahe gelegenen See, um spontan nach der Arbeit zu tauchen.
Before you go on any dive trips, however, make sure you get dive insurance though. With advanced diving courses, you can explore new areas of scuba diving.
Join Our Social Diving Club!
Wenn dir gefällt, was du hier bei Social Diving, become part of our Social Diving Club! Hands down, that's the best thing you can do after getting your certification.
The Social Diving Club aims at making it easier for you to find cool people that make your diving so much more fun. Because in everything we do we follow our motto:
Tauche mit uns ab!
Schließe dich Hunderten von anderen Tauchern an und erhalte Tauchtipps & Angebote direkt in deinen Posteingang.
Our promise: Zero spam – we won't sell your data – unsubscribe at any time.
Für mehr Details, schau in unsere Datenschutzrichtlinien.
DIVE WITH FRIENDS NOT STRANGERS
Whether you join by yourself, as a couple, or with a group of friends….you are always welcome! We help you to find a dive buddy and if there really isn't anyone available, we just jump in the water with you ourselves!
Oh, and besides that, you can get a ton of extra value like unlock all featured articles on Social Diving, exclusive member trips & events, discounts on equipment and fun diving, and more.
Continuing your Dive Training
Erhalte Deine Zertifizierung für Fortgeschrittene
Advanced Open Water Diver
Der beste Weg, um deine Karriere als Taucher fortzusetzen, ist der Advanced Open Water Diver course. This course introduces you to new aspects of diving and you will become a better diver. Moreover, it allows you to dive down to 30 meters / 100ft depth.
Was machst du in einem AOWD-Kurs?
Der Advanced Open Water Diver umfasst fünf fünf Tauchgänge, each of which covers a different topic. You learn to go diving with and without instruments and how to lead a buddy team safely underwater. Most people book this course because they want to dive deeper. That's why a deep dive is always part of the AOWD.
Nach erfolgreichem Bestehen des Kurses, hast Du viel gelernt und bist auch für Tauchgänge bis zu 30 Metern Tiefe zertifiziert. Klingt das nicht nach Spaß?!
We advise you to do about 20 dives in between the OWD and AOWD courses but of course, that is entirely up to you!
Nitrox, Trockenanzug, Wracktauchen, Tieftaucher
Specialty Diving Courses
Once you are an advanced diver, it is time to explore other areas of scuba diving that interest you most. If you are not sure yet what will interest you, don't worry. As you are reading this "new to diving" guide, you most likely are not yet a certified scuba diver. Once you have done a few dives, received your Open Water Diver certification and potentially the Advanced Open Water Diver one, too, you will have a better idea.
Die meisten Taucher absolvieren einen Nitrox Kurs direkt nach dem Anfänger-Tauchkurs, da Du damit ein spezielles Atemgas namens Nitrox (Nitrogen + Oxygen), mit dem längere Tauchgänge möglich sind.
Der Tiefftauchen Spezialkurs zeigt dir, wie du sicher bis zu 40 Meter tief tauchen kannst. Während eines Wracktaucher course, you explore wrecks safely inside and out.
Es gibt viele verschiedene Spezialkurse da draußen und einige werden nur an bestimmten Orten auf der Welt angeboten. Zum Beispiel ist ein Trockenanzugkurs etwas, das für kaltes Wasser vorgesehen ist, während die Beobachtung von Haien natürlich auf die Orte beschränkt ist, an denen es viele Haie gibt.
Wenn Du einen Spezialtauchkurs mit Social Diving machen möchtest, schau in unseren in-person und online options for something that interests you.