New to Diving
How to get started with scuba diving
Welcome to Scuba Diving!
Did somebody show you amazing photos from their last vacation? Were you mesmerized by a BBC documentary on sharks on Netflix? Or did you meet that special someone in your life and they told you you HAVE TO get your Open Water Diver card?
Whatever brought you to scuba diving, we are happy you are here! This is the definitive guide on how to get your scuba diving certification. We wrote this for everyone who is new to diving. We have been in your shoes ourselves a didn't know how to get started with scuba diving. Our guide is meant to help you decide if scuba diving is a good sport for you, where you can learn to dive, and which scuba diving courses are suitable for beginners. Have fun!
How To Become A Certified Scuba Diver
Becoming a certified scuba diver is actually really simple. Most people go about it like this:
😁
That's pretty much it…thank you for reading!
Just kidding, of course, you'll find a detailed guide below. However, in essence, these are the necessary steps to get scuba certified.
Why Get Scuba Certified?
Getting a scuba diving certification is a great idea! There are close to 15 million certified scuba divers in the world and the number is constantly growing. It is estimated that over 1 million people do their Open Water Diver course every year.
If you want to explore the underwater world and see fish, turtles, sharks, or even whales up close, then diving is the sport for you. As you are checking out our scuba diving for beginners tips, you probably know this already. But just in case we need to convince you, keep reading. Below we listed three more reasons why we think you should get scuba certified:
Diving is a lot of fun & burns a ton of calories!
You can feel like an astronaut underwater!
70% of our planet is covered by water. It's time to explore them!
Since we always dive in a buddy team you are never alone. If you join a local or global dive club like our Social Diving Community, you will meet many new people who love diving, traveling and those often turn into friends.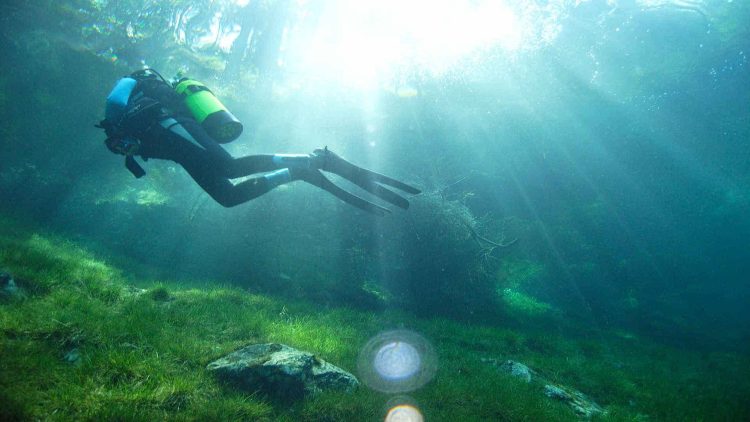 For those of you who like to stay fit, diving is a great way to burn tons of calories, too. One dive uses as much energy on average as one hour of jogging in the park. If that isn't a good point for going diving. Speaking about exercises and moving around, scuba diving is the only other place besides space where you can feel basically weightless! If you ever wanted to float around like an astronaut on the ISS, you absolutely must try out scuba diving!
Last but not least, you get to explore places that many others will never see. From shallow reefs to deep underwater caves, from exotic islands in Indonesia to frozen lakes in Europe, diving brings you to places you have never been to before. Those new to diving, and even experienced scuba divers, are often surprised to find there is a dive center just about anywhere on earth.
If you want to get some inspiration on the incredible destinations that you can visit as a diver, check out 100 Dives of a Lifetime book by National Geographic.
3 Steps To Become A Certified Scuba Diver​
Now that you know why scuba diving is super cool, let's find out how to become a certified scuba diver, okay?
Many who are new to diving get confused by the number of training agencies, different course offers, and terminology. But don't worry. Becoming a certified scuba diver is actually pretty simple. No matter where you go or who certifies you there are three parts to every beginner diving course:
Scuba Theory
Diving Skills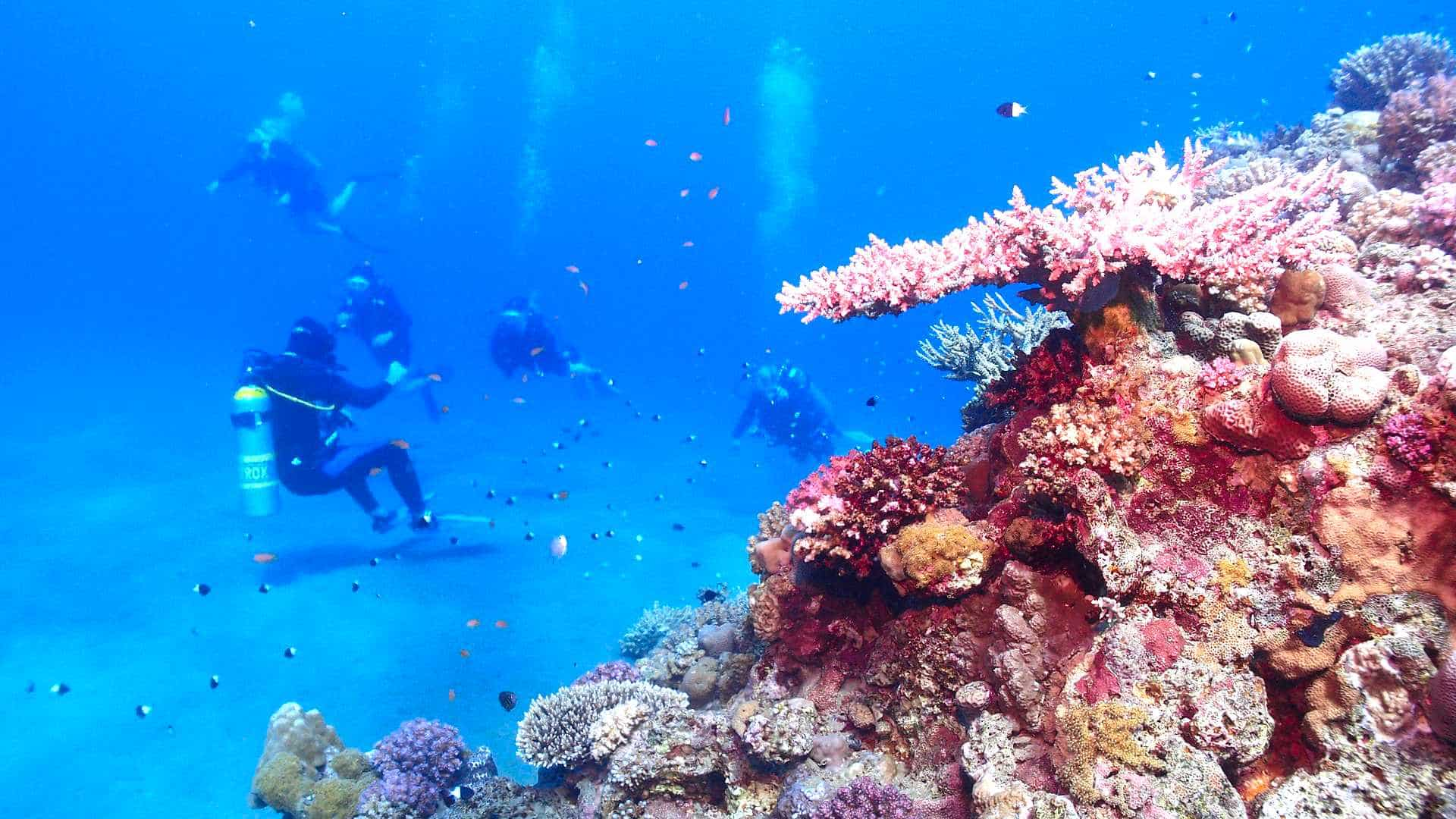 Open Water Diving
The theory will teach you everything you need to know before going diving. During the skills session, you get to know the equipment and practice the skills every diver needs. Every course contains a number of dives in open water to apply what you have learned.
Discover Scuba Diving or Full Course?
If you know for sure, that you want to learn to dive and become a scuba diver (great decision!), you can skip this section and move on to the next one right away. However, if you are unsure whether scuba diving could become a new hobby of yours, the best way to start off is a try dive, also called a Discover Scuba Diving event.
Here you can try out diving in a relaxed way without committing to a full dive course right away. Almost every dive center will offer this course in some way or another for you to try out if you like diving.
We offer discover scuba diving in Munich, Frankfurt, and at our other locations. Alternatively, book your next vacation through us and we arrange it at any dive center around the world. Contact us, if you are interested!
If you want to read what happens during a discover scuba diving course, you can click on the arrow and it will reveal more info.
Getting Certified as a Scuba Diver
Dive into a new world underwater
Open Water Diver Course
The first step to becoming a certified scuba diver is the so-called Open Water Diver course or OWD in short. In this beginner course, you will learn all the theory, skills, and regulations necessary to go diving together with a dive buddy.
You will get to know the equipment we need to breathe and move effortlessly underwater and we discuss how to dive safely without the risk of hurting yourself, others, and the environment.
The physics of diving and health aspects are an important topic, as well. The course includes four dives in open water in which you can apply what you have learned right away.
The CMAS* (or CMAS 1*, read as "C-M-A-S one star") is an equivalent dive certification to the OWD. If you want to know the difference between the two, check out our comparison post. Most people who are new to diving have a hard time deciding between the two. Just know, both of them are great options and you will learn to dive with either one.
Improve your diving skills
Go Scuba Diving!
Now you are ready to go diving with those whale sharks and manta rays! With your new diving certification, you can go diving anywhere in the world together with a dive buddy. So let's go! The more you dive, the better you become.
How about joining on one of the Social Diving scuba trips now? Besides longer diving trips, we go on diving excursions and weekend trips with our Social Diving Club. During the week we often drive to a nearby lake for a spontaneous after-work dive.
Before you go on any dive trips, however, make sure you get dive insurance though. With advanced diving courses, you can explore new areas of scuba diving.
Join Our Social Diving Club!
If you like what do here at Social Diving, become part of our Social Diving Club! Hands down, that's the best thing you can do after getting your certification.
The Social Diving Club aims at making it easier for you to find cool people that make your diving so much more fun. Because in everything we do we follow our motto:
Dive in With Us!
Join hundreds of other divers and get scuba tips & deals delivered straight into your inbox.
Our promise: Zero spam – we won't sell your data – unsubscribe at any time.
For more details, review our Privacy Policy.
DIVE WITH FRIENDS NOT STRANGERS
Whether you join by yourself, as a couple, or with a group of friends….you are always welcome! We help you to find a dive buddy and if there really isn't anyone available, we just jump in the water with you ourselves!
Oh, and besides that, you can get a ton of extra value like unlock all featured articles on Social Diving, exclusive member trips & events, discounts on equipment and fun diving, and more.
Continuing your Dive Training
Get your advanced diving certification
Advanced Open Water Diver
The best way to continue your career as a diver is by taking the Advanced Open Water Diver course. This course introduces you to new aspects of diving and you will become a better diver. Moreover, it allows you to dive down to 30 meters / 100ft depth.
What do you do in an AOWD course?
The Advanced Open Water Diver course comprises five dives, each of which covers a different topic. You learn to go diving with and without instruments and how to lead a buddy team safely underwater. Most people book this course because they want to dive deeper. That's why a deep dive is always part of the AOWD.
After successfully passing the course you will have learned a lot and you're also certified for dives to up to 30 meters / 100ft. depth. Doesn't that sound like fun?!
We advise you to do about 20 dives in between the OWD and AOWD courses but of course, that is entirely up to you!
Nitrox, Dry Suit, Wreck Diving, Deep Diver
Specialty Diving Courses
Once you are an advanced diver, it is time to explore other areas of scuba diving that interest you most. If you are not sure yet what will interest you, don't worry. As you are reading this "new to diving" guide, you most likely are not yet a certified scuba diver. Once you have done a few dives, received your Open Water Diver certification and potentially the Advanced Open Water Diver one, too, you will have a better idea.
Most scuba divers do a Nitrox course right after their beginner dive course, as it allows you to use a special breathing gas called Nitrox (Nitrogen + Oxygen) which allows you to go diving for longer.
The Deep Diver specialty course will show you how to dive down to 40 meters safely and during a Wreck Diver course, you explore wrecks safely inside and out.
There are many different diving specialty courses out there and some are only offered at certain places in the world. For example, a dry suit course is something reserved for cold waters while shark observation is, of course, limited to those locations where sharks are abundant.
If you want to do a specialty diving course with Social Diving, browse our in-person and online options for something that interests you.